Dry conditions impacting BOP farmers and growers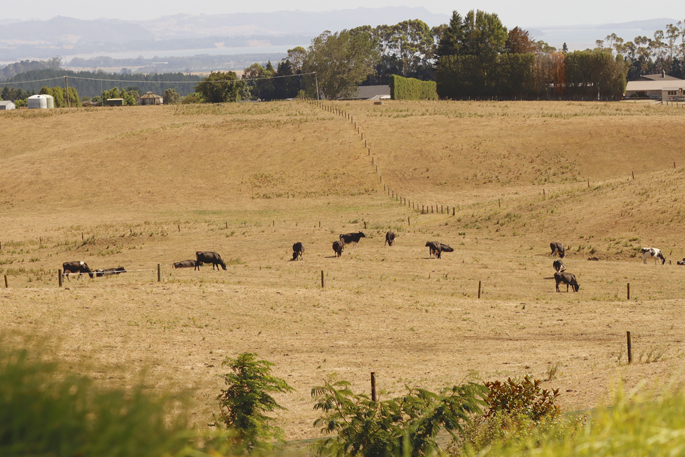 Farmers and growers are starting to feel the heat of the current dry conditions as the Western Bay of Plenty enters 2020's second month with no rain and none on the radar for at least the next 10 days, according to forecasters.
Federated Farmers Bay of Plenty provincial president Darryl Jensen says the dry is really starting to bite for a lot of dairy farmers.
"Vets say they are getting inundated with calls from farmers wanting them to go and scan cows to determine empty stock, so they can de-stock their farms to reduce demands for feed," says Darryl, who dairy farms at Paengaroa and has just done this task himself.
Darryl says feed supplement – both on-farm and brought-in – is being fed to stock on many Bay of Plenty farms to keep cows milking with pasture extremely dry and grass growth minimal.
"But farmers are at the point where they are making calculations on their feed – how much they can feed out now but also how much they need to reserve to get through winter.
"This is the call that will be coming soon for many farmers. And as a side issue – we now have a total fire ban in the BOP – that just shows how dry it is."
Darryl says the effects of the dry weather can be seen from Waihi/Katikati through to Rangitaiki Plains. "Our coastal flats like Belk Rd, Pukehina and Rangitaiki are our wetter coastal country that can usually hang on. But these areas are starting to come under pressure now too."
Darryl's farm went to once-a-day milking 10 days ago and he says many others will be making this decision.
"I've done my first stage cull but I may have to get down to capital stock, and get rid of all cull cows, such as low producers, if things stay dry."
Kauri Point's Hugh Moore, who is managing director of avocado orchard management and harvesting cool storage service KauriPak, says it's probably one of the severest droughts the WBOP has seen.
"One of the reasons for that is we've actually been in a type of 'drought' for 18 months. We've got the lowest recordings of water we've had for 100 years – we haven't had our aquifiers filled up and if you look at the last 18 months, it has probably been some of the driest months on record.
"This means our drought started quite early – we've been irrigating since October. Last year we began mid-December. And our tensiometers through winter showed deficits at deep levels, at 900m," says Hugh, who grows kiwifruit and avocados.
"So there is kiwifruit in stress, such as outside rows, avocados are fighting it but fruit will start to slow down. I'm currently measuring kiwifruit growth and growth is slowing."
Hugh says while kiwifruit will have a higher dry matter content this upcoming season, he's expecting smaller size fruit. "The 1982 drought I remember – I believe this is worse. This time we've virtually had no rain, not even 10mm or 20mm.
"We've just had to choke one of our bores back. So we were pumping too fast for what it could give us – and we haven't had to do that before."
But Hugh doesn't expect an earlier harvest as the vines still need time to mature. "And those that have young plantings of kiwifruit and avocados – they will struggle more, especially if they haven't got irrigation.
"Put it this way – if it rained we'd still carry on irrigating. We'd have to have a hell of a lot of rain to think about stopping."
Aongatete Avocados Ltd's Tony Bradley, who grows kiwifruit and offers avocado orchard management services in the Western BOP, says his orchard team is busy ensuring water irrigation systems are running properly to plants that need it. "It's very dry – for small avocado trees you need to be watering twice-a-week."
This is due to small trees being too young to reach deep water. And while big avocado trees can, Tony anticipates they'll be starting to suffer too and by the end of February a drop will occur.
While a fruit drop is normal for this time of year, Tony says it could be much bigger due to it being "one of the driest seasons we've had for a long time".
The current season's fruit harvest is starting to drop, but there's limited new growth and it is impacting because the stalks are breaking off.
Tony says many avocados on trees are soft to touch and easy to knock off – and the ability to keep fruit for more than three weeks is decreasing. "There's high maturity in that fruit so when we harvest our focus is to get the heat out of the fruit as soon as possible and keep it in the best condition we can.
"Things like getting it into shade, getting air flow through it and getting it into chillers and early pick-ups helps."
And the heat is also affecting avocado harvest staff. "As a large-scale harvester, our men and women pickers are getting knocked around. It is very tiring. So we start early and finish early."
Tony says avocados will be small tasty fruit next season but trees will have limited flush "which means smaller amounts of flower next year".
His advice to avocado growers is if your trees are over-cropped – cut them off now. "And get ready to put fertiliser on as soon as the rains arrive. Be organised and plan."
Tony says kiwifruit crops have just been thinned again to rid of reject and small fruit, and the aim now is to build dry matter. "There might be smaller fruit – but it will be high in taste and it will be a good harvest year – not for volume but for quality. Tonnes per ha will be down, that's due to a colder, drier spring – November in particular – and a dry summer."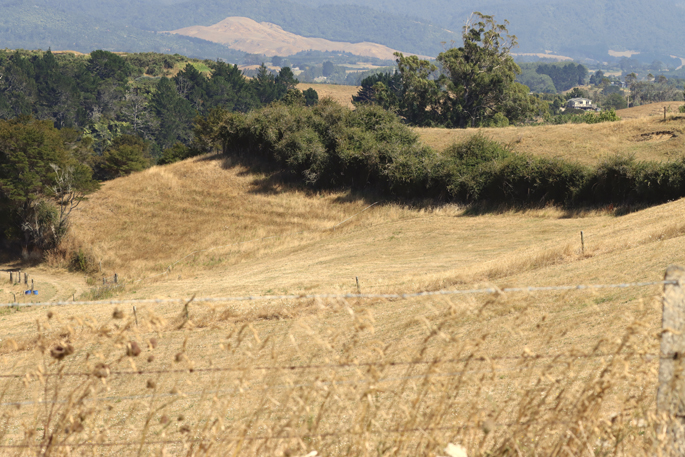 Bill Webb of Paengaroa-based Bill Webb Feed Solutions says a Pongakawa farmer told him they'd recorded 37 degrees Celsius at their property on Monday. "He has dropped back to once-a-day because he was running out of feed.
"He's basically giving the cows silage, palm kernel and a picking of grass as he's not too sure he will still be milking at the end of this month when we go to deliver his maize silage.
"So if we don't get some rain shortly, there will be a lot of farmers drying off early."
Another Te Puna farmer told Bill they'd recorded 100mm of rain for December, 3mm for January and none so far for February. "The farmer said he's had only 200mm of rain in the last four months – last year he'd had 330mm for December – so his area is way behind in rainfall this season, with no rain on the horizon."
As a result, maize crops are starting to show signs of moisture stress too. "You can see driving around that the lighter areas of the soil and paddocks are definitely starting to dry out.
"They call this pineappling, where it goes spiky and a blue-green colour where all moisture has gone out of the plant."
Bill has heard of Waikato farmers green-feeding this week – this means they chop crops early to give to cows.
"I'm not sure if the maize harvest here will be early – we may have to take dry areas off or if its 50 per cent of the paddock then harvest the whole lot to get a good mix.
"So it's going to be a bit of a fickle maize harvest season I'd say – unless we get rain."
MetService meteorologist Georgina Griffiths says soils across the North Island are parched after an extended dry run, and the recent heat. "The first half of February is predicted to run much drier than normal in the Franklin, Waikato, Coromandel, Bay of Plenty and King Country regions – with all eyes on the tropics to deliver a better 'chance' of rain in the second half of the month.
"However, even so, expect rainfall in the back half of the month to be fairly unreliable, or hit-and-miss, as is usually the case."
MetService's February 2020 outlook says well above average February temperatures are predicted for the North Island, overall, except for Wellington which will experience near-average temperatures.
"Temperatures are expected to swing from heat wave conditions this weekend and early next week, to a colder spell with a southwest change next Tuesday. However, warmer than normal conditions quickly return for week two and week three of the month.
"For all North Island regions, the first half of February continues drier. The odds of getting some useful rain in the gauge increase in the second half of the month, but we expect rainfall to be rather unreliable (hit and miss)."
More on SunLive...