Tauranga firefighter tackles Australia bush fires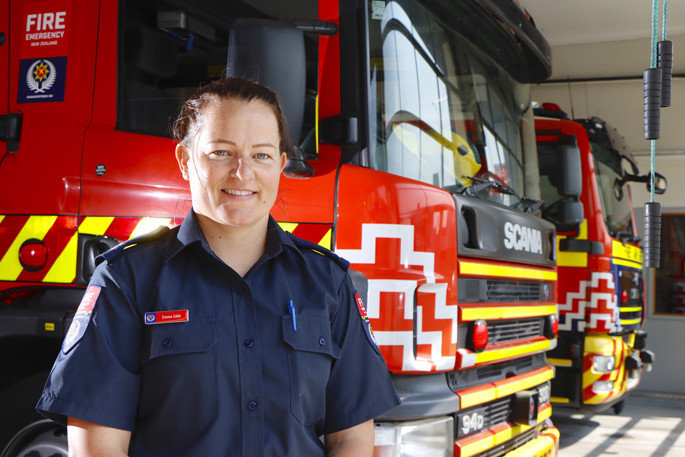 A Tauranga firefighter who helped battle the Australian bush fires last month returned home overwhelmed by the "resilience" of communities facing devastation.
Emma Gibb spent 14 days tackling and containing blazes that "ripped through forests" in areas east of Canberra, alongside four other Bay of Plenty firefighters.
During their two week stint, Emma says the outpouring of community support for firefighters was beyond belief.
"The resilience of the community is just awesome – they are in there day in and day out, prepared to dig in and help out."
Emma says when working along the fireline in Charley's Forest, residents who lived in neighbouring small-town Araluen were right by the firefighter's sides.
"You'll be on the fireline and people whose homes are at risk are there by your side asking what they can do to help – they have water tanks on the back of their utes."
Another baffling experience involved a $4000 donation being handed over from the Canberra Car Club to Braidwood Fire Station.
"Our crew was based at that station, and one day the car club just turned up and handed over funds they had raised from a car rally. They had driven two hours just to donate to the brigade," says Emma.
The BOP crew fought fires that were "hotter, bigger and more unpredictable" than any blaze they had ever seen, says Emma.
A Back Creek fire saw a forest of 35-40 metre high trees alight. Emma says "radiant heat" could be felt more than two kilometres away from the blaze.
"It was pretty unreal to watch the fire do its thing – and amazing to see how the vegetation burns over there.
"It's so different from previous years. We were just patrolling to make sure the fire wouldn't burn past the containment line," she says.
But why did Emma put herself forward to fight Australian bush fires? Her response is simple.
"It's what we are trained to do, and I was deemed capable. It wasn't a question as to whether or not I would do it," she reiterates.
While the crew thankfully did not see any homes impacted by bush fires, Emma says the vegetation devastation was upsetting enough.
"The forest is people's back yard over there and the kangaroos are just skin and bone.
"They have lost their fear component, and they come right up to people because they are so hungry."
Since November 2019, Fire and Emergency have deployed 250 New Zealand personnel to Australia.
The BOP firefighters spent the two-week deployment working for more than 12 hours each day. But Emma says it was all part of getting the job done.
"It was tiring, but if we needed help in New Zealand, Australia would be here. It just swings in roundabouts."
More on SunLive...