Begging bylaw outcome looming over businesses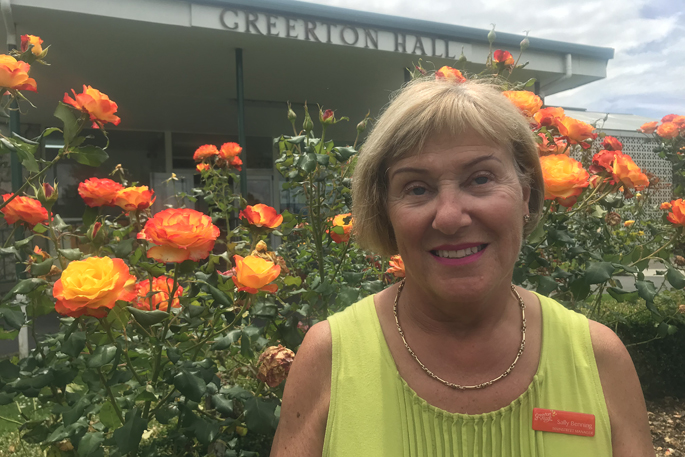 Greerton businesses are playing the waiting game to see if the rough sleeping and begging bylaw will be revoked.
The bylaw prohibits rough sleeping or begging within five metres of a public entrance to retail premises in the Tauranga CBD, Greerton and Mount Maunganui.
Greerton Village Mainstreet manager Sally Benning says the majority of businesses in Greerton are in favour of keeping the bylaw and the decision is looming over them.
"Obviously there's a concern because we just don't know what will happen.
"The bylaw has made a dramatic difference to Greerton since it came in force on April 1 last year, we have noticed there was an almost immediate decline in people begging.
"So it's made a big difference in so far as people coming back to Greerton, we know factually that an awful lot of people stopped coming shopping in Greerton because they felt threatened and intimidated because of big groups of people outside shops."
After the bylaw was introduced, Sally says retailers and business owners came to work without fear of what they were going to find or being abused, and have been able to run their businesses as they should be able to.
"Members of the public were able to come back and shop and go to the ATM without fear of people standing over them, people were being hassled to take their prescription drugs and things like that.
"People started coming back and we started getting really positive feedback again, as we have done in the past."
Tauranga City Council has had 372 submissions on the proposed revocation after it went to public consultation in November last year.
Councillors voted to move forward on a recommendation to revoke the begging and rough sleeping provisions in its Street Use and Public Places Bylaw 2018 on November 19, 2019.
The vote narrowly passed by six votes to five.
Sally is concerned that if the bylaw is revoked there is nothing in place to support the retailers if there are problems.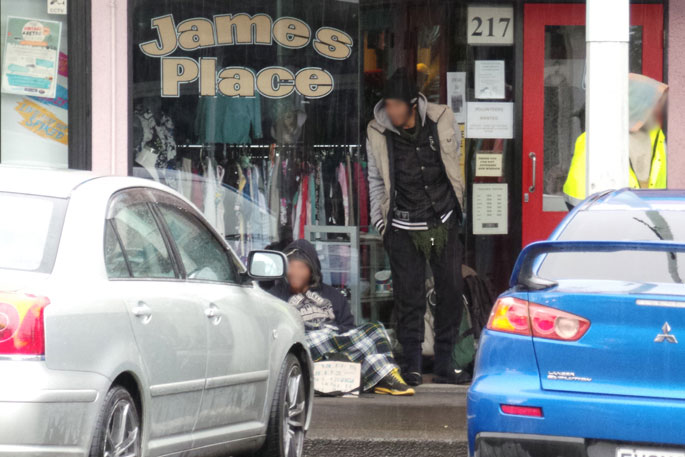 Beggars in Chadwick Road Greerton. Photo: Andrew Campbell/SunLive.
If a person's behaviour is aggressive, intimidating or threatening towards others, then people are encouraged to phone the police
She says they have phoned the police in the past and when they can attend, they do, but they often had other emergencies to deal with.
"We phoned the police a lot before the bylaw came in and I'm a big supporter of the police and I'm happy to say that, however the police are quite under-resourced.
"If there's someone here and they can respond quickly they did, but very often there's limited police."
The best outcome for Greerton Village would be for the bylaw to be retained but if it isn't, then the wording to be amended so it stops the legal challenge from the Tauranga Housing Advocacy Trust, says Sally.
The trust have applied for judicial review because they are concerned the bylaw is a breach of the New Zealand Bill of Rights.
A hearing date for the review has been set for March 5, 2020.
The trust wanted the wording of the bylaw changed from "No person shall beg in a public place within 5m of a public entrance within a defined area of the CBD, Greerton and Mount Maunganui" to include a clarifying statement adding "in a manner that is likely to cause a nuisance, intimidation, harassment, alarm or any distress to any reasonable person".
Mayor Tenby Powell says he has sought legal advice and believes the legal challenge will be upheld.
"I have talked to many people who are in the legal profession and I can't find one that believes that we will win a case against this.
"As mayor, I would hate to see us fight this in that way. I'd be really disappointed if it comes to that."
He understand the retailers' point of view, but doesn't think the bylaw is the correct way to deal with issue.
"I think we need to address this in a more compassionate way.
"I absolutely have understanding and empathy for the retailers in Greerton, Tauranga and the Mount CBDs and their shoppers.
"I don't believe it's going to work sustainably and it may have had a short term impact, particularly in Greerton and to a degree the Tauranga CBD, but I don't believe it's going to work sustainably across time.
"Passing a bylaw to sweep the homeless out of the city is not a plan, today we have a plan."
Tenby has formed a mayoral task force with Garry Webber, the Western Bay of Plenty District mayor, to bring together the police and relevant non-government organisations to work towards a solution for homelessness in the Western Bay.
"We want to get them all together to say look, let's get on one sheet and really understand this and work together towards a strategic solution."
The submissions were heard at a policy committee meeting last week and councillors will deliberate on them on February 20.
More on SunLive...