Ambassadors help responsible free camping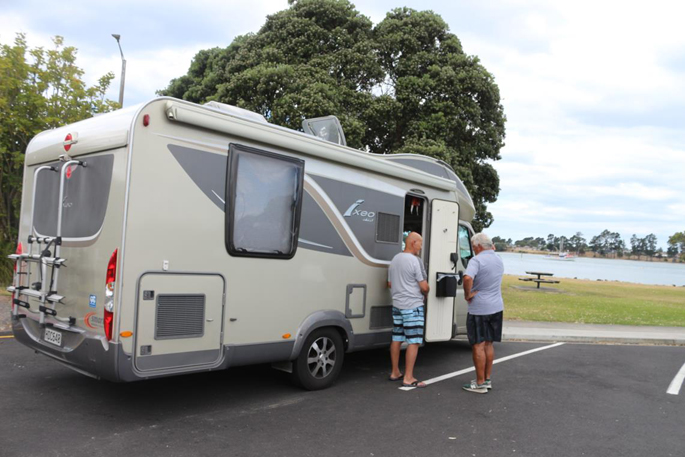 A team of six Thames-Coromandel District Council responsible camping ambassadors have been meeting and greeting freedom campers since mid-December.
They have been helping them find the right places to stay and providing information on where to find public toilets and rubbish disposal facilities.
The ambassadors started on December 16 2019 and will continue until February 23 2020.
"We have received really good feedback from campers and the ambassadors themselves about the positive interactions that are happening," says Brian Taylor, the council's regulatory manager.
"We have also heard from residents around our more popular sites saying that these spots appear tidier than previous years."
He says infringements and warnings are slightly down on last year, which they would love to attribute to the ambassadors' interactions.
"But as the programme is still going we haven't had a chance to evaluate it completely," Brian says.
From December 15 to the end of January, the council's bylaws enforcement staff issued 214 freedom camping infringements and gave 356 warnings.
The previous summer, over the same period, 301 infringements were issued and 432 warnings.
"The intention of the ambassador programme was to provide better education and advice to freedom campers to allow them to make more informed choices of where to stay and ultimately see our compliance rates increase," says Brian.
One ambassador John Freer is based in the district's South East Ward. He visits the freedom camping sites from Whangamata up to Cooks Beach.
"I'm seeing a minimum of 30 vehicles a day," John says.
"People are on holiday, they're relaxed, they're receptive to the information we're providing them about staying in designated freedom camping sites, using certified self-contained vehicles, using public toilets and not leaving rubbish behind."
"The freedom campers are mindful of leaving this place as they find it, and that's at the heart of the Tiaki Promise of care for New Zealand that we're helping to promote," says John.
The ambassador's hand out Council pre-paid rubbish bags and pamphlets describing our Council's freedom camping regulations.
More on SunLive...