Elevated volcanic unrest continues at White Island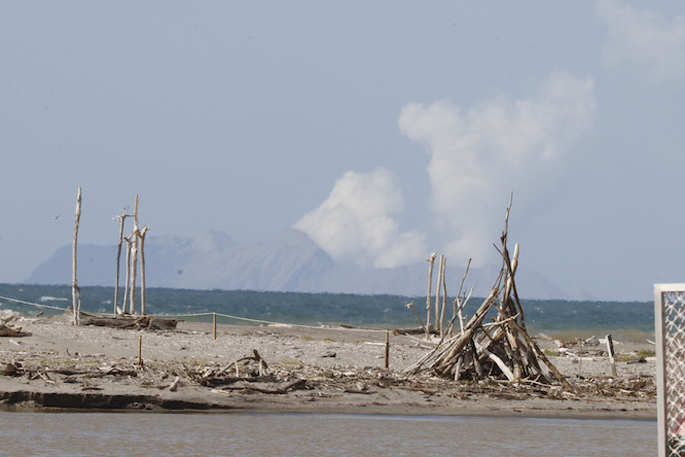 Whakaari/White Island remains in an elevated state of unrest.
No further extrusion of lava has occurred, says GNS duty volcanologist Natalia Deligne.
"Our assessment is that further explosive eruptions remain very unlikely on any given day. The Volcanic Alert Level remains at Level 2 and the Aviation Colour Code remains at Yellow.
"We undertook visual observation and gas flights last week and confirm no further extrusions of lava has occurred. Gas fluxes are lower than two weeks ago but remain elevated.
"Apart from minor ash emissions on December23 and 26, 2019, no explosive eruptive activity has been detected or observed since December 9, 2019, eruption."
Airborne measurements of gas on Wednesday January 30, 2020, show gas outputs have decreased but remain at high levels, as expected after an eruption and the extrusion of fresh magma.
The temperatures associated with the lava extrusions remain very hot (greater than 550-570°C). Aerial observations confirm no changes to the crater vent area, the receding lake, or lava extrusion.
"In mid-January our team of experts evaluated that the eruption likelihood, based on recent data and observations, is very unlikely (one per cent) in any 24-hour period. We will reassess in mid-February, or earlier if the situation warrants it," says Natalie.
"Although very unlikely, an explosive eruption from the active vent area remains possible and could occur with no precursory activity."
Natalie says this style of eruption could be driven by the collapse of unstable material around the vents, or by a marked decrease in gas emissions allowing water from geothermal system to enter the active hot gas vents.
There is very little water in the former lake basin at present.
"Should any explosive activity produce an ash cloud, the likelihood of ash affecting the mainland remains low. Under suitable climatic conditions the gas and steam plume may be noticed on the mainland as weak acid rain.
"Satellite data shows continued land movement of the west wall of the Main Crater and the 1914 landslide scarp.
"We continue to monitor the rate of movement, which has not changed in displacement rate, nor were changes noted on the latest observation flight."
GNS Science landslide experts are assessing the likelihood of future landslides into the active vent area.
"All our monitoring equipment on the island is operating and the camera feeds have been re-established on the GeoNet web pages."
The Volcanic Alert Level remains at Level 2.
The Aviation Colour Code remains at Yellow.
Volcanic Alert Level 2 indicates moderate to heightened unrest with potential for eruption hazards, including unpredictable and life-threatening steam driven eruptions.
The Volcanic Alert Level reflects the current level of volcanic activity and is not a forecast of future activity.
More on SunLive...