Record breaking temperatures in North Island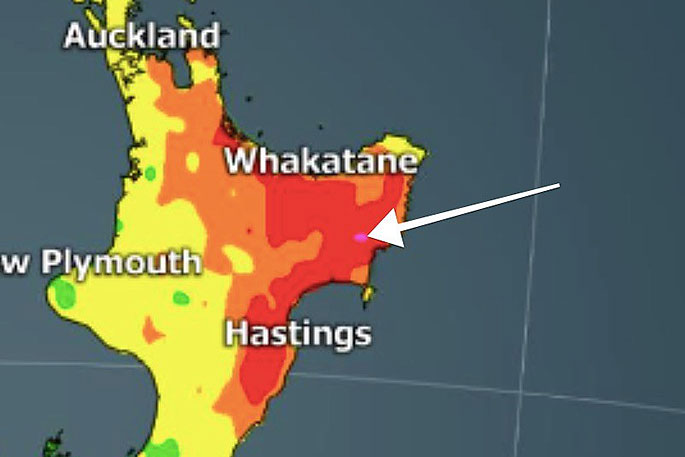 For the first time in 15 years, WeatherWatch.co.nz not only forecast but reported a verified temperature of 40 degrees C in the North Island of New Zealand.
Historically 40+ temperatures affect the eastern South Island, but a heatwave from Australia pushed hot air over the North Island on Monday.
"Te Karaka, inland west from Gisborne, reached 40C at 4pm. As of 5pm it was 38C and 6pm 37C according to IBM - who WeatherWatch.co.nz partners with.
Just had further confirmation of the 40 degree temperature reached inland west of #Gisborne yesterday.

This data map from @ibmnz shows Monday's daytime highs in all our valleys & main centres - the small pink dot at Te Karaka near Gisborne represents 40C!#Weather #NewZealand pic.twitter.com/VWcTz4aayI

— WeatherWatch.co.nz (@WeatherWatchNZ) February 3, 2020
Today's forecast is for strong northwesterlies to lie over New Zealand.
A cold front pushes northwards over the South Island reaching the western North Island later this evening. Southwesterlies ease over the country on Wednesday.
Sunny areas and some high cloud for the North Island today, cloud a little more persistent during the day about Taranaki and Kapiti with the chance of a drizzle patch, says WeatherWatch.co.nz
"Showers move onto the southwestern North Island this evening. Rain for the west and south of the South Island is heavy in areas, especially on the West Coast, rain pushes northwards into Canterbury later this afternoon / evening. Rain eases for the South Island overnight.
"Some cloud for the western North Island on Wednesday, may be a few morning showers in the southwest."
More on SunLive...