"Textbook" work to contain 12 tonne fishing wreck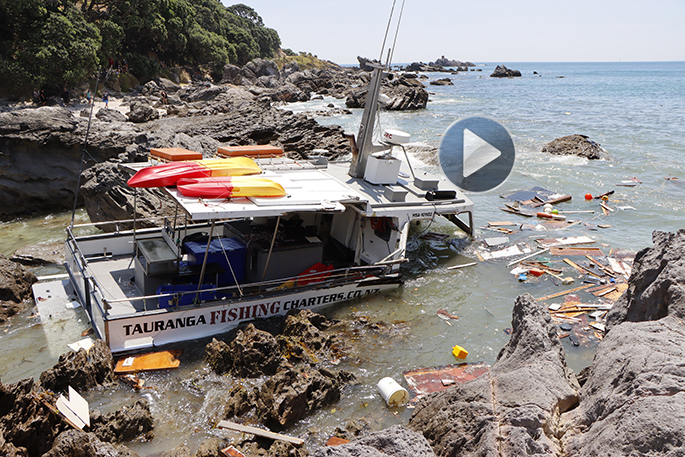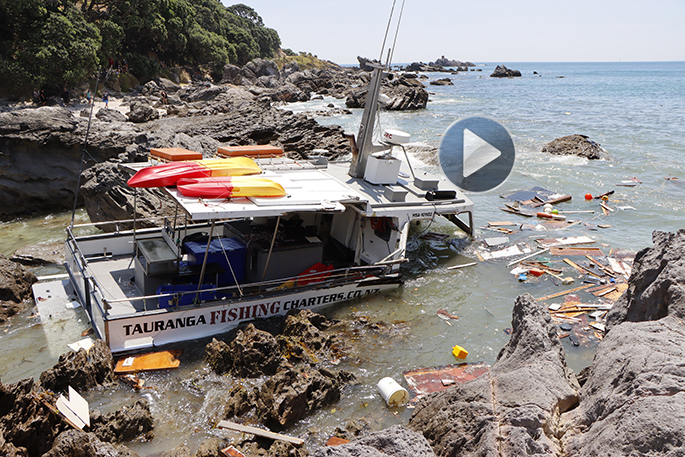 Click the image above to watch the video
The work to contain and remove a 12 tonne fishing boat stuck on rocks on Mauao is being described as "textbook" by the Bay of Plenty Regional Council's On Scene Commander Adrian Heays.
Adrian received a call in the early hours of Saturday morning that a charter vessel had run-aground and he took the opportunity at first light and low tide to safely board the vessel.
He found significant damage to the hull allowing water to flood in. No oil or fuel was observed entering the water at this time.
"You just can't click your fingers and remove a 12 tonne boat from the rocks in a middle of a surf zone. This has to be done carefully with the right people and equipment.
"The owner of the vessel got in touch not long after and confirmed a contractor had been employed to remove the wreck and appropriate precautions would be taken to reduce any environmental risk.
"We continued to monitor the site and surrounding area to ensure any oil spill risk was adequately managed and provided support as required."
Unfortunately, the conditions weren't favourable and eventually the swell and changing tides meant that it started to break-up.
"The stern section containing the main fuel tanks was still intact and subsequently the more than 1000 litres of fuel and oil on board was recovered."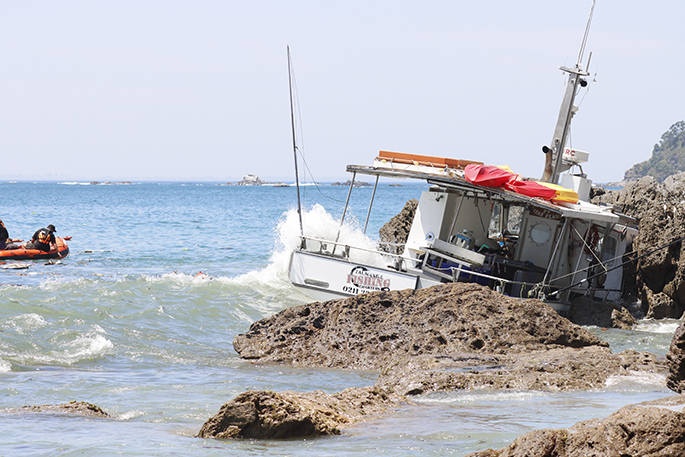 It's thought the oil that was observed was residual from the fuel and hydraulic systems as the vessel was battered against the rocks.
Oil booms are not effective in fast flowing currents and turbulent water like this.
Adrian says in this case, the result is a good one with the oil recovered and the wreckage finally removed and no lasting effects on the environment or wildlife.
"I want to thank everyone involved particularly the Pacific 7 contractor's for the hard and difficult work they completed in less than 36 hours. That's impressive."
He says although oil spills are a rare event, it's crucial Regional Council responds to any pollution event of this nature safely and as quickly as practically possible.
"Because Bay of Plenty is a busy boating area we are well equipped and ready to respond as are many of our marine contractors who complete the work for vessel owners in situations like this.
"We get involved in the response when the spill exceeds the clean-up capability of the person responsible for spilling the oil, or where the person responsible for spilling the oil cannot be identified."
Once all material has been gathered above the high-tide mark it and the wreck will be removed at the direction of the vessel's owners.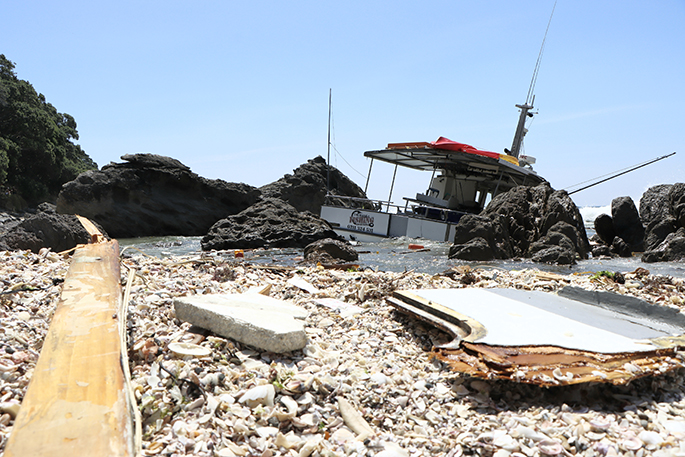 More on SunLive...