Dangen on form at Oceania canoe slalom champs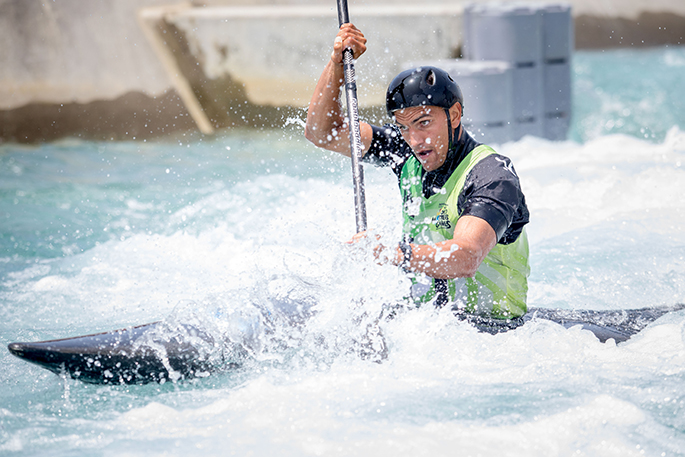 Jack Dangen grabbed some early confidence after the first day of the Oceania canoe slalom championships in Auckland, though the Tauranga kayaker knows there's a lot of work yet to do.
The 21-year-old is locked in a four-way contest for the New Zealand men's K1 spot at the Tokyo Olympics, alongside Finn Butcher, Callum Gilbert and Zack Mutton.
The Olympic spot will be decided over a two-leg selection contest, starting with this weekend's Oceania titles and ending in three weeks at the Australian Open in Penrith.
Dangen headed all qualifiers in Saturday's K1 heats, clocking 85.02secs on a tough, wind-buffeted Vector Wero Whitewater Park course, putting him 1.51secs ahead of Australian Lucien Delfour and 3.64secs in front of one of his key Kiwi rivals, Gilbert.
"I'll put that result aside, after taking a little bit of confidence from it, but it doesn't mean anything for the Olympic selection and it still all comes down to Monday with the semifinals and final," Dangen said.
"I felt on line everywhere and it felt pretty fast but I didn't think it was going to be as good as it was, compared to the rest of the boys. I felt like I was in the zone for the whole run but I also feel like I've got some more speed in me too."
Mutton was fourth after a sharp 89.44sec run, while Butcher missed a gate and had to qualify through the repechage heat, with an 88.40sec effort.
The Central Otago paddler was in good company, however - former world championship medalist Michal Smolen (United States) also needed two heats to make Monday's semifinals, while top Australian contender Tim Anderson missed gates in both runs to severely dent his Olympic prospects.
Australians dominated the other divisions, however, with multiple world champion Jess Fox nearly peerless in qualifying fastest in both the women's C1 and K1 classes.
Her only real threat came from New Zealand star Luuka Jones, who was just 2.40secs behind in the C1 heat and just 0.19secs adrift in the K1.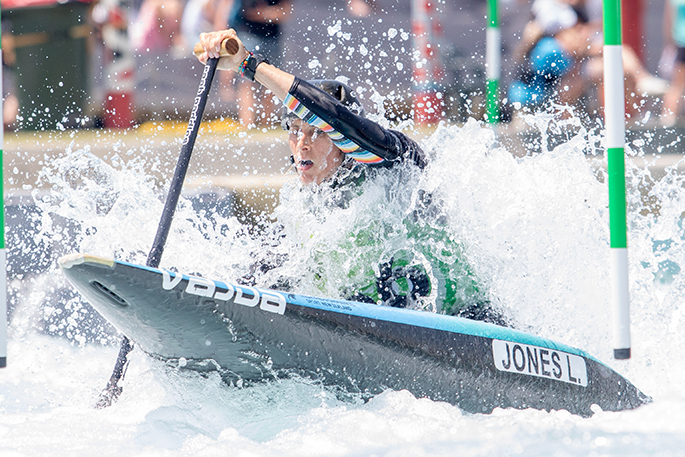 Luuka Jones competing in the women's C1 at the Oceania canoe slalom championships in Auckland on Saturday. Photo by Jamie Troughton/Dscribe Media
The top 10 in the women's K1 also showcased the international depth on show - there were eight different nationalities represented, including Cook Islands Olympic paddler Jane Nicholas in sixth and 15-year-old United States prodigy Evy Leibfarth in 10th.
Jones and Fox have already prequalified for Tokyo and just need their selections rubber-stamped but the Olympic door is still wide open in the last remaining division, the men's C1.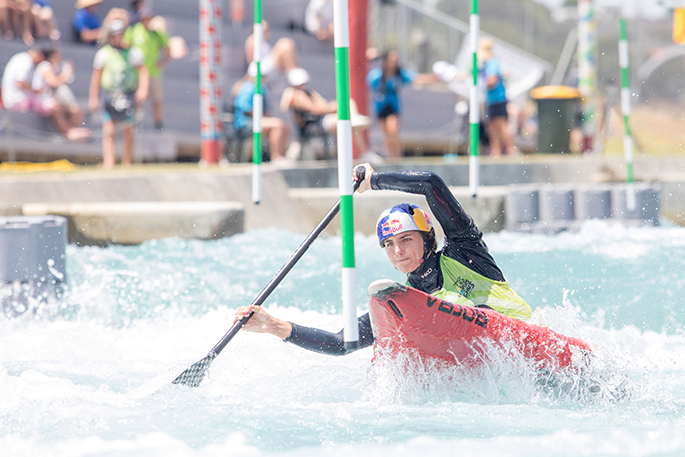 Jess Fox competing in the women's C1 at the Oceania canoe slalom championships in Auckland on Saturday. Photo by Jamie Troughton/Dscribe Media
No paddler from Oceania qualified through the world championships last year, but Australian Steven Lowther stole an early march as the fastest qualifier in Saturday's heats, finishing with a clear 97.10sec run. He was just 0.08secs ahead of compatriot Daniel Watkins, who picked up two touches. Another Australian, Tristan Carter, was third. The best New Zealander was teenager Jack Egan, who was just 3.54secs off the pace in sixth, even with a touch, with Ben Gibb ninth.
Today's action will see semifinals and finals in both the men's C1 and women's K1, with free entry for spectators at the Manukau-based venue.
Live results: http://bit.ly/OceaniaSlalom2020Results
More on SunLive...