Salt Gypsies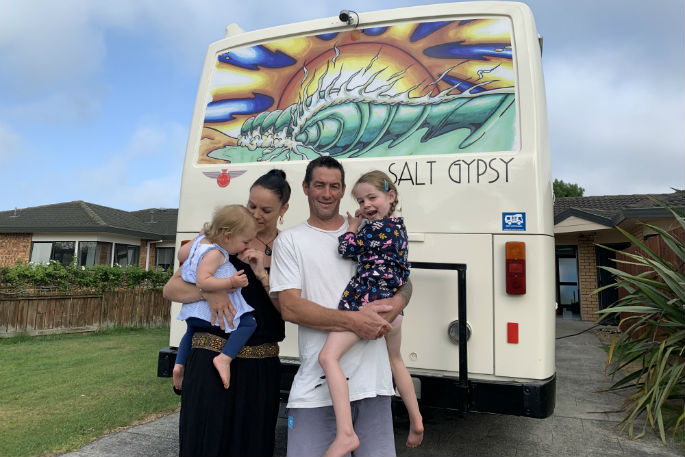 Heidi Steward's mum Gloria Groot and step-dad Case were planning to live full-time on a bus, travelling New Zealand once Gloria retired.
"But sadly, she passed away from cancer last year," says Heidi.
Heidi and husband Paul sat down after Gloria died and discussed what was important to them and what they wanted in life.
"We don't want to be sitting here in 10 or 15 years' time saying we should have done it. This was always our retirement plan too, but seeing Mum who never got to do it, we said we might not get the chance, so let's do it now."
The couple, along with their two children Luca, age four, and Aliya, age 15 months, are on a journey back to happiness. They have rented out their Papamoa home and taken to the road to live in their bus.
But first Paul travelled over to Case's house in Matamata to pick up Gloria's ashes.
"Mum's going to come on the trip with us. It's bittersweet that we get to do this and not her. Case is really excited that we get to take her on the trip with us."
Paul and Heidi have been together for about 14 years and have always shared a love of travelling.
"We started out with one of those big canvas tents going camping on weekends. When we got married, we bought a little camper van and Case kitted it out for us and made it really special."
"When I fell pregnant, we sold it and bought a caravan so there was more room for the baby."
Luca and Aliya have been travelling around with their mum and dad ever since they were born and are used to the lifestyle.
"They've fitted into bus life really easily. It just comes naturally to both of them."
Heidi says she comes from a family of gypsies.
"My dad Murray Buckthought and his wife Jocelyn have been living in a fifth wheeler for the last five years. They travel around the whole of New Zealand."
As well as her mum, step dad, her father and Jocelyn, she also has two sets of aunties and uncles that are all permanently living and traveling in their caravans.
"There's a lot of us, which will be nice because we'll have support on the road. We'll be able to go away with dad. They can help with the kids and we can meet up with the aunties and uncles as we go along."
Heidi and Paul are renting their Papamoa property out so they can fund themselves to live in their house bus. Most of the rent will go towards paying their mortgage with some coming to supplement the 20 hours per week that Heidi works from her remote office in the bus.
"We've got a little bit of savings to help us get through the summer because Paul is taking the whole summer off. Ever since I've known him, he's been working at least 50 hours a week. He deserves a nice break to spend with his girls."
"I just want to do something different," says Paul, who says he has been swinging spanners since he was a teenager. As a diesel mechanic, he's able to make sure the bus is in top running order.
The bus has sleeping quarters for both the children and parents, a small office nook for Heidi and plenty of other room for eating and enjoying life together.
"It's got heaps of solar, so we can go completely off the grid."
The couple joined the NZ Motorhome Association and plan to purchase a Department of Conservation pass as well.
"We'll be able to stay in all the DOC camps around New Zealand."
Heidi works 40 hours a fortnight as an accounts administrator for a New Zealand-based training facility called Vertical Horizonz which provides training courses that help to save lives.
"They're very accommodating. I can work from the bus around the country as long as I've got an internet connection.
"They're an amazing company and very family-focused and offered a lot of support when Mum was dying."
They handed over their house keys to their tenants, leaving one Saturday morning to travel down the coast to Ohope, then on to Gisborne, before heading to Bowentown for Christmas, then down the South Island.
"I've had so many people saying: 'I wish we could do that'. You can. Anyone can. We're not a rich family," says Heidi.
Paul is enjoying switching his long hours of work for more time with the children.
"In New Zealand, if you want to work, you get jobs," says Paul. "I don't believe people sitting around saying: 'there's no work out there'. There's work, it doesn't matter what you're doing. You can find a job.
"And I can spend time with my girls. That's the most important thing to me at the moment."
"When you lose someone you love, like my mum, it changes the way you look at life," says Heidi. "You get so tied up in your jobs and your lives and you never really stop to think about, why am I doing this?"
Heidi and Paul are running a Facebook blog for anyone who wants to follow their travels called 'Not all who Wander are Lost'
More on SunLive...