Fishing vessel breaking up on rocks at Mauao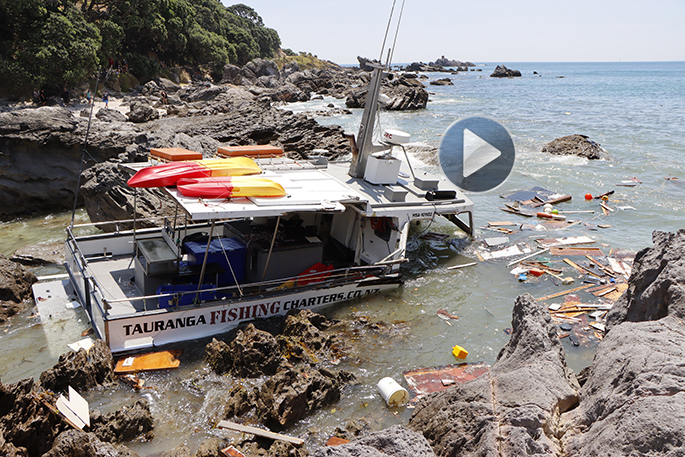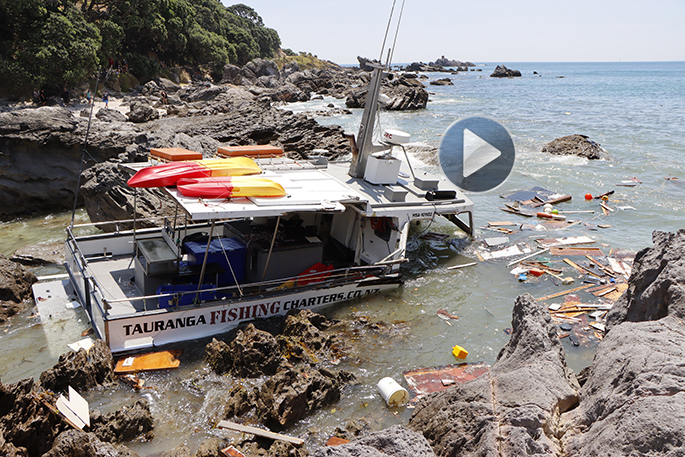 Click the image above to watch the video
A fishing charter vessel is breaking up on the rocks at the base of Mauao this afternoon after coming aground on Friday night.
A SunLive reporter at the scene says there is a lot of debris in the water with the boat breaking up amongst the rocks on the ocean side below the Mount.
"There are life rings floating in the water, heaps of wood and containers, and general debris.
"The whole front of the boat is completely destroyed, and there is a strong smell of diesel.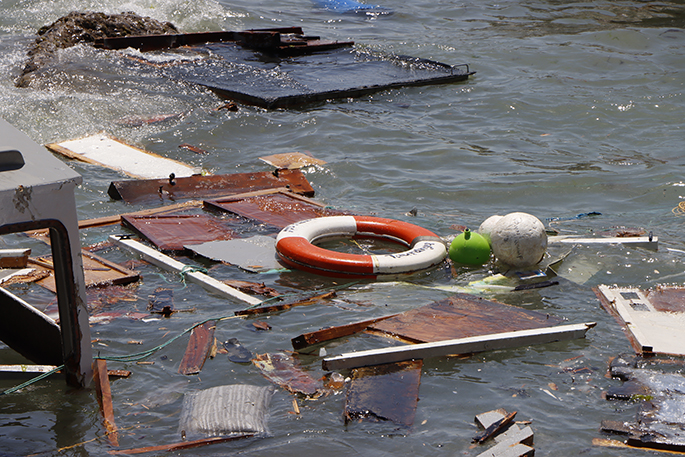 Police received a report about 11.35pm on Friday night of a boat having run aground at Mount Maunganui.
"Those aboard made it to shore safely," says a Police spokesperson.
Photos of the boat show it belongs to Tauranga Fishing Charters.
The Harbourmaster team confirmed early this morning that they were liaising with the owner of the boat, believed to be the 'Miss Fleur', to arrange its removal. The boat was seen at dawn to be on the rocks about 15 minutes' walk from the Mount Maunganui Lifeguard Service. It was expected that by high tide the owners would have arranged for the salvage of the boat.
SunLive has approached the owner of the vessel for comment.
The 'Miss Fleur', featured on the Tauranga Fishing Charter website, is 43 foot long with a 15 foot beam. It is a purpose-built fishing vessel and according to the website, suits all types of fishing.
It has a large decked area with seating, and roof cover over two thirds of the decked area. It has an onboard toilet and the wash facilities include a hot water shower.
The boat is fitted with all required safety gear, as well as rod holders, a filleting station, oven, barbecue, dive ladder, underwater lights, late model fish finder and chart plotter, big ice hold, outriggers, fishing gear and tackle, bluenose and hapuka droppers, and a craypot hauler and craypots.
In 2011, Miss Fleur was chartered by news media to cover the Rena disaster and has been running fishing charters for many years in the Bay of Plenty.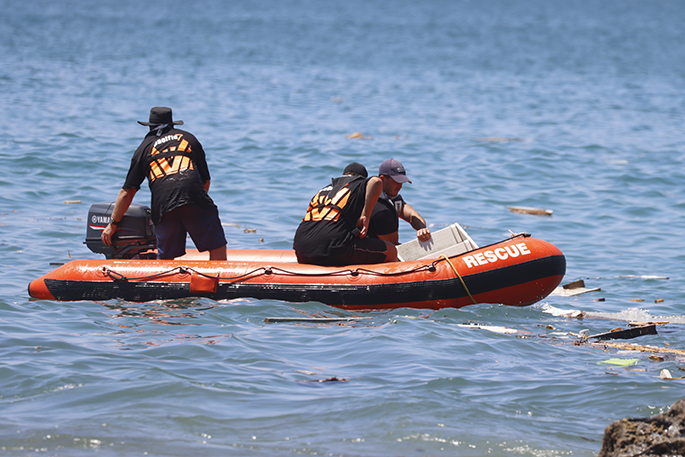 A SunLive reporter at the scene says that there are recovery teams out on the water.
"They are using fishing nets to scoop up the debris, although most of it is contained near the rockpools.
"Everyone is staying clear, and security guards have moved the public away from the area."
The harbourmaster is also placing booms on the water as a precaution.
At the scene? Phone 0800 SUNLIVE or email newsroom@thesun.co.nz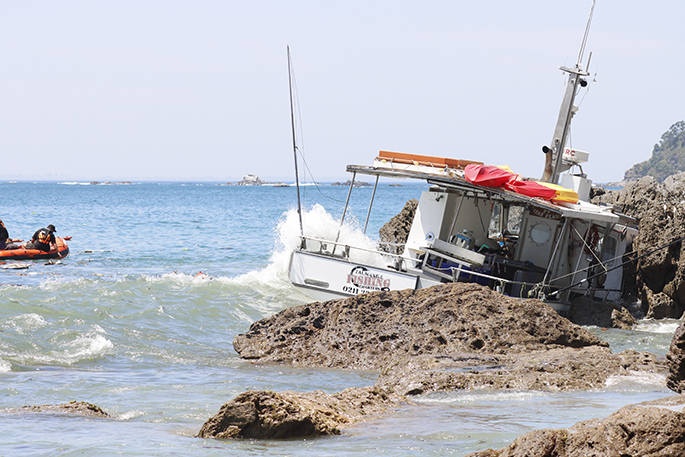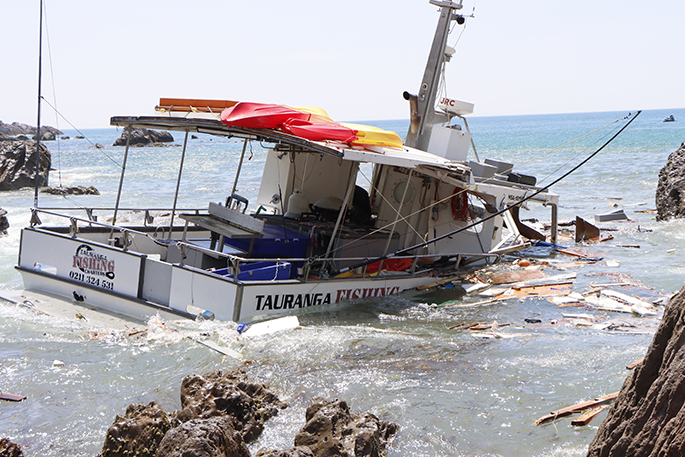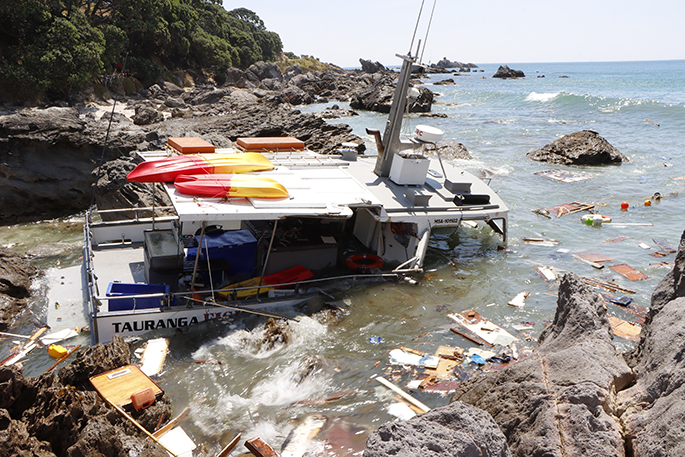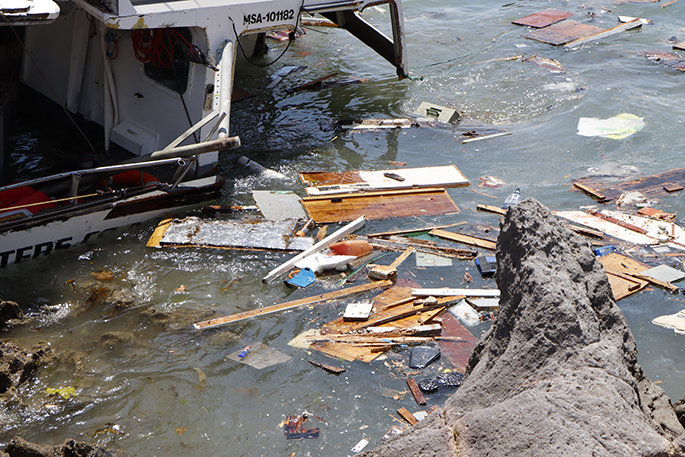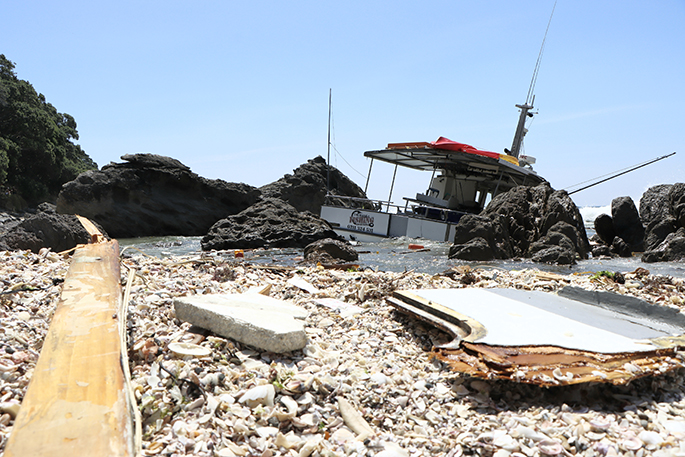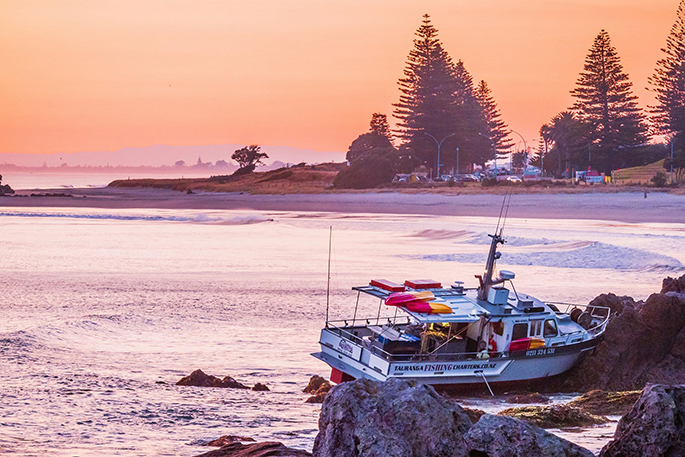 The boat on the rocks at dawn today. Photo: Chris Taylor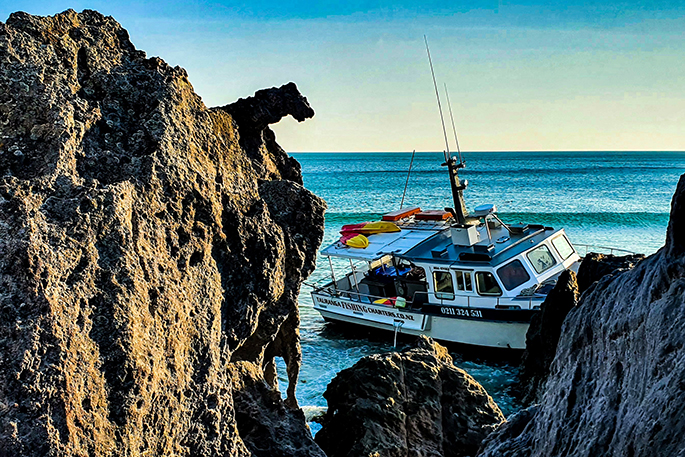 The boat on the rocks at low tide this morning. Photo: Brett Amos
More on SunLive...