Maasdam cruises slowly into Tauranga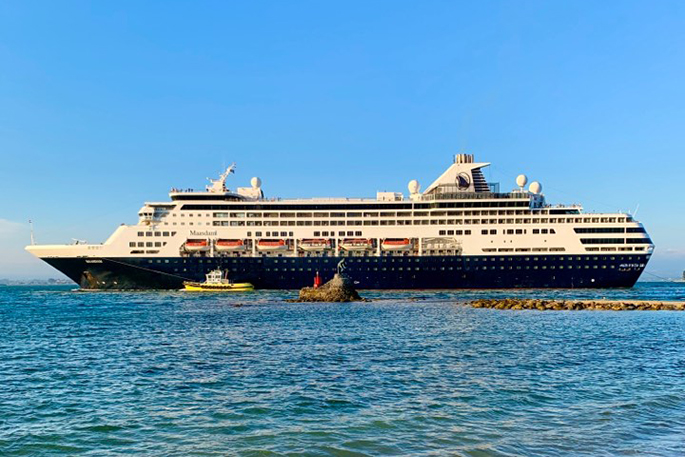 A passenger on board the Maasdam has reported that the cruise ship arrived into Tauranga this morning on only one engine.
"We limped into Tauranga harbour, running on only one propulsion engine on the starboard side," says the passenger.
"The cycle converter which controls both engines has decided to not work so they are flying a guy in from overseas who designed it, to fix it when we reach Auckland.
"In the meantime we missed the Gisborne stop and were at sea a day and a night to get to Tauranga.
"It's been a great trip apart than that happening. We went up to Norfolk Island, the Bay of Islands, New Plymouth, Nelson, Kaikoura, Akaroa, Wellington and Napier. And just missed Gisborne," says the passenger who lives in the Bay of Plenty.
"Some Americans and Canadians weren't happy as they were worried that they would miss connecting flights, but we're on schedule to arrive back up in Auckland tomorrow.
"They were pretty straightforward with everything and explained what was going on. The captain did a talk in the show room explaining what had gone wrong."
It is understood that the Maasdam's propulsion system is diesel electric engines with two traditional propellers, using diesel fuel generators to produce power to run the ship's twin screws. To produce enough electricity to spin the screw-shafts fast enough to maintain its maximum speed of 22 knots as well as provide power for all on-board systems including lights, air-conditioning and hair-dryers requires all five diesel generators to be running. With four generators, speed would need to drop back to around 15-16 knots to maintain power to other systems.
The Maasdam is part of the Holland America Line which also runs the Amsterdam, Eurodam, Oosterdam, Rotterdam and other vessels.
Video: Holland America Rotterdam engine room - 'Inside a cruise ship'
A spokesperson for the Port of Tauranga says they have no comment to make about the Maasdam, apart from that it arrived into port this morning and will be departing this evening as per the cruise ship schedule.
"The Celebrity Solstice is also here and will be staying overnight."
The Maasdam is due to depart Tauranga at 7.30pm today.
More on SunLive...