A 'Gooney Bird' flapping over BOP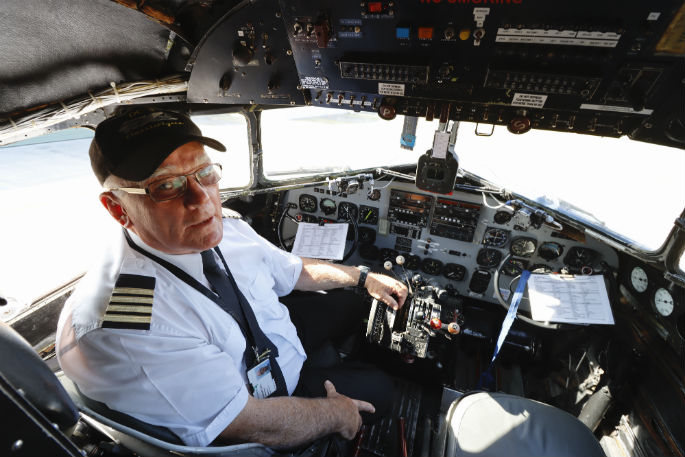 It is as summer as the sound of cicadas, as summer as the wash of another lazy wave on the Tay Street Beach.
This summer sound is the rumble of ZK-AWP - one gracious old lady, a DC-3 which at weekends, trundles across the Bay of Plenty skyline at 500 metres (1,500 feet), her cabin chocka with tourists, plane spotters and nostalgia.
She's one old girl decked out in all her flash retro NAC finery and being flown by an old dog.
"They always ask if this plane is safe," says Keith Mitchell. "Then they look at me, an old pilot of 76, and think: 'oh that's good, he's obviously been round the block a few times. He knows what he's doing'."
The punters probably wouldn't appreciate some young buck in the cockpit. It needs an old man to fly an old aeroplane.
Most summer weekends, Keith Mitchell throws on a crisp white shirt with the striped epaulettes of a pilot and travels from home in Christchurch to Tauranga for an assignation with the other woman in his life – the Air Chatham DC-3.
"I certainly have a special relationship with this aircraft."
He talks to her – 'come on ol' girl' sort of thing.
"And I pat her."
He doesn't love her like he would his wife.
"But there's certainly an attachment and much more than there would be for a modern aircraft."
The love affair with the DC-3 is a global phenomenon.
"It was September 17, 1935, when the DC-3 first went into service. And there's nothing on land, rail, sea or in the air that can match it."
In another 15 years the DC-3 will have been working commercially for 100 years. They are easy to love and respect.
And ZK-AWP is living, flying proof – still turning an honest buck flying fanciers from Tauranga to Katikati and Waihi Beach, round Mauao and then over the backyards of Te Puke. McDonnell Douglas built 16,000 DC-3s and they must be looking down thinking they got that one right.
And they might also be looking down in awe at Keith Mitchell.
"Maybe," laughs the pilot. "An old bloke in an old aeroplane?"
A DC-3 is low-spec, no frills flying.
"No auto-pilot so you are committed to flying it. Hands on flying and you don't get much hands on flying today. Everything is automated."
It's 9.30am on a Saturday morning and tucked in behind Classic Flyers Museum, ZK-AWP is being shaken from its slumber. Those big 14-cylinder Pratt and Whitney radial piston engines on this big badass plane are winding up, then explode into life.
There's smoke, lots of it. Thick clouds of oil laden smoke.
"If you wear labelled clothes, then DC-3s aren't for you," says Keith Mitchell. "There's lots of oil. You get deacked out."
He means you can get caught with your pants down when aviation oil, lots of it, spatters, sprays or drips unexpectedly. It's a game DC-3s like to play.
The DC-3 has many nicknames – Gooney Bird or albatross, Dumbo, Spooky, Puff the Magic Dragon – all names pointing to the aircraft's reputation for reliability, versatility and power. And its timelessness would inevitably lead to verse and songs being written.
"They patched her up with masking tape, With paper clips and string, And still she flies, she never dies, The Methuselah with wings."
And if you ask a DC-3 to do something, Keith says it will do its best ever.
"I can assure you of that."
And never a scary moment.
"Blown a few cylinders, but the radial just keeps going. And you are too busy getting back on the ground to worry about it."
It's a magical experience for Keith Mitchell when the ZK-AWP moseys down the runway and eases into the air.
"Sometimes people don't even know they have left the ground. Then there's that wonderful sense of freedom."
With DC-3s there is a delicious amalgam of noise and nostalgia.
"I have flown them extensively in Australia and New Zealand. And you often meet people who heard the radial engine, thought it might have been a DC-3 and immediately drove to the airport to see."
There is a lot of noise for an aircraft that's trundles along at just 300 km/h.
And everyone, it seems everyone, has a story about a DC-3.
"They got proposed to on a DC-3, they got engaged on a DC-3."
And then a bloke corners Keith Mitchell and tells him his father was piloting a DC-3 in 1945 when it collided with a Lockheed.
"The DC-3 lost a wing and crashed but the pilot survived and lived until he was 102."
Great DC-3 stories.
The aviation icon was also a war hero.
"It helped win WW2 – not as a fighting machine but as a workhorse. But it did transform into warhorse in Vietnam. They armed them with Gatling guns to counteract the Vietcong moving at night through the jungles. Obliterated them."
But on ZK-AWP there's nothing more aggressive than a running commentary. Although it did serve in the RNZAF before turning out for NAC from 1953 to the late 1960s. Flash people got dressed up to travel in AWP. Later it was a top-dresser, breaking in some of New Zealand's toughest farmland, some more commercial work and then to Tonga.
"It ended up mothballed in a hangar and when Air Chathams got the chance to bring it home, they jumped.
"We spent a year getting it going. But I wanted to bring it home because unlike other DC-3s it had New Zealand history."
And AWP rumbles with a New Zealand accent.
"So it had to come home."
Keith Mitchell has the unerring knack of tweaking the rudder to bring any talk of himself back to ZK-AWP.
"She makes people cry."
He is referring to the 1948 Berlin airlift when the DC-3 transported in more than 6000 tons of supplies to the blockaded West Berlin each day.
Sons and daughters of West Berliners involved in the blockade would later climb into Keith's DC-3 and cry.
"They would tell us the DC-3 won the war, that it helped them survive through dark days."
Keith Mitchell scratches his chin thoughtfully.
"You know, I treat it as a privilege to fly the DC-3."
And the DC-3 probably feels the same about Keith Mitchell.
More on SunLive...