Time up for Don and sons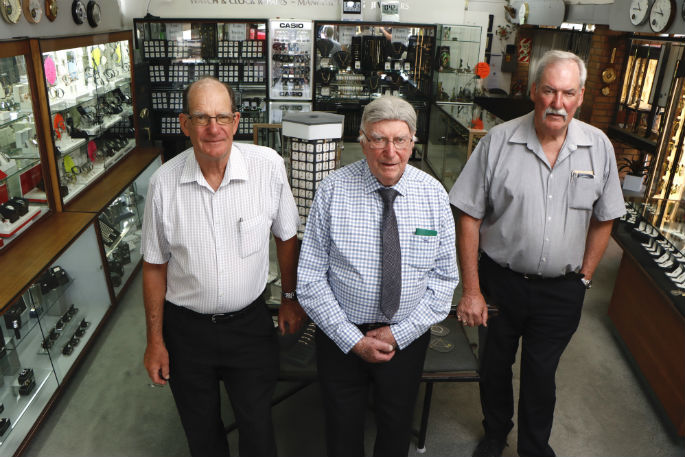 The Stewart men will close the doors to their business in late March.
And for the first time in 60-odd years no one will be back the next day to reopen it.
After wearing through at least seven carpets and refilling the jar of Mackintosh lollies countless times, they have decided it is finally time to retire.
"It's a shame to shut it down but there is no one to take it on," Don Stewart says. "That's the way it is with some things."
Don, now 91, became interested in watchmaking very early in life.
He was nine and fishing with his brother at the fisherman's wharf on Dive Crescent when he slipped on some scales, causing him to fall in the water.
"My watch got wet and I ended up in Jack Fenn's waiting for him to fix it," Don says. "I kept on going back until I got given a broom."
He worked at Fenn's Jewellers on Wharf Street after school doing repairs until Fenn was called into the air force for the Second World War.
Don finished his watchmaking apprenticeship in 1950 and moved around town a number of times before settling in the current shop in 1971.
Don's passion for the industry is evidenced by his continued presence in the shop most days until early afternoon.
"It's a lifetime thing. It's something I just love doing."
His sons Neville and Lawrence made the business a family one when they left school at 15 and completed their own apprenticeships.
The three have worked together in the Picadilly Arcade shop for the last 50 years.
"It's been great, we're like brothers," Don says.
When asked why they chose to join their father in business, Neville says: "well we had to do something when we left school!"
The brothers would spend their time after school and in the school holidays in their dad's shop.
"You sat around in the workshop until Mum and Dad went home," Neville says. "You ended up fiddling and fixing and shagging around with stuff.
"Why did we get into it? We just literally grew into it."
Back in the early days, all watches were mechanical.
Neville, Lawrence and another employee worked full-time on the watches while Don worked full-time on the clocks that came in.
They would each service half a dozen units a day, five days a week.
"And you never caught up," Lawrence says.
As technology advanced, the nature of their work changed. They now service a combination of mechanical and battery-operated products, and only about 10 a week.
They have also witnessed a complete change in town.
Neville and Lawrence recall some years ago when Devonport Road underwent a significant restructure, a particularly creative Mainstreet organisation manager (Phil Hunt) ran a promotion to encourage people to continue shopping in the CBD.
"He ran a fantastic promotion when the streets of Tauranga were just ripped up," Lawrence says.
"Shoppers received a stamp card and when they spent a certain amount at participating businesses they would get a stamp. When they filled their card they went into the draw to win a house.
"That's what you call a decent bloody promotion properly run."
They saw the CBD when everything from Mitre 10 to the greengrocer was within walking distance from their shop and have watched the progressive satelliting of shopping destinations in Tauranga.
"All those businesses have had to move away and all of a sudden you definitely need a motorcar and half a day to go and do anything," Neville says.
Lawrence suggests that their business may have survived through the internet shopping boom, despite not having a website, because their trade is a little unusual.
The shop offers watch repairs, jewellery repairs and they trade in second-hand goods.
"If you were just standing here trying to sell a pair of earrings out of that counter you would be struggling," Lawrence says.
Neville reckons part of the reason the business has been successful is their care for customers.
"You've got to give top service, try to upset as few people as often as possible. You want your customers as repeat customers."
"You can't please everybody all the time but you do your best and sometimes it pays off," Lawrence says.
That goes for keeping their relationship strong, too.
"I can honestly say that Lawrence and I have worked together since we were kids and we have never, in 50-odd years, ever had an argument," Neville says.
"If somebody is ever irritable you just move to one side," Don adds.
None of them know for certain what they will be doing in their retirement.
"I've never done it before but I'll find out and I'll let you know in a year or two," Don says.
They all have workshops at their homes and are certain to tinker, but for now "we're not retiring to work, we're retiring to retire," Lawrence says.
"We've had no problems getting on over the years, just walk away, take a deep breath and get going on something else," says Neville.
More on SunLive...