Great steel behemoth at top of town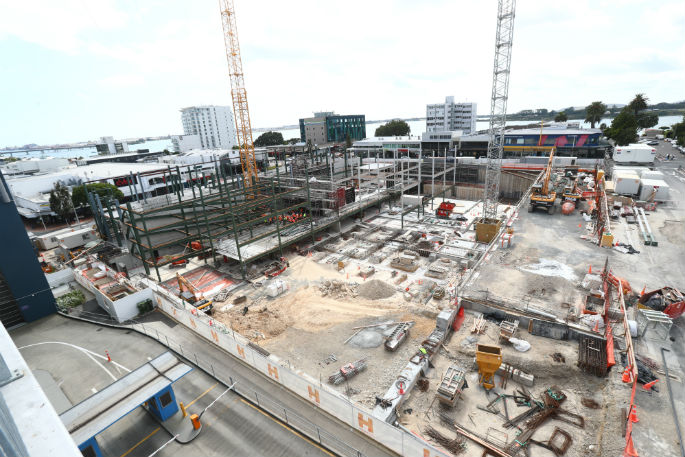 In just 15 months it has gone from a concept to a big hole in the ground, and now a steel skeleton is rising well above the fence line.
The new Farmers Tauranga Development, the third biggest in New Zealand, and the biggest outside Auckland is now commanding the skyline at the top of Devonport Road.
And it is well on track to be completed next year.
Two months ago, the biggest piling project in the country was completed – 5000-plus piles, each 27 meters deep, and filled with 30,000 cubic metres of concrete.
Since then a 60 metre crane has been installed to erect the structural steel on the Devonport Road side of the development and
working towards First Avenue. Work on the upper level dining terrace has begun with floor slabs being installed.
The Farmers development is a $130 million project. It will provide 8000 square metres of retail space at the southern end of the CBD, there will be a first floor dining precinct and it will treble the number of carparks that were available to the public in the old Farmers building.
Farmers will return there with its flagship store in 2021. The development will also bring some high-end living to the CBD - 23 luxury townhouses and 97 apartments across two towers.
The apartments will effectively double the population living in Tauranga's CBD and offer a lifestyle not currently available.
There will be an impressive Italian made stainless steel pool, a large shared green space, expansive residents' lounge with multiple entertainment zones and either water or Kaimai Range views. There are no off-the-plan pre-sales. The apartments will only be available when they are completed.
While the development has involved more than 400 local workers at peak times and brought unprecedented economic benefits to community, it has also created business opportunities beyond the Farmers fence.
"A development of this scale can enable businesses to explore further opportunities in Bay of Plenty and attract high caliber consultants and contractors," says Kelvin Eden, senior project manager of RCP which is overseeing the development.
Farmers has also enabled contractor HDG to establish in the area. And CLL, the lead ground works contractor has also set up offices in Tauranga because of opportunities that have emerged from working on the development.
More on SunLive...