Lack of wharf space leaves industry in hot water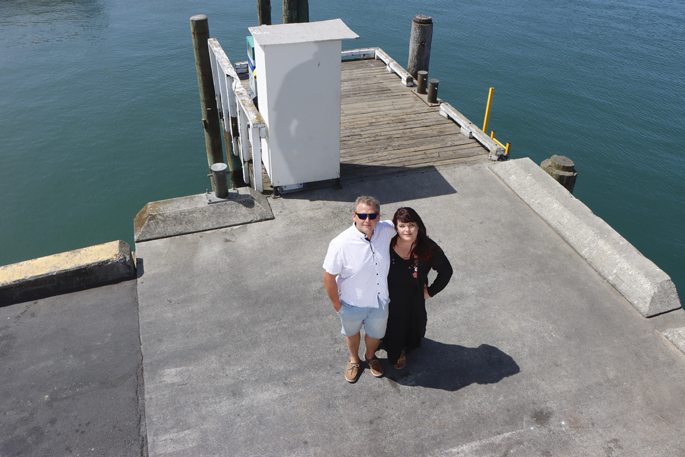 Limited wharf access is crippling the marine industry in Tauranga say a local couple with a fishing vessel.
Currently, there is one wharf with 5m of boat to vehicle access in Tauranga for larger independent fishing and commercial vessels.
The wharf is in the Tauranga Marine Precinct and is the only unloading wharf available for use, says Erika Harvey.
Dan and Erika Harvey own a long line fishing vessel and Dan says, some days there are multiple boats waiting to use the wharf.
"Organising it can be difficult, sometimes there can be three or four boats all waiting to unload and we have to all work around each other.
"For part of the year we're trying to unload every day, so if you have to wait a few hours or work your day around that it just doesn't work out very well at all."
The time is takes to unload can affect profits as well reduce time spent on shore with family, he says.
Erika says a lot of fish is sold on its freshness so delays have an impact on profits.
"It also impacts on the quality of the fish too. Most make money on how fresh the fish is, so the more you have to wait, the less fresh your fish is."
The Tauranga City Council have an online booking system for the wharf but Dan says it ineffective because it often isn't used or boats book in for long periods of time preventing access for others.
"It doesn't work out very well unless we talk amongst ourselves and organise it for ourselves.
"It's hard to make it work effectively there just needs to be some communication involved rather than someone just blocking out a lump of time that cuts everyone else out."
Council's general manager of corporate services, Paul Davidson says, there is no time limit for vessels booking the unloading wharf.
"The system allows users to make a booking from 30 minutes up to 8 hours, but multiple bookings can be made back to back.
"Depending on the size of the vessel, unloading times can vary. The largest vessel to use the unloading wharf takes 8-10 hours, however most vessels take 1-2 hours. "
The wharf is the only place for loading and unloading a refuelling a vessel and it is even more congested in adverse weather, says Erika.
"If a storm comes you have all these boats coming in at the same time and you can't really manage that. "Then there's not enough berthages either so then everyone's trying to rush in to figure out where to go and who's going to unload.
"This is the only place where Dan can get fuel, unload, load, just this one space. So if one boat's getting fuel, you also have an issue where people are getting fuel while you're unloading fresh fish, which probably shouldn't be done at the same time for food health and safety reasons."
There are times when Dan and his crew have had to unload by hand from their berth.
"If we can't get into here [the unloading wharf] we have to go to where we tie up and carry bins of fish down the wharf - there might be a hundred bins."
The couple say the wharf is less congested now than it used to be because a lot of businesses have moved their operations elsewhere.
"We've seen a drastic decline, it's not as bad as it used to be because all the businesses left," Erika says.
"That's made it easier for the bookings, but before there were American tuna long liners that would come in.
"They've lost hundreds of millions of dollars from what they've told me into the local economy from these big tuna boats not coming in and utilising the hotels and the restaurants and using the facilities.
"So that's a big, drastic decline in the marine industry for any type of boat, not just fishing."
A solution for the lack of wharf space is difficult to find because a lot of the public wharves have been removed and land in the marine precinct has been sold privately, they say.
"There were wharves downtown, and then a wharf on Dive crescent and this one. So they have taken them away and we're cut down to one now, when it was four or five wharves it was fine," Dan says.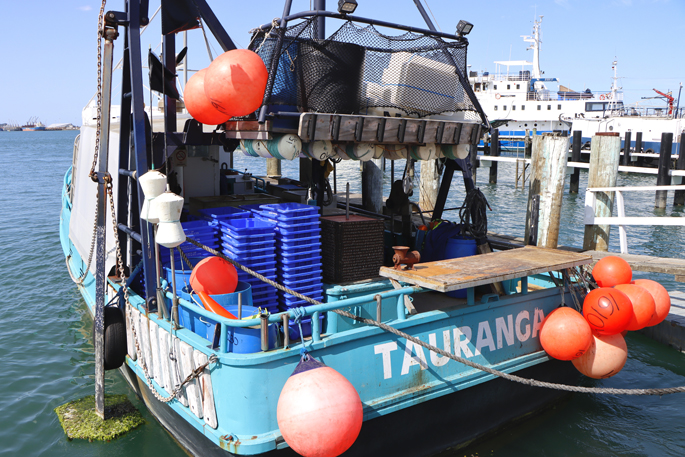 Dan and Erika's fishing vessel berthed at the Marine Precinct Bridge Wharf. Image: Daniel Hines/SunLive.
They also have concerns that landowners in the marine precinct will build wharves out from their land making access to the current public wharf even harder.
"We can't turn a circle in the space between that wharf and what they would build, if the tide's running we can't even turn a circle without crashing," Dan says.
"We wouldn't be able to pull into here for parts of the day so that's another issue with having just that one wharf.
"If stuff is built out then that'll cut down on times of day that we could use this."
Council have formed an advisory group to ensure future developments of the precinct are fit for purpose, and not only meets the needs of current stakeholders but also future tenants as the precinct continues to grow, says Paul.
"This new group includes a range of current precinct stakeholders, and their input will be vital in helping make decisions about future developments including the future wharf."
"Council has multiple wharves in Tauranga available for commercial vessels to berth, the primary wharf is at the Marine Precinct. Currently, there are plans underway to improve this capacity for commercial wharf users.
The wharves are Fisherman's wharf on Dive Crescent, the Marine Precinct Fishing Wharf and the Marine Precinct Bridge Wharf.
"Council is developing this plan in collaboration with the advisory group and wharf users."
The first meeting of the advisory group was August 28, 2019.
"The advisory group agreed to support a project to increase the amount of wharf space for both landowners and other commercial users.
"We are in the process of gathering information to make an informed decision. The users of the facilities will be continually consulted with to ensure this facility can deliver to their needs as much as practicable."
Erika, who is in the advisory group, says she has been trying to work with the council to find out where they could create extra wharf space but it has been four years since she raised her concerns.
"We're in the same spot we were four years ago, if not worse, because a lot of the industries left with jobs, and small businesses have had to close."
More on SunLive...