End of an era at the Welcome Bay Foodmarket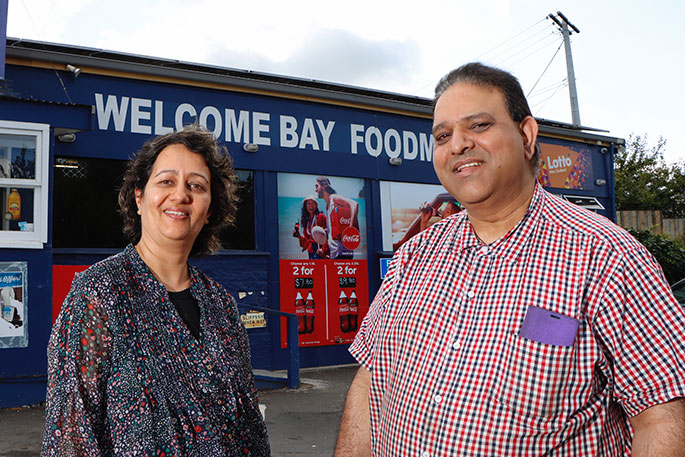 It's the end of an era today for the much-loved Mr and Mrs Kumar of the Welcome Bay Foodmarket.
Many locals are stopping in to say goodbye this afternoon - the last day of 23 years that the couple will have spent running the popular 'blue dairy'.
Welcome Bay resident Tui Sanders popped in to give them a large box of chocolates and flowers.
"I've been a local for 20 something years," says Tui.
"Mr and Mrs K are really special, they really are.
"They've always been here, always been available to us. When you've had a problem you just come in and put it on their shoulders and they'll help you to sort it out. They've always got a smile."
The dairy has been open seven days a week from 7am – 7.30pm on week days and 7.30am – 7.30pm on weekends.
About 10 years ago, a Lotto outlet was added.
"We've sold three second division but we haven't sold any first yet," says Mr K. "Heaps of other small ones."
The couple have raised their two children while running the business, with their son and daughter also helping out in the shop. They're now planning to take some time to help care for an elderly parent, and to have a rest.
"I'm going to miss so many of my local customers," says Mrs Kumar. "I've made a special bond with them. They're just part of a big family, so thank you."
"Not only the local ones," says Tui.
"My daughter lives in Tokoroa, my other daughter lives in Ohope and they rang me and said 'we've just discovered mum that Mrs K is leaving. You go and give her a hug for us'.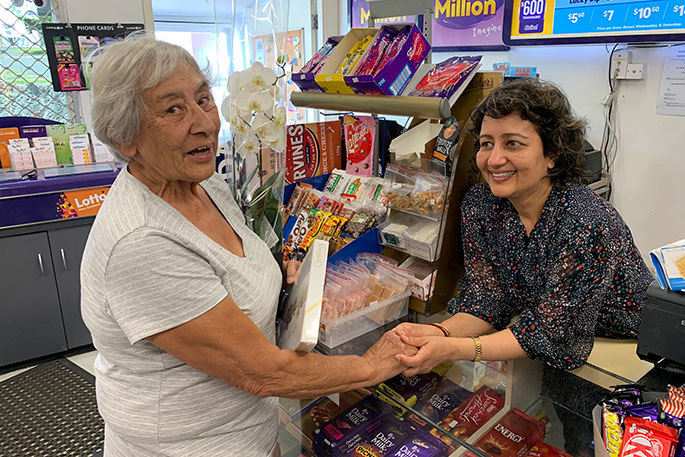 Tui Sanders brought in orchids and Belgian chocolates to say thanks and goodbye to Mr and Mrs K this morning. Photo: Rosalie Liddle Crawford.
"I've tried to talk them into staying but they're not going to stay."
"We are so thankful to the community who supported us right through," says Mrs K. "We want to say thank you to them. We wouldn't be here without them."
Mr K agrees.
"A big thanks to all the community. They have given us good support in the past 23 years."
Although they will be closing the doors this evening, they'll be spending the next couple of weeks helping show the ropes to the new owners.
"I hope that everyone will carry on with the new people here. They are a really good couple," says Mr K.
More on SunLive...