National says 'time wasted' by Northern Link delay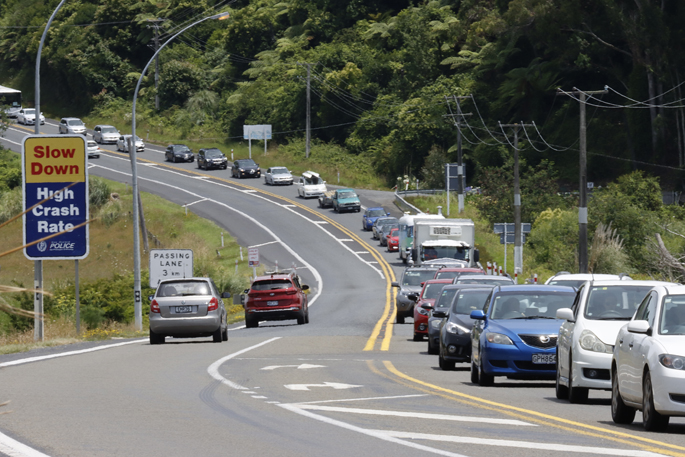 Time has been wasted on delivering vital infrastructure with the delay of the Tauranga Northern Link, say National MPs.
A four-lane Tauranga Northern Link and upgrades on SH2 to Omokoroa are included in a $6.8 billion transport infrastructure package announced by the Government on Wednesday.
The roading project was cancelled by the Labour Government in 2018 after being announced by the National Government in 2016.
"It feels a bit like deja vu this exact announcement, of this exact road was announced by National in 2016, cancelled by Labour in 2018 and now in 2020 being reinstated," says Bay of Plenty MP Todd Muller.
"They're saying that the works will commence at the end of this year, so essentially you've lost two years in terms of works actually going on.
"Everybody locally will just shake their heads because it's two lost years."
"After wasting two and a half years, National has embarrassed Labour into making announcements on infrastructure. The reality is, like KiwiBuild and light rail, they will fail to deliver any of it. National will," opposition leader Simon Bridges says in a tweet.
Todd says the community owes a huge debt of gratitude to the Fix the Bloody Road Campaign.
"The community of Te Puna, Pahoia and Omokoroa, they were phenomenal in putting the pressure on the government saying that the road simply had to be fixed.
"The Fix the Bloody Road people have been huge in community activism and agitation to force the government reluctantly, to admit it was wrong and to restart a road that they'd cancelled.
"Everyone knows that infrastructure in the country, but particularly Tauranga, is lagging way behind the people, so you just can't play politics with infrastructure that was so needed."
The Road Transport Forum says the Government spending is well overdue.
"We are only sorry a couple of years has been wasted in getting on with building and improving the vital arterial roads of New Zealand," says RTF chief executive Nick Leggett.
"That the Melling interchange, Tauranga Northern link, Waikato expressway from Cambridge to Piarere, and the Kāpiti expressway from Otaki to north of Levin, were put on hold for a couple of years is a setback. Clearly, these are big projects that won't be completed for several years.
"It's not rocket science to understand that with the base of our economy in tourism and exports, and growth in our major cities, we need roads that are fit for purpose. That is, at least four lanes, and engineered properly for the conditions, speed limit and in consideration of both the commercial and public use of these roads.
"We are pleased to see the Government finally taking the advice of the Prime Minister's Business Advisory Council to invest in infrastructure, including roads."
Labour List MP Jan Tinetti says The New Zealand Upgrade Programme is boosting growth today and into the future by making targeted investments around the country, supporting businesses and local communities.
"It's awesome to see Tauranga and Western Bay of Plenty supported as some of the highest growth areas in New Zealand. The new Tauranga Northern Link, and Te Puna to Ōmokoroa extension, will help save lives, and are another part of our commitment to take road safety seriously.
The New Zealand Upgrade Programme is a $12 billion government investment in infrastructure including upgraded roads, rail, schools and hospitals across the country.
More on SunLive...