Jazz Village returns to National Jazz Festival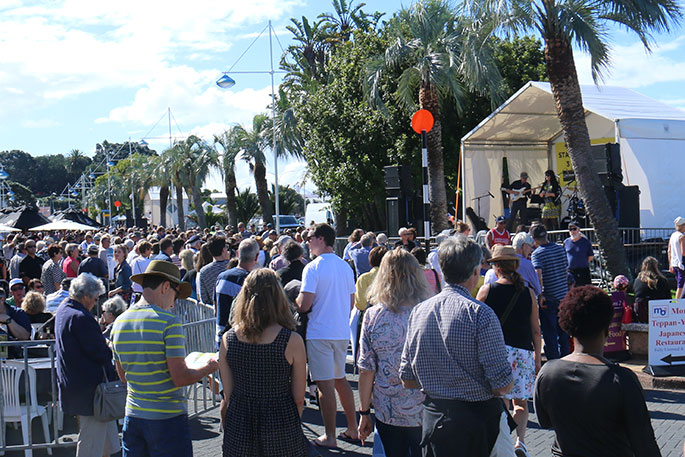 The National Jazz Festival is this year restoring by popular demand its Jazz Village in 17th Avenue in addition to its varied programme of concerts and the Downtown Carnival.
"We are excited to announce that the Jazz Village will be back this Easter," says Tauranga Jazz Society general manager Mandy Ryan.
The Tauranga Jazz Society has announced their full programme for the 58th National Jazz Festival being held at Easter from April 8 to 12.
"There's something for everyone, from world-class jazz concerts at the Baycourt Community and Arts Centre," says Mandy, "to the two-day National Youth Jazz Competition on April 8 to 9.
"We are so happy to bring back the Jazz Village, our very own version of the New Orleans French Quarter to the Historic Village. The Jazz Village event is an absolute crowd pleaser and we get asked for it every year.
"It's a big call to add another event to the Jazz Festival at a time when funding is difficult. However, we have made the commitment and we trust that Tauranga comes out and shows its usual support for this iconic event."
Tauranga Jazz Society president Jeff Baker says the Tauranga Jazz Society is grateful for the local support from Tauranga City Council and TECT but has been disappointed some other regular funders have not come to the party.
"We rely on our community funders, Trusts and business sponsors to enable us to deliver this large legacy event.
"We are a small charitable trust carrying a 58-year legacy of bringing our community together at Easter and showcasing the best of Tauranga.
"We take a large financial risk bringing this event to town. And whilst we are committed to this iconic event, reduced funding makes delivery of the Festival precarious.
"We appreciate any support we receive and are keen to partner with the community. We hope you will support the Festival by purchasing tickets and celebrate Easter with us."
Other events just announced are the Vintage Car Parade on Saturday morning, along with the two-day Downtown Carnival, sunset jazz cruises on the Kewpie, and uptown jazz at Hotel Armitage, including a delightful Jazz High Tea with local songstress Catriona Fallon.
The 58th National Jazz Festival will run from 8 to 12 April 2020 and starts with the National Youth Jazz Competition.
The 43rd National Youth Jazz Competition will be held from April 8-9 featuring performances from secondary school combos and big bands from across New Zealand.
Tickets are on sale now from Ticketek.
For more information visit www.jazz.org.nz
More on SunLive...