Style traverses the generations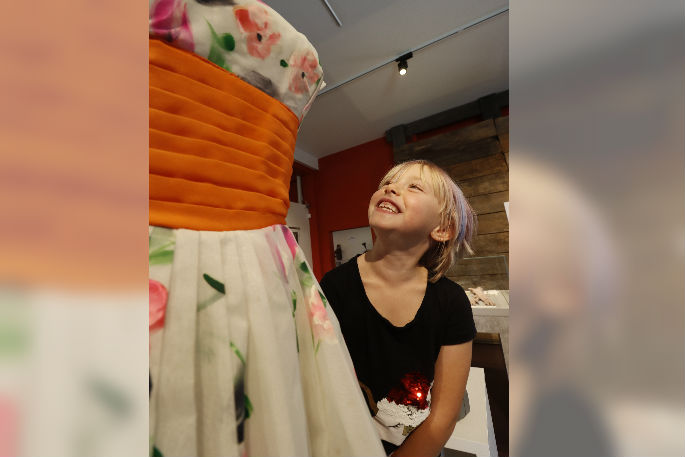 Little Chelsea Cooper likes to gussy up. She has a nose for style, for fashion, even at six.
"My favourite dress is a leopard one with no shoulders."
She's also given to a little glamour and elegance. She and mum Emma dropped by the Western Bay Museum in Katikati where ten dresses – five of them wedding dresses – spanning the decades from the 1870s to 1960s are on display, part of the Fashion and Photography Exhibition.
"Quite romantic," says museum manager Paula Gaelic. "And feminine and fabulous."
Especially after the quite male-oriented exhibitions that engaged this rural sector community in the past.
"I would like one dress for Christmas and another for my birthday," says Chelsea Cooper.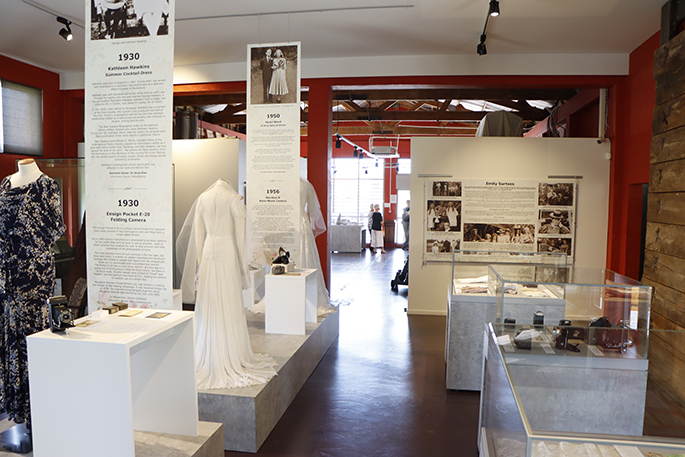 Perhaps the exhibits have successfully traversed the generations. Like the gorgeous 1930s navy and white summer cocktail dress that graced the local literary world draped around trailblazing poet Kathleen Hawkins.
William E. Morris, founder fellow of the International Poetry Society, loved her and praised her tremendous ability.
"Her poems have carved a niche for themselves in the literature of this country."
Tauranga, he said, could savour the best of her work.
And 90 years later we savour her style, because not only was she creative and artistic, she had style and flair, she was a fashion plate too.
"You could wear the Hawkins dress to a summer cocktail party in 2020," says Paula.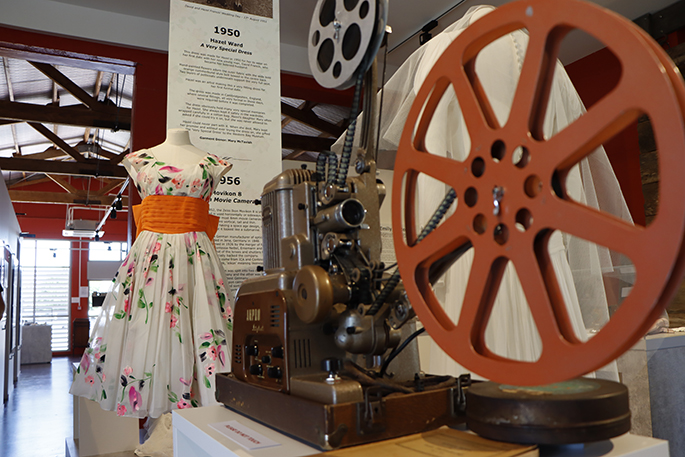 The photography aspect of the exhibition focuses on the work of Emily Surtees – eldest daughter of Katikati founding father George Vesey Stewart. She brought a glass plate camera with her to New Zealand and spent 25 years photographing people and places.
The museum now has a digital record of all those photos.
"And because fashion and photography go hand in hand, each of the garments on display has a camera, projector, reflecting stereo scope or magic lantern of the same era alongside."
Kathleen Hawkins' dress has an Ensign pocket E-20 folding camera alongside.
There's a flamboyant little number on a petite mount nearby – "a special and beautiful dress" says Paula Gaelic - with another fascinating story.
A hand painted dress, bright floral splashes with an orange cummerbund that screams 1950s and sets the head's juke box playing Blue Suede Shoes or Good Golly Miss Molly.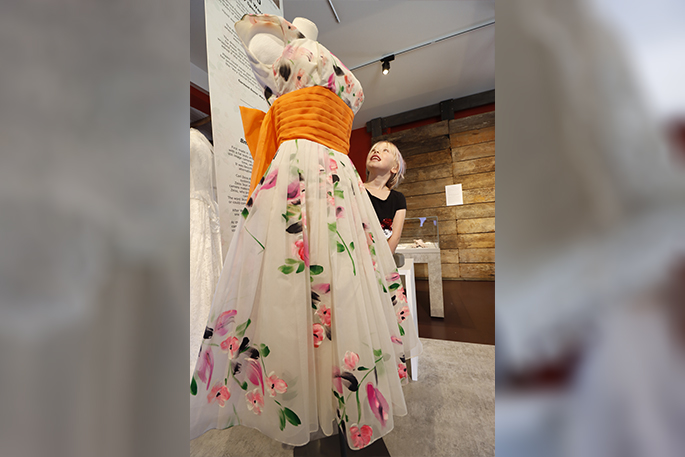 The original petticoats are underneath and are very coarse.
"I should imagine a woman would have been quite uncomfortable in that dress," says Paula.
Except the wearer's heart was pounding, she would not have known.
"It was made in England for Hazel Ward. She wore it on her first formal date with a beau called David Francis, who a year later, would become her husband."
Hazel kept it in a wardrobe for the rest of her life. Which is sad, because that dress deserved to be seen jitterbugging and boogie woogie-ing on every dance floor in the Bay of Plenty and beyond.
Hazel's daughter Mary McTavish can recall seeing the dress in the wardrobe as she grew up. But she was never allowed to try it on.
"We have had lots of guests say that dress would be just great for the Beach Hop."
Or an art deco festival.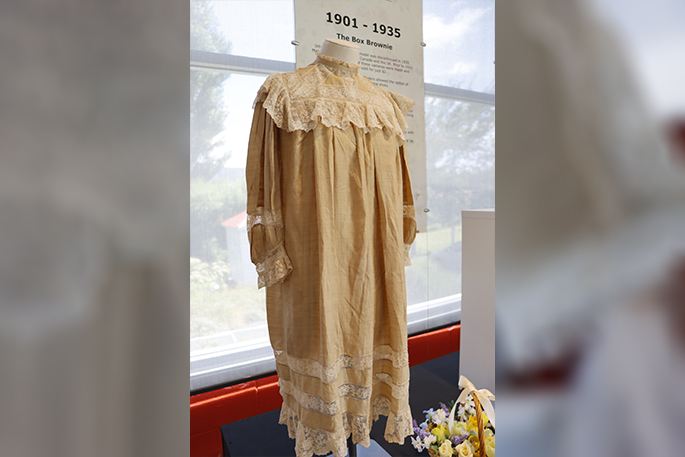 There's a small bridesmaid's dress, of chill fabric from 1912 – worn by a young girl called Alison Gow, by all accounts a bit of a tomboy.
The dress is now brown.
"Over time they would have dyed it with tea so it could be used again on less formal occasions."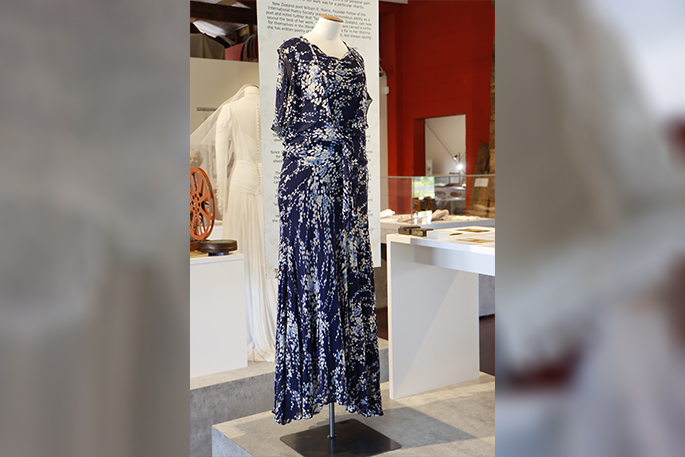 Waists and necks were a lot smaller, and shoulders were sloping.
"I think the sizes would be the equivalent of four to six. They weren't as physical as we are today. And corsetry had a lot to do with it."
And there's something called a fire shield – circa 1860. It's an intricately embroidered piece of equipment on a stand.
"It protected the woman's face – more her wax based makeup which could have melted under direct heat."
It was the price of looking good.
These are chic and enchanting times at the Western Bay Museum in Katikati.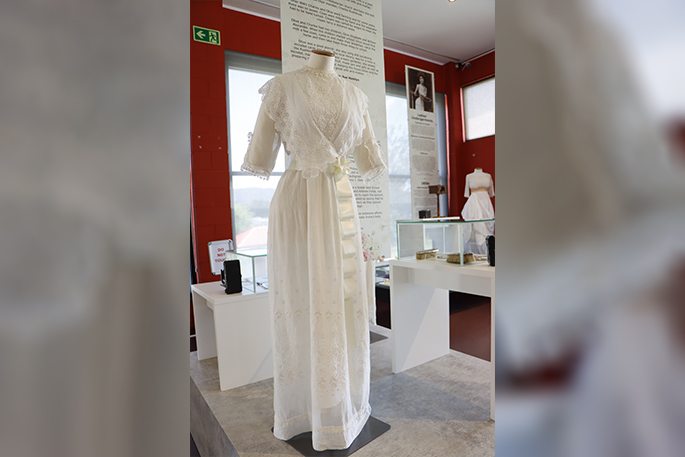 "Something for everyone," says Paula Gaelic.
The exhibition Fashion and Photography 1870s-1960s is on until April.
The fox fur certainly registered with a little girl.
"I think it was fluffy even though I didn't touch it," says Chelsea Cooper. "Its eyes looked freaky."
But they were freaky times, exotic animal fur was once a fashion statement, before animal rights activism.
But we can't rewrite history.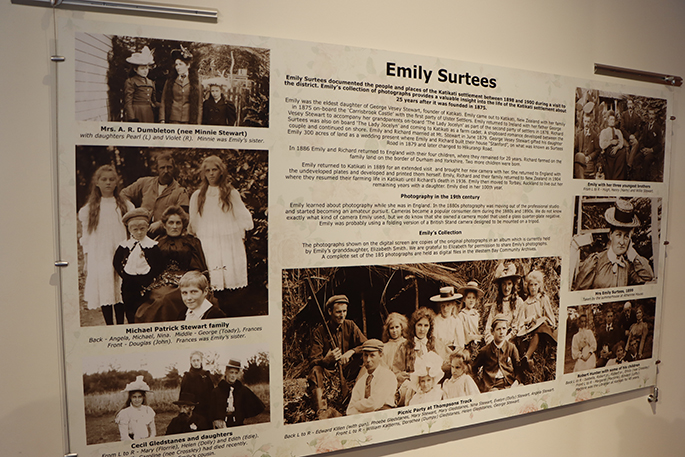 More on SunLive...