Tauranga charity stores mistaken for dumps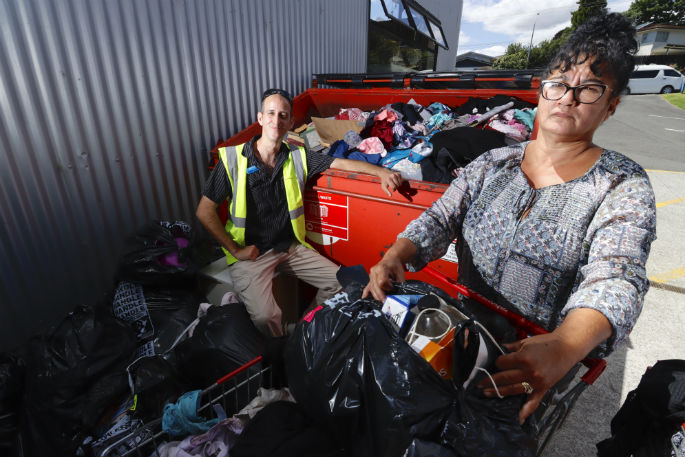 Old furniture, stained mattresses and grimy food waste are just some of the items that have been dumped outside Tauranga charity stores this month.
Store managers are now urging the public to put an end to the practice of illegal dumping, saying it is a huge waste of their money and time.
Waipuna Hospice charity store in Te Puke took to Facebook last week calling on the community to help spread the message that their shop isn't a dump site.
"Dumping goods which aren't able to be sold through our charity shops is not acceptable," reads the post.
"Our aim is to raise funds from items sold in our charity shops to go towards providing care and support for our family and friends that are facing a terminal illness - not towards the removal of rubbish."
A charity store manager in Fraser Cove says each week they have to empty six skip bins of 'junk' that has been dumped outside their shop.
Doing Good Foundation charity store manager Glenda Mayer says it's an ongoing problem which she can't seem to solve.
"There is nothing we can do about it. I have two of the biggest rubbish bins you can get from waste management, and they are both emptied three times a week," says Glenda.
Glenda says she can't specify the exact amount, but waste removal costs the store more than $10,000 a year.
Doing Good Foundation is a charitable trust that builds homes for needy families in the Bay of Plenty.
"The more rubbish that's getting dumped, the higher the cost to us," says Glenda.
"We want to build homes for needy families, but so much of our money is going straight to waste management."
Glenda says the charity store is forever grateful for the "beautiful pre-loved items" they receive from generous community members, but on the flip side of that is the array of dumped rubbish.
Tauranga City Council spent more than $47,000 in 2019 to remove 130 tonnes of illegally dumped items.
Items that commonly get dumped illegally include furniture, mattresses, tyres, household rubbish and green waste.
Murray Kliskey, team leader for waste contracts and compliance, says January is a peak time for illegal dumping.
"We're encouraging the community to help by letting us know about any illegal dumping activity. The more information and evidence we have about the incident, the easier it is to take enforcement action."
Another issue for some Tauranga charity stores is donated goods not being in good enough condition to resell.
This includes ragged clothes, broken electrical appliances, cracked crockery and degassed fridges.
The Red Cross Shop staff at Mount Maunganui see a huge amount of clothing and homeware come through their doors every day. But according to store manager Craig Teaz, only 50 per cent of these donated items can be sold on.
An increase in donated clothes after Christmas resulted in bags of clothing being sent to the Maleme Street Transfer Station in Mount Maunganui to be turned into rags, he says.
"Before donating, people need to ask themselves if they would rebuy the item themselves.
"We don't want to have things that are all dirty, yucky and ripped. If you wouldn't buy it, then don't drop it off to us."
More on SunLive...