A new New Year Chinese festival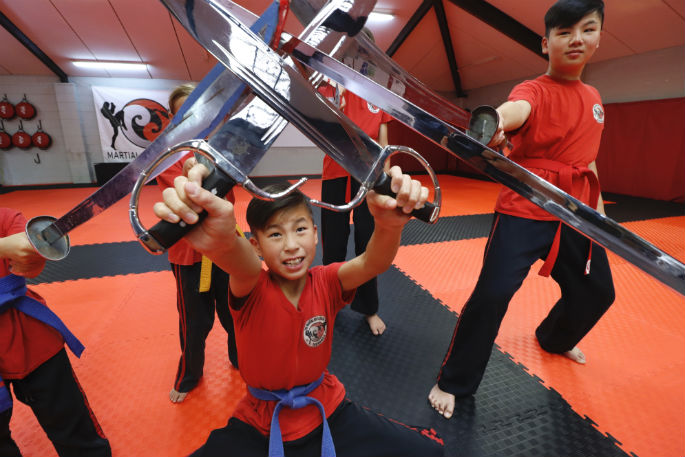 A group of six Tauranga youth practise the Kung-Fu move with coordination, balance and poise. It is a big responsibility for the biggest day on the Chinese calendar of celebrations.
Ranging in age from eight to 13, they are rehearsing for their display today at the first-ever Tauranga Chinese New Year Festival.
Under the watchful eye of chief instructor Ray Smith, the students follow instructions closely - using swords with caution and moving together in synchronicity.
Elijah Tie, 13, has been learning Kung-Fu for seven years and trains alongside three of his siblings Enoch Tie ,11, Ephraim Tie, 9, and Elisha Tie, 8.
"My parents – they always used to look at old Kung Fu movies and thought it would be cool if we could do it," says Elijah.
The siblings are stoked to be doing a display on Saturday. Elijah saying it's important to keep Chinese culture alive in New Zealand.
And 13-year-old Payton Koredha, who has been learning for six years, thinks so too.
"It's good to have different cultural celebrations in New Zealand. You get to learn about other people's cultures, as well as your own," he says.
Participation in festivals like this honour the traditions and ancestors of the art, says Ray.
"It goes back 1500 years and it is a huge responsibility for us to pass this knowledge on."
At the festival, Elijah will be doing a solo display with a sword. He's also taking part in the lion dance happening separately.
"During every performance, you have to be a little bit nervous, but I am feeling pretty good about it," he says.
He says the self-defence skills gained whilst learning Kung-Fu are invaluable.
"If I was attacked on the street then I would know what to do. It's a really practical skill to have."
Payton's message to young people is that Kung-Fu can be done by pretty much anyone.
"Displays like this are good because it shows that everyone and anyone can do Kung-Fu."
"It doesn't matter if you're a boy or a girl, big or small."
The Chinese New Year Festival runs from 5pm-9pm on Saturday, January 25 at the Historic Village. Entry is free and food will be sold onsite.
The Kung-Fu display is set to take place at 8.45pm.
For more information about learning Kung-Fu in Tauranga, visit: www.tmaa.co.nz/martial-arts
More on SunLive...