Crossing takes its bloody toll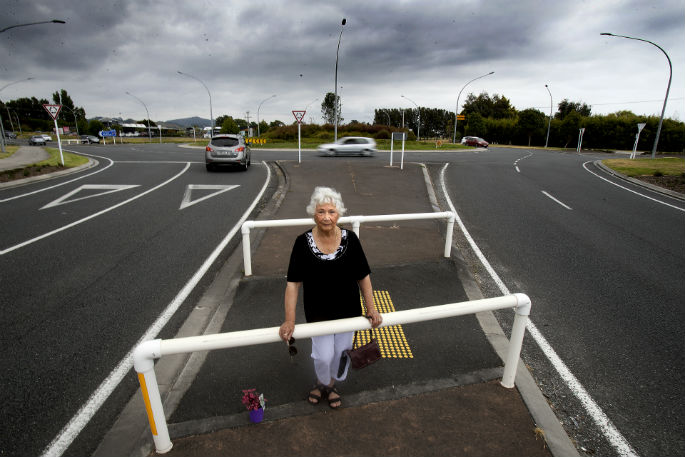 Roundabouts are meant to be the safest form of intersection control, but try telling that to the people of Tara Road in Papamoa.
Frustrated residents are complaining of close calls and multiple injuries from people crossing near the Tara Rd and Parton Rd roundabout.
And now they are urging Tauranga City Council to help fix the problem, saying it's only a matter of time before someone gets seriously hurt.
Bus stops, a medical centre, a retirement village, a child-care centre and a pharmacy are all located in close proximity to the four-lane roundabout.
The roundabout was built in 2011, when Te Okurua Dr was also built.
Raised traffic islands with pedestrian access surround the roundabout, but there are no marked crossings, signage or traffic lights.
Tara Road Medical Centre doctor Martijn Haitsma lived in the area for 16 years and says Tara Rd has become "a little racetrack".
Excessive speed on Tara Rd becomes problematic at the roundabout, he says.
"People find it difficult to cross the road with these cars driving so fast and elderly patients from the retirement village have explained to me that they have had near-misses.
"Luckily nobody has got hit so far, but I am almost waiting for this to happen."
A Tara Rd resident points out that it is "almost impossible" for those on mobility scooters to cross the road safely.
Bill Jackson helped an older woman who fell off her mobility scooter when crossing a few weeks ago.
"She was scared stiff trying to get over the road because a car was coming for her. She sped up and tried to go over the curb trying to get out of the car's way.
"Somebody is going to get bowled over – we need something to be done as soon as possible," says Bill.
He says along with the speed factor, lack of safe crossing areas and little visibility of cars approaching the roundabout are also major issues.
Another Tara Rd resident, who asked to remain anonymous, says his wife fell "flat on her face" after having to race across the road and had to go to the medical centre covered in blood.
Council's manager for network safety and sustainability Martin Parkes says safety measures are being looked at as a result of reviews by council staff and concerns raised by residents.
The council is also planning a citywide speed limit review, including reviewing the speed limits in this area.
Martin says safety solutions are yet to determined, however, a way forward is anticipated within the next two months.
More on SunLive...