Rescue helicopter wait time 'unacceptable'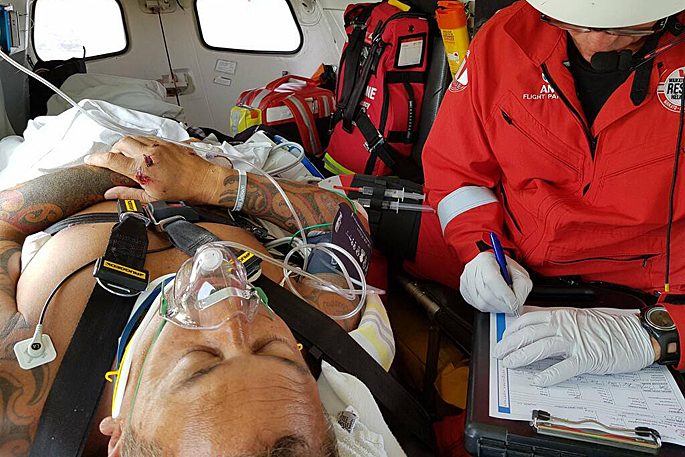 Mike King spent an hour lying on the road thinking he would die waiting for a rescue helicopter after a motorcycle accident.
The comedian and mental health advocate came off his bike just north of Paeroa after hitting an oil patch earlier this month.
Mike snapped his scapula, broke a collar bone and nine ribs and also punctured a lung.
He says he spent an hour waiting, unable to breathe, thinking he was going to die in a post on his Facebook page.
Mike was taken to Waikato Hospital by helicopter where he underwent surgery and stayed for 11 days.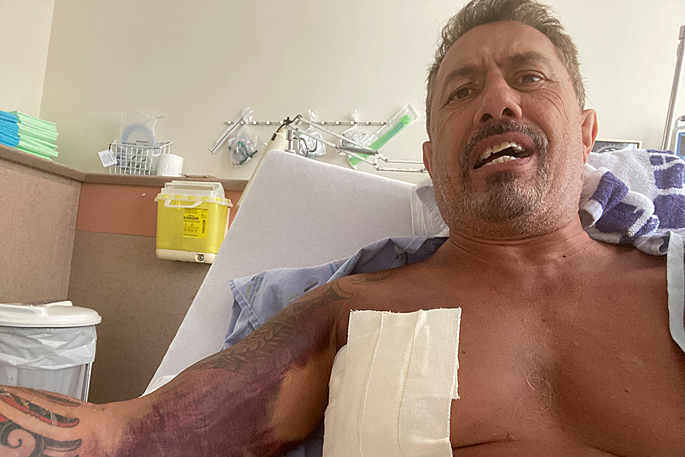 Mike recovering in hospital. Image: Mike King/Facebook.
Coromandel Rescue Helicopter Trust chairman, Brian Bowering says, a one hour wait for a rescue helicopter is unacceptable.
There is another report of someone unconscious waiting over an hour and 20 minutes for an ambulance Brian says.
"If you've got to wait 25 minutes for a helicopter, that's about as long as you need to wait from anywhere really, to wait an hour is totally unacceptable."
He is currently fighting to restore a rescue helicopter being based in Whitianga over summer after the Ministry of Health removed it as part of a 10 year modernisation programme.
Brian says if a helicopter is in Whitianga and available immediately it would reach Paeroa in 15 minutes.
He says seeing Paeroa is in the Waikato District Health Board area they would normally get a helicopter from Hamilton but it could be serviced from anywhere it just depends on work load.
"It depends on what other helicopters in Waikato, Hamilton and Auckland are doing.
"Paeroa could be serviced from Taupo if all the others are busy, there's no hard and fast line there."
Brian says despite the wait time he doesn't think the area needs more helicopters.
"There doesn't need to be more helicopters, they just need to be strategically placed better."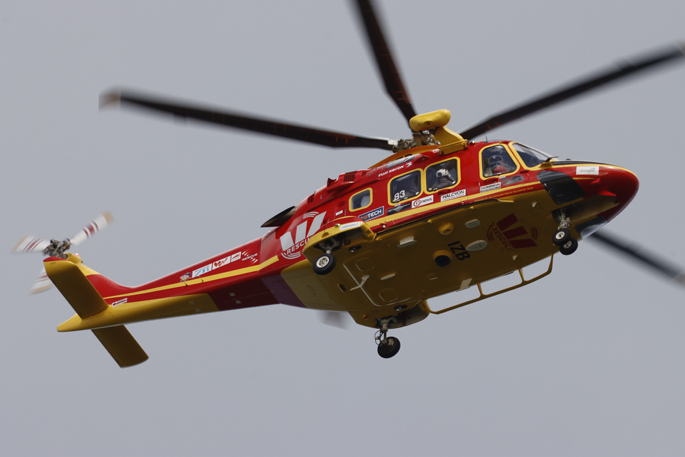 A Westpac Rescue Helicopter. Image: Daniel Hines/SunLive.
Having a helicopter based in Whitianga makes sense especially seeing there is a $1 million purpose built facility for it, he says.
"We can get to anywhere on the [Coromandel] Peninsula quicker than anybody else can and because the crew is sitting here waiting for a call, they don't have to be paged to come in, they're off the ground in minutes and gone."
The community raised $1 million for the rescue helicopter facility with a house for four crew members that was completed in 2012.
In previous years a helicopter has been based in Whitianga full time from Boxing Day to mid-February.
A Ministry of Health spokesperson says the air ambulance modernisation programme aims to provide a better on-board clinical service for the whole country.
"Through the modernisation programme, Whitianga and the wider peninsula now have access to new air ambulances, AW169s.
"These larger helicopters now provide space for clinical staff to deliver intensive clinical care on board, to ensure patients needing urgent treatment get the right care at the right time."
Brian says even though they have access to the new helicopters, there still needs to be one based in Whitianga full time especially over summer.
"They're saying that we are better covered now but we are definitely not better catered for."
A petition to reinstate the helicopter is gaining support, the aim is to reach 30,000 signatures before the petition closes on April 30.
The petition can be viewed here.
More on SunLive...