St John apologises for leaving Katikati man alone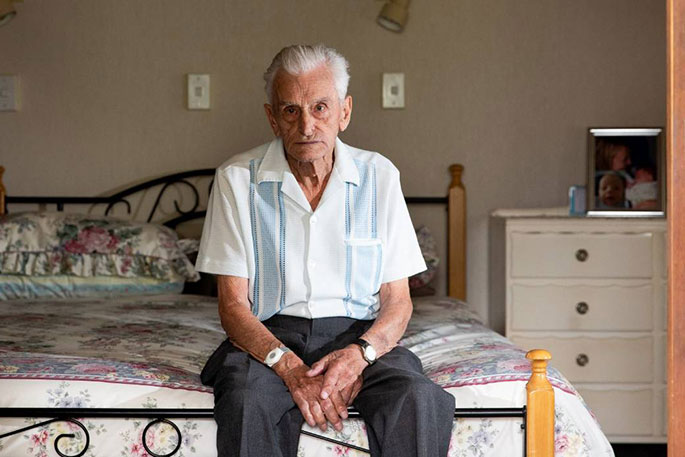 St John has apologised to an 87-year-old man left alone and helpless for more than two hours after pressing his medical alarm.
The organisation says it has taken action after failing to complete several welfare checks on the unwell pensioner, and bungling the call when they finally made contact.
But Ken Allen, who lives alone in Katikati, says he has lost all faith in the "bloody useless" pendant meant to serve as a lifeline on his wrist.
He says he is prepared to take his fight for better emergency care in his small Bay of Plenty town all the way to parliament.
PARAMEDIC WARNS AGAINST ALARM
Ken was in his unit one October evening in 2019 when his temperature began to spike and he felt sweaty and unwell.
He tried to rise from his couch but could not, so he stayed seated as his condition worsened.
A pain developed in his stomach and his vision became so blurry he could not see.
Allen managed to struggle to his feet and feel his way to his bedroom, where he lay on the bed and pressed his medical alarm, at 5.45pm.
He heard a voice from the medical alarm's base unit, through which an operator can communicate, but he was unable to hear or reply.
At 6.30pm he again pressed the button, still feeling gravely unwell and fearing he had suffered a stroke.
He heard no response, so again he waited.
"I thought - 'what the hell is going on? I need some assistance'," he says.
"I started to become a very worried man."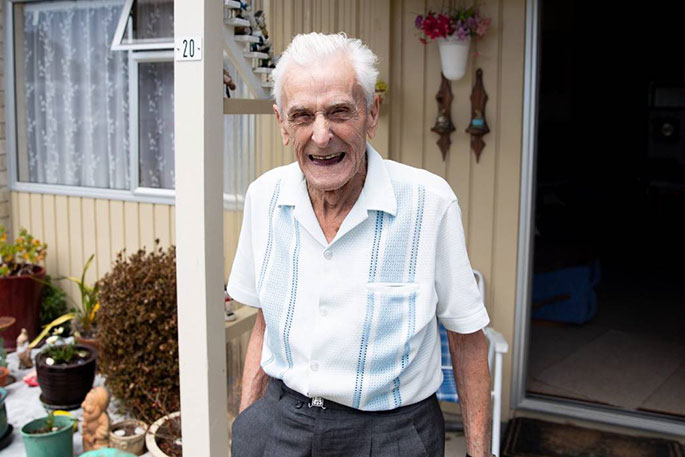 Ken Allen outside his unit in Katikati. He believes the ambulance service in the Bay of Plenty town leaves a lot to be desired.
Then, nearly two hours after he first activated the alarm, an operator rang his mobile about 7.30pm.
But his troubles were not over.
He says he was unable to communicate with the operator, who hung up on him after saying they had another call coming in.
Five minutes later he was called again and told they may be able to send an ambulance shortly, unless another emergency arose, says Ken..
An ambulance finally arrived shortly after 8pm.
Paramedics ran tests which showed no serious issue.
As they were leaving, one stopped to warn against relying on the alarm in an emergency, says Ken.
He says the St John staffer told him to call 111 if his situation worsened using his mobile phone, as he would receive a better response.
"That indicated to me the medical alarms on your arm are bloody useless."
The alarm costs $58 per month, funded by the Ministry of Social Development.
THREE WELFARE CHECKS MISSED
Ken complained about his service to St John, which launched an investigation.
In a subsequent letter to him, St John continuous improvement manager Olive Taylor, of Auckland, outlined the botched dispatch process.
When the call was received, Telecare Medical Alarms tried and failed to make contact via the monitor, then called 111 advising they had been unable to make clear contact.
Olive says the Emergency Medical Dispatcher attempted to make contact over the monitor and via a landline, but was also unsuccessful.
The incident was coded "Orange", meaning it appeared serious but not life-threatening, and the incident entered the queue for ambulance dispatch.
Welfare checks due at 6.18pm, 6.48pm, and 7.18pm were not completed as required.
A check was finally made at 7.33pm but the review found this call did not meet customer service standards because no reassurance was given to Allen.
The review found while the service from the paramedics was without fault, proper processes were not followed during dispatch.
Olive says the staff involved received feedback about the need to provide reassurance and conduct regular welfare checks.
"On behalf of St John, I sincerely apologise that we did not get help to you sooner or provide the high level of service we expect; and for the distress that was caused."
THE HEART OF THE MATTER
St John's investigation found the delay was caused by ambulances attending other patients in the area.
Territory manager Ross Clarke says they were tied up with patients requiring an immediate response.
"When all ambulances are committed to urgent incidents, there will likely be a delay in responding to a non-life threatening incident.
"St John emergency vehicles operate as a network, and the closest ambulance may not be the local station ambulance.
"The Katikati ambulance may respond to incidents in other areas, and an ambulance from other areas such as Tauranga or Waihi, may be sent to Katikati to cover, should there be an incident requiring an immediate, emergency response."
But Ken says poor ambulance service in Katikati is putting the significant number of older people there at risk.
He believes there should be a second ambulance in the town of 4710 people, or alternatively a first-response officer should be on hand to respond to medical alarms.
Ken, whose health is deteriorating, said he is willing to take his fight for a better ambulance service in Katikati all the way to parliament.
"When Katikati was manned and run by well-trained volunteers, they prided themselves on prompt response times.
"Two and a half hours is a disgusting response time."
More on SunLive...