Bubble-wrapped by a voice on the line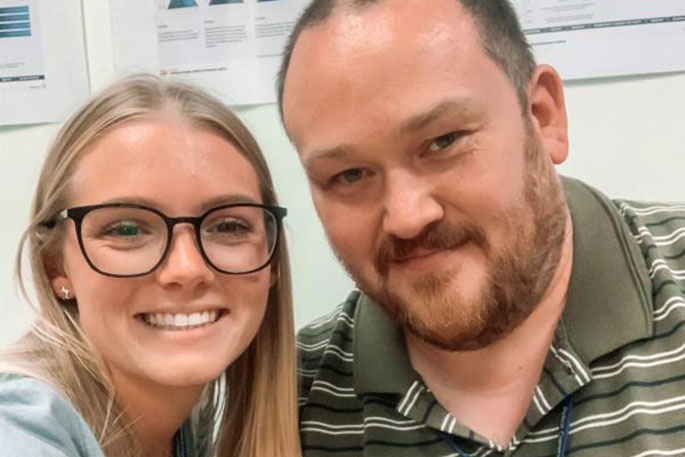 The calm and reassuring presence of a police communicator didn't just help Georgia Harris through the terrible moments after she found her father had killed himself. It also led her to follow his voice to a new future.
In October 2018, 23-year-old Georgia made the awful discovery that her dad, after a long and very hard battle with depression, had taken his life at their family home.
Other family were out in the back paddock of their lifestyle block and she needed to make the decisions. She called 111, and got Peter Keenan.
"He was so calm," she says when asked what it was about his response which made such an impression. "He kept me on the line until Police and ambulance arrived, talked me through what was happening, and kept reassuring me.
"He made me feel bubble-wrapped."
It was only 10 minutes until Police and Fire and Emergency arrived, but Peter's voice on the end of the phone while she was waiting made a huge difference - not only then but to her life, Georgia says.
Thoughts of working in such a role herself turned into determination to do so when she got the recording of the call. She has listened to it many times since.
She started training at the Northern Communication Centre in Auckland in October last year, one day before the first anniversary of her dad's death, and has now qualified as a Crime Reporting Line calltaker.
The timing was a "bit crazy", she says, but it helped to be doing something and overall "I couldn't be happier."
"I feel really honoured and privileged to be working alongside Peter and so many other incredible co-workers," she says.
"It has been the icing on the cake after a really awful year."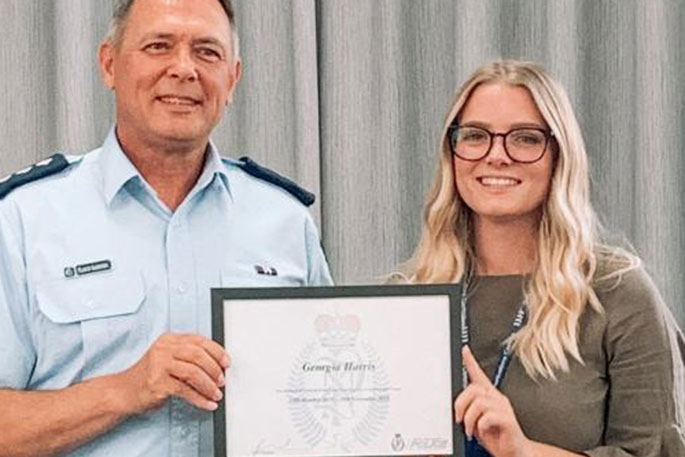 Georgia Harris on qualification day with CRL supervisor Inspector Lance Gardiner.
Peter says both his training and experience with similar calls during his seven years on the job helped when Georgia's call came in.
So does his soft Irish accent – he says many New Zealanders have Irish or Scots ancestry and something about the lilt helps convey empathy.
"One of the things I remember about the training was being told to imagine that the caller was a member of your own family – would you be happy with the service if so? That has always resonated for me."
He also mentions the support and feedback from colleagues, who can't help but overhear some interactions, as helping with the most challenging cases.
He distinctly remembers Georgia's call, and is full of praise for the positivity and empathy with which she has dealt with it - and brings to her new role. He's also delighted to be working with her – so often call takers don't have any follow-up so it was lovely to speak to her again, he says.
"I think she's quite special."
And he's not surprised to learn that Georgia is already planning her next step.
She's started the application process for a constabulary role.
More on SunLive...