Conciliation with serial complainer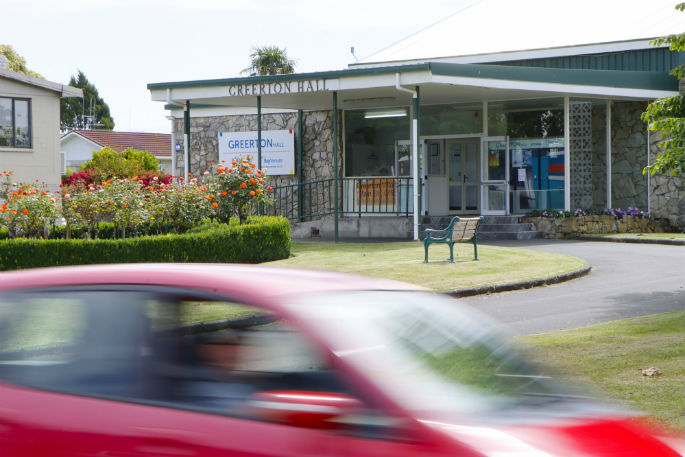 The Greerton Hall serial noise complainant seems to have won the day.
There will be no loud or amplified music from the hall in future – especially the booming base sounds that led to 82 noise complaints in two years… and all from the same complainant.
That means some users will be excluded from using the hall – like Zumba dance exercise classes.
Bay Venues, which controls the Greerton Hall, has met with the complainant. "We had discussions – a good meeting – and I think we have a better understanding of what upset him," says CEO Gary Dawson.
From a discussion The Weekend Sun had with the complainant before Christmas, that noise was the bass sound which he said: "literally made the walls of my house shake". He also said it was never his intention to have events shut down, the hall torn down and stop people from having a good time at the community centre. But that has effectively happened.
At least three groups – a Sunday church group and two Zumba classes – have been forced out. Bay Events has found an alternative venue for one Zumba group and it's believed the other has found its own facility outside the Bay Events network.
On the other hand, the Scottish Country Dance Club which was under threat of having to relocate its 60th anniversary celebrations from the Greerton Hall in June, has suddenly had its booking confirmed.
"We are absolutely delighted. And we have no doubt if The Weekend Sun had not got involved in this story last month, things would have turned out differently for us."
When asked if the 'better understanding' with the complainant meant the future of the Greerton Hall as an events centre was secure, the Bay Events CEO Gary Dawson said "not necessarily".
"We aren't supposed to have loud or amplified music there so we will have to continue to work with the Tauranga City Council to define what that means. However we would like to think that in the foreseeable future we can use the hall as much as we can and come to some sort of compromise."
But within the rules which mitigate the noise and which our serial complainant wanted all along. "We have had a direction about no loud and amplified music and we have to abide by that direction. It's not perfect but we will keep in touch with the complainant and if there's anything he is not happy about then we hopefully we can work it through."
The compromise will mean the Greerton Hall will be able to accommodate some music. "However, if there are groups that depend on loud bass, then we will be encouraging them to use other facilities."
The conciliatory CEO says it looks like they have a "reasonable outcome that will make everyone happy". Albeit, there maybe a few groups who can't use the hall.
"But you are always going to have these situations with halls and recreation facilities in urbans areas. It's just one of those things going to happen."
One local Greerton resident got all fired up by The Weekend Sun story on the Greerton Hall noise controversy. "The complainant says he is no griper. Well, not much!" he said in a phone message.
"Anyone who makes 80 complaints in 2 years has to be a griper. Why did he buy a house nearby if he didn't want to put up with the noise. He's a moaner!"
But there's a city plan and a resource management act and the local authorities have an obligation to enforce the rules. "The person making the complaints was free to do that," says Gary Dawson. "He was well within his rights to do so."
More on SunLive...