Countdown start selling shopping baskets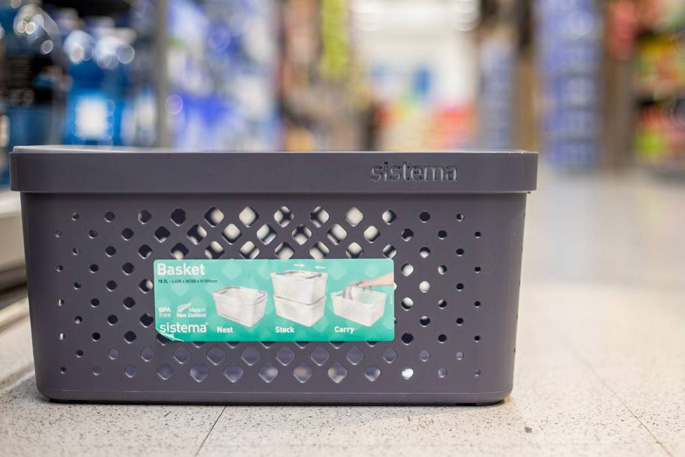 Countdown has started selling plastic shopping baskets but the supermarket chain says it's not in response to their own baskets going missing.
The baskets are being sold in the company's 180 stores as an alternative to the reusable and paper bags already available.
Countdown spokeswoman Kiri Hannifin, says the baskets were made by New Zealand plastic container Sistema using regrind plastic.
Regrind plastic is made from scrap resin collected during other manufacturing processes, ground down and re-used.
"[It] is stronger than virgin plastic and can be recycled at the end of life," says Kiri.
Plastic-free campaigner Trisia Farrelly says as long as the baskets were robust and long-lasting, they were likely to be a far better option than thin, short-lived plastic bags.
"Something that's reusable, repurposed and recyclable sits much higher up the waste hierarchy than something that has a single use and can't be recycled," the Massey University environmental anthropologist and political ecologist says.
"If supermarkets are seeing this as an option, that's great.
"My concern would be if they were made using virgin plastic, which would just be adding to the volume of plastic in circulation."
Countdown removed single-use plastic bags from its stores in October 2018, ahead of a nationwide ban which came into effect in July last year.
The supermarket chain estimated the move had taken about 350 million bags out of circulation each year but it had also impacted supplies of shopping baskets.
A month after removing single-use plastic bags, Countdown Orewa had lost all but six of its 200 shopping baskets.
About 250 baskets went missing in the Auckland suburb of Lynfield and Taranaki supermarkets also reported losses.
"Some stores have had a few teething issues with baskets going missing but we'd expect that to settle down once customers get into the habit of remembering their bags," a Countdown spokeswoman said at the time.
On Monday, Kiri says the company had recovered many of those baskets during an amnesty and fewer were now going missing.
"Selling baskets in-store isn't in response to theft, it's in response to the popularity of bringing your own shopping vessel," she says.
"Basket theft has settled as people have got used to bringing their own bags."
The baskets cost $10 each, compared to $1 for a reusable bag or 20 cents for a paper bag.
More on SunLive...