New World scam prompts warning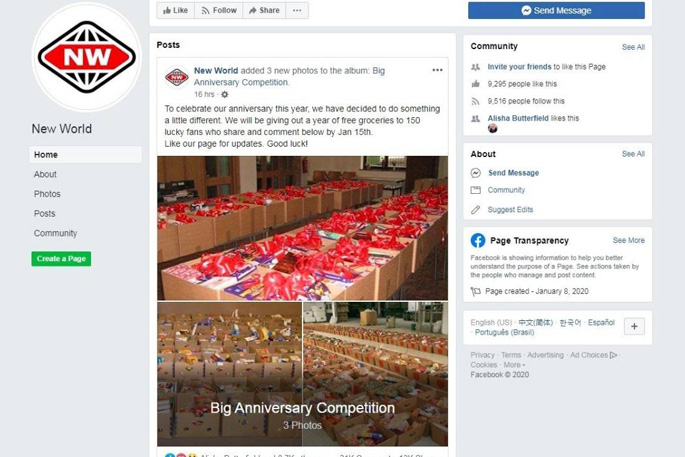 A Facebook scam promising a year's free groceries for 150 "lucky fans" has fooled 34,000 people, forcing ​Netsafe to issue a warning to Kiwis.
A post advertising New World's "big anniversary competition" appeared online on Wednesday night and had attracted more than 34,000 comments and 20,000 shares by Thursday afternoon.
However, both the page and the competition are fake.
Antoinette Laird, spokeswoman for New World's parent company Foodstuffs, says Facebook had been contacted to have the page removed.
"We are currently going through Facebook protocols to get this page shut down but unfortunately it can take a bit of time," she says.
"It is a priority and is under way."
Foodstuffs had put a post on its official New World Facebook page and website to alert its customers to the scam.
"We continue to remind customers never to share personal or financial information with untrusted sources," Antoinette says.
"Customers should always check the New World website or Facebook page to see if any promotion is legitimate."
Cyber-safety organisation Netsafe says although entrants were not necessarily exposed to computer viruses by interacting with Facebook posts, scammers could use them as a starting point.
"Often people will be asked to give personal details to register for a competition and that can follow on to providing credit card details or making a payment," chief executive Martin Cocker says.
"At that point a lot of people will pull out but by then they've already handed over a lot of data."
Martin says the easiest way to avoid potential scams was to not click on advertisements or follow links to posts.
"If you see a competition or opportunity being shared, search for it independently or go to the official page to see if it's posted there."
While most big companies would be the target of social media scams at some stage, if people looked closely, there were clues that could help identify fakes.
"Often the page or account won't have the legitimate name or web address because they've already been claimed by the business," he says.
In this case, the web address included New World with an upper case 'i', rather than an 'l' (a lower case 'L').
The images used offered another clue, with the boxes of groceries clearly marked with Salvation Army logos.
"Scammers won't always be careful about the pictures. There is no reason not to use a stock image of groceries but they've used something from the Salvation Army," says Martin.
Antoinette urged customers to remember that if something looked too good to be true, it probably was, and to look for the blue tick commonly used to identify official accounts.
"This is the best way to verify if a page is authentic or not," she says.
"Also, look for when the page was set up. If it was set up recently with limited posts/photos it is unlikely to be authentic."
More on SunLive...