The power to compete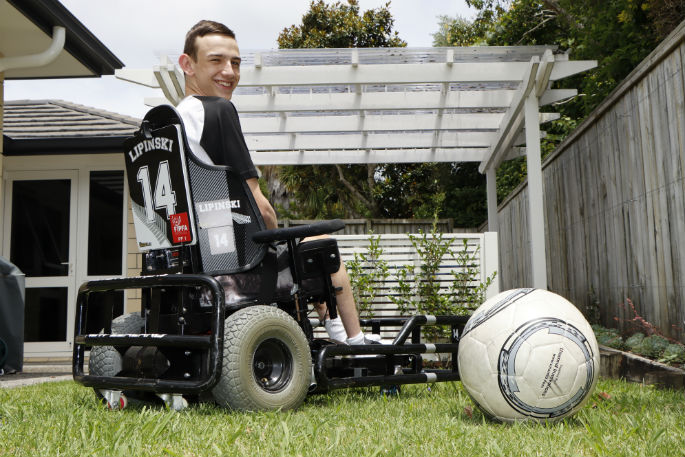 Toby Lipinski has made it his mission to raise the profile of powerchair football in Tauranga.
Playing at a national level for three years running, the 17-year-old is determined to see more people take part in the sport recreationally and competitively.
"Powerchair football is my passion, and I want to get more New Zealanders playing it."
It's clear that Toby, who has cerebral palsy, lives and breathes football.
Manchester City FC merchandise hangs from his bedroom walls and trophies are stacked high.
"It's all he ever does. He's either playing powerchair football or playing the game on his Playstation," says Toby's dad Murray Lipinski.
Toby is the only competitive player in Tauranga. But that's something he wants to see change in the future.
The indoor sport is for people with physical disabilities, who use powerchairs for mobility. Two teams of four players use their chairs to attack, defend and spin-kick a 13-inch football to score goals.
Powerchairs are fitted out with guards, which is how players hit the ball.
"Anyone in a chair can do it, so come and have a go. Some of the players have never been able to do any other sport, but they can play this," says Toby.
Toby's parents echo his words of encouragement. "We want more players in the Bay of Plenty," says Toby's mum Debbie Lipinski.
"Getting out in the community helps you realise what sport can do for you and how happy it makes you feel."
Murray says people don't need arms, legs or feet to be able to play. "Some players use a joystick on their chin or their shoulder blade.
"As long as they can use a controller, then they can participate."
The teenager has been playing for five years now, and he trains with the Bay of Plenty Powerchair Football Club every second week.
Every other week, a family member will drive Toby to Waikato or Auckland so he can play with other competitive-level players.
"We have to travel all the time for him to play at that higher level with his peers. Otherwise, he just doesn't get that experience," says Murray.
Toby's is eager to see the New Zealand team improve over the next year and qualify for the World Cup in 2021.
He's played at the Asia Pacific Ocean Powerchair Football Cup three years in a row, which is a world-cup qualifying tournament.
"I just want to see the country get the country better."
He admits he has very high standards for himself, speaking of a time when he did damage to his chair after letting a goal in when he was the goalie.
Inaccessibility of the sport contributes to the lack of players in New Zealand, says Murray.
He says suitable powerchairs cost around $20,000, and often caregivers struggle transport players to practice.
"A lot of players want to come, but they can't afford the chair."
"Often they won't have the means to get themselves to practice," Debbie adds. "When you are caring for someone with a disability, it's exhausting as it is."
But Murray says attaching plastic guards to a regular wheel-chair is a simple solution to pricey-powerchairs.
He has fitted out several players with plastic guards, meaning they too can participate in powerchair football.
Toby was recently granted a BayTrust Scholarship, alongside 15 other young athletes in the BOP.
He's currently saving up for a modern powerchair and is about half-way to his goal of $20,000.
If you would like to contribute to Toby's cause, contact: 4lips@kinect.co.nz
More on SunLive...