Tauranga welcomes 2020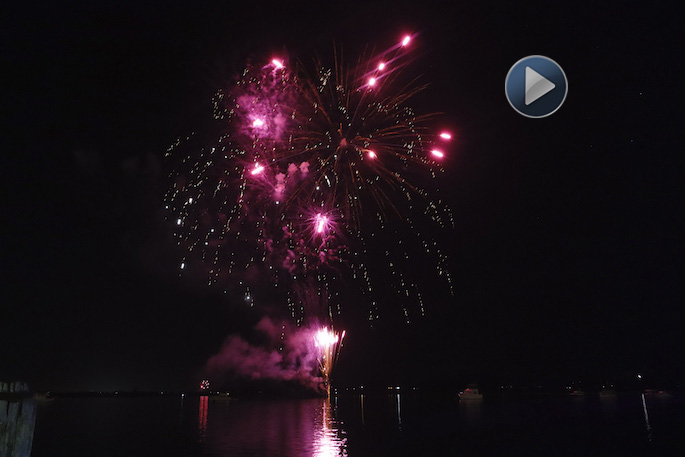 Tauranga celebrated the arrival of 2020 last night with citywide fireworks displays, as residents and holidaymakers flocked to community events held across the city.
Mayor Tenby Powell says New Year was a busy but successful evening in one of the country's most popular holiday destinations.
"The four community New Year's Eve events held in Greerton, the city centre, Matua and Papamoa were a fantastic start to the New Year for many families and friends.
"With almost 10,000 attendees across four locations, it was great to see so many people coming together in some of our loveliest locations to watch the sun go down, enjoy entertainment and countdown to the 9.30pm fireworks or laser light display. From the feedback I've received, it was a wonderful way to see out the year."
The most popular events were at Gordon Spratt Reserve in Papamoa and Fergusson Park in Matua with around 3000 attendees at each. Around 1000 people also headed to Greerton's New Year's Eve at Tauranga Racecourse last night, the first year for this venue.
The events are part of Tauranga City Council's strategy to promote a safe New Year environment and to offer communities a way for people to celebrate locally.

"We hold these events to give people an opportunity to come together in a community-minded, family-friendly environment. They're alcohol and smoke-free and we work hard to make sure that they provide a fun night for as many people as possible," says Tenby.

"Thank you to the NZ Police, emergency services, security companies and traffic management contractors, as well as everyone else who plans for or works during one of the busiest nights in the city. We really appreciate the effort that goes on behind the scenes."

Mayor Powell urges people to enjoy the fun summer activities coming up.
"This is a great time of year, so enjoy it to the full, but be mindful as well. Please be safe out there on the beaches and on our roads."

The summer line up for 2020 includes:
Bay Dreams Pre-Party – January 1, Mount Maunganui
Bay Dreams – January 2, Mount Maunganui
Dinner in the Domain – January 2, Papamoa
Gourmet Night Markets – January 3, Mount Maunganui
Sticky Fingers – January 3, Mount Maunganui
Water polo on the Waterfront – January 3 & 4, Tauranga
Ziggy Alberts – January 3, Mount Maunganui
Little Big Markets – January 4, Mount Manganui
Fat Freddy's Drop – January 4, Tauranga
More FM Beach Dig – January 4, Mount Maunganui
Mount Farmers Market – January 5, Mount Maunganui
Drax Project – January 5, Tauranga
Tones and I – January 5, Tauranga
Sikh Community Street Parade – January 5, Tauranga
Gin Wigmore – January 7, Mount Maunganui
Mount Festival of Multisport – January 10-11, Mount Maunganui
One Love Festival – anuary25 to 26 J, Tauranga
BLACKCAPS Vs India T20 – February 2, Mount Maunganui
Cold Chisel – February 5, Tauranga
Ben Harper & the Innocent Criminals – February 29, Mount Maunganui
BLACKCAPS Vs India ODI – February 11, Mount Maunganui
NZ Cricket International ODIs – February 2 and 11, Mount Maunganui
For more events visit www.mytauranga.co.nz/summer
For information on event road closures this summer visit www.tauranga.govt.nz/council/services/roads/road-works-and-closures
More on SunLive...