Tauranga New Year's Eve coverage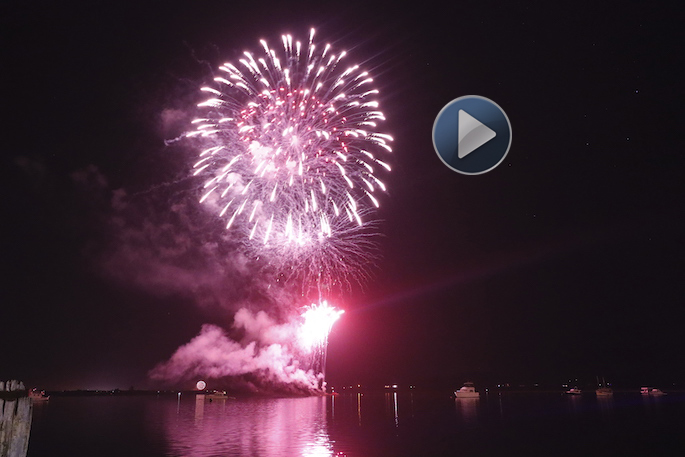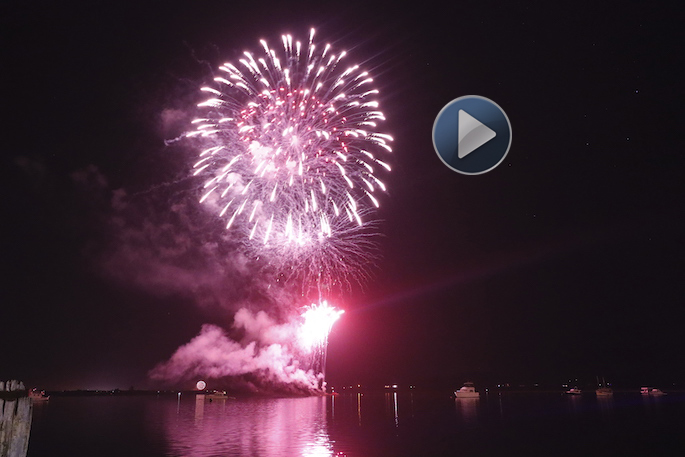 Click the image above to watch the video
LIVE: 12.15am This evening hundreds of people congregated on the Tauranga waterfront, at Papamoa and Matua to watch the midnight fireworks that heralded in the New Year.
The city-wide firework shows were viewable from many locations across Tauranga, with residents being able to watch the midnight show from their own backyard or deck.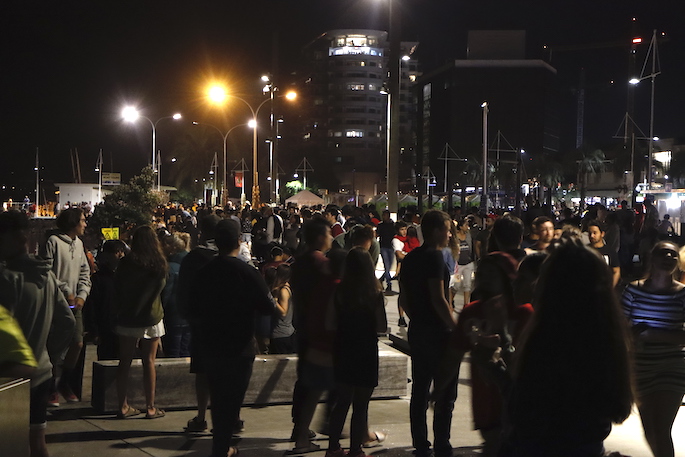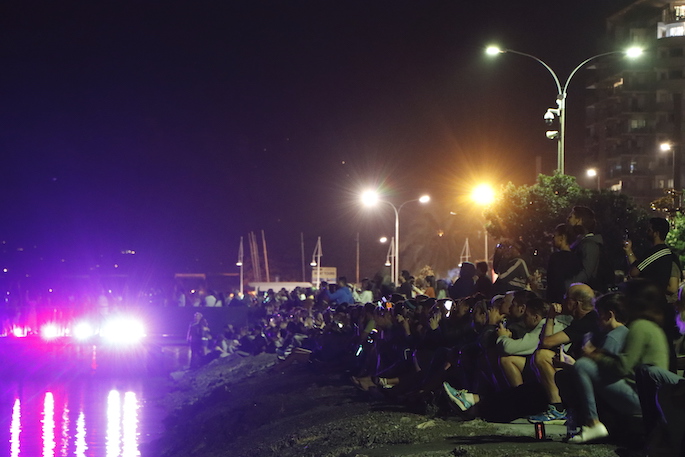 In the city centre The Strand was closed off, allowing people to stroll along the waterfront. Bars and restaurants were packed full with revellers, singing and enjoying the celebrations and balmy evening.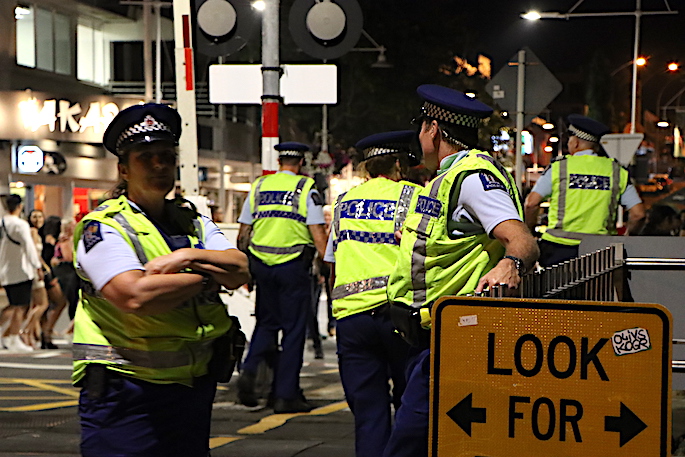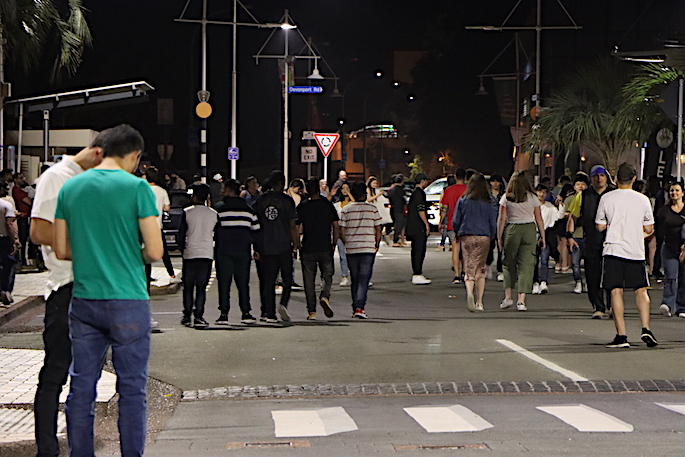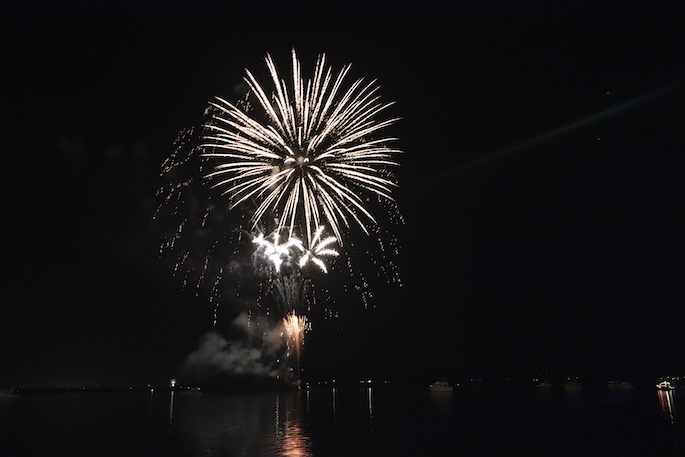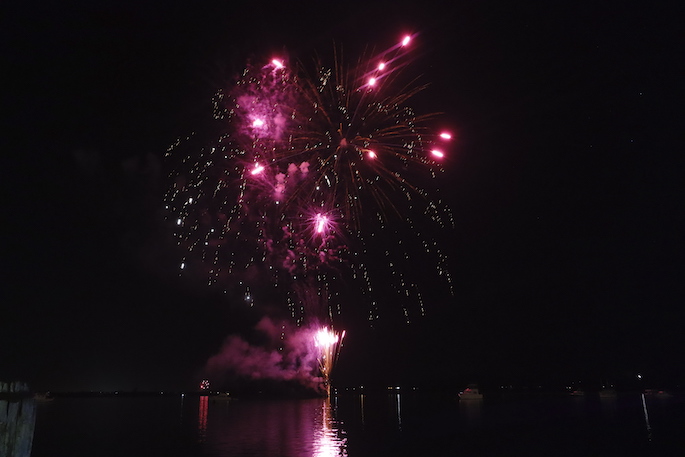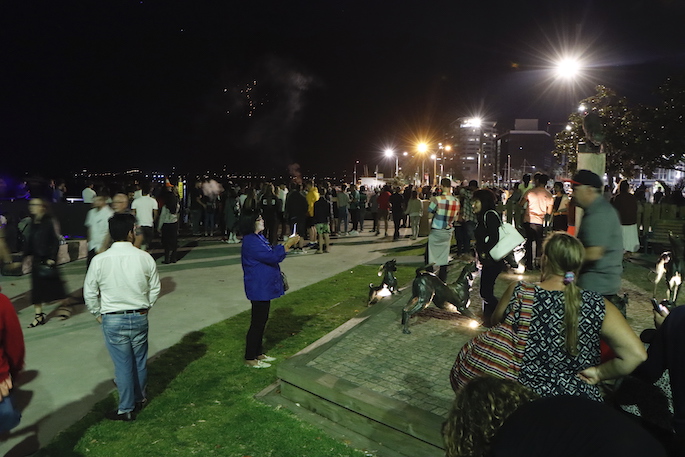 10:10pm Greerton came alive this evening with hundreds of people turning out to enjoy dinner from the food trucks, dancers and live entertainment from a stage at Tauranga Racecourse.
The evening ended with a spectacular laser light show captivating and wowing the crowd below it.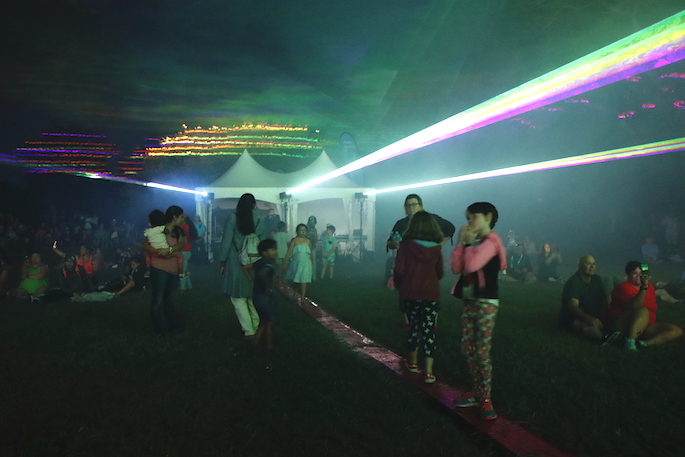 The entrance area to the racecourse became a delightful village green with a gentle incline that served as a seating area bordered by trees and providing a natural amphitheater.
Flying Pictures played a story across the trees using laser graphics by a Russian artist titled 'Pigs New Year' followed by a laser show to a montage of high energy music.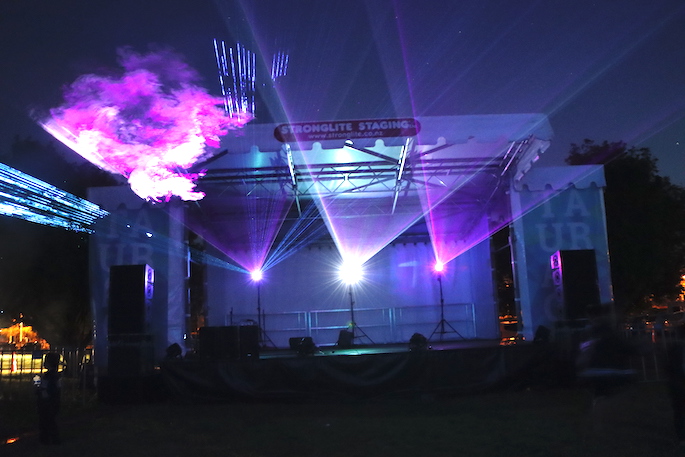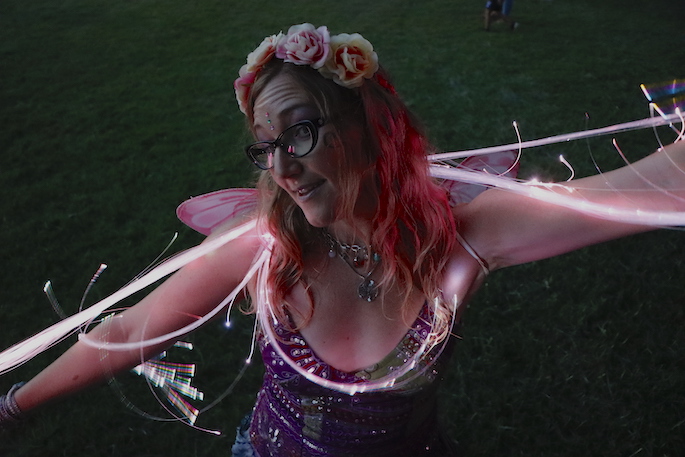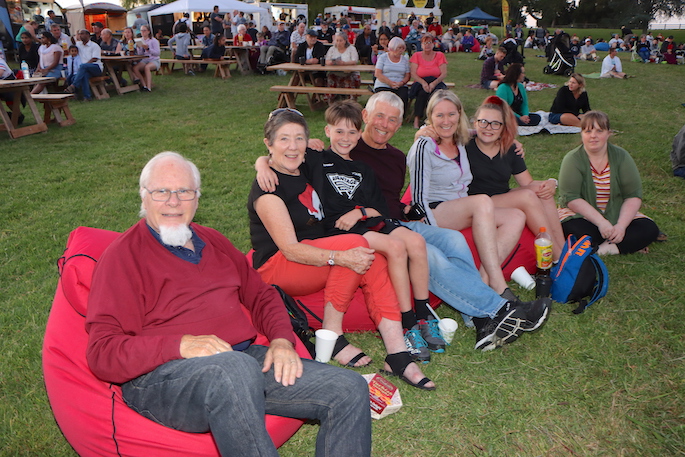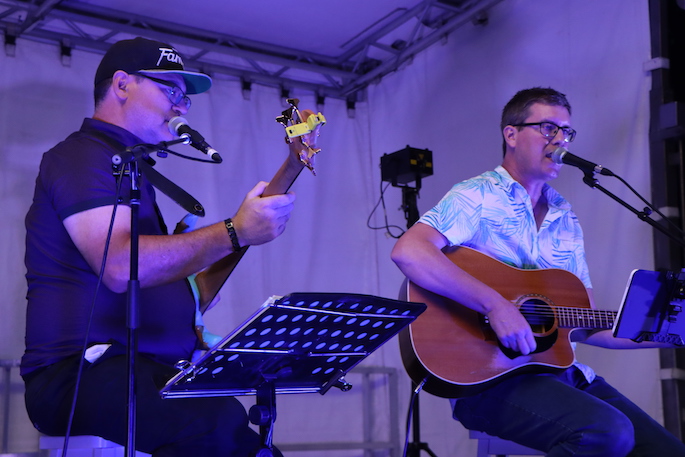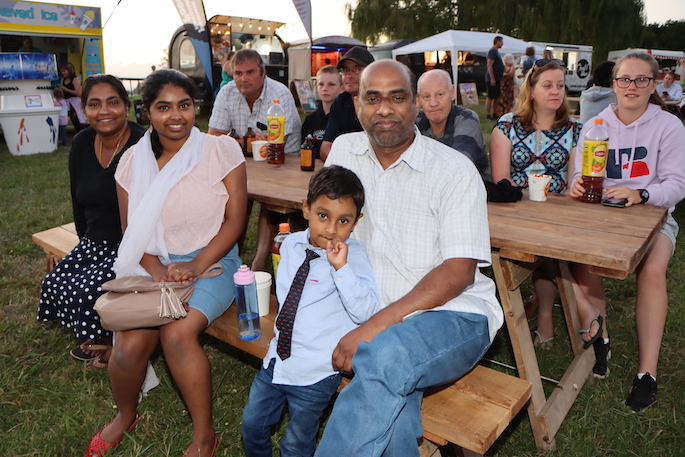 Manickathan Family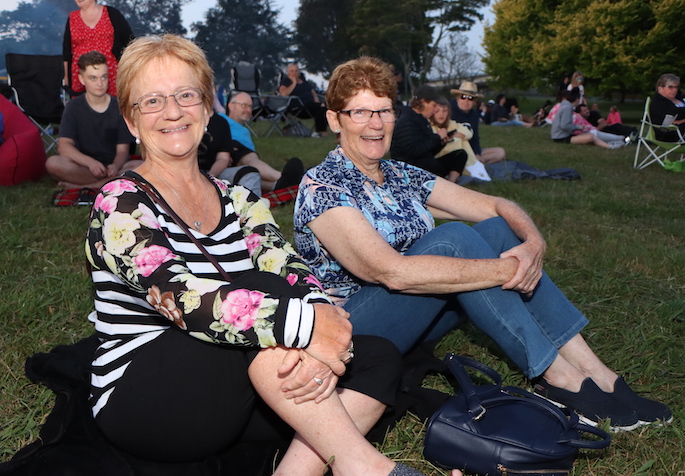 Lynne Hudson and Judy Morris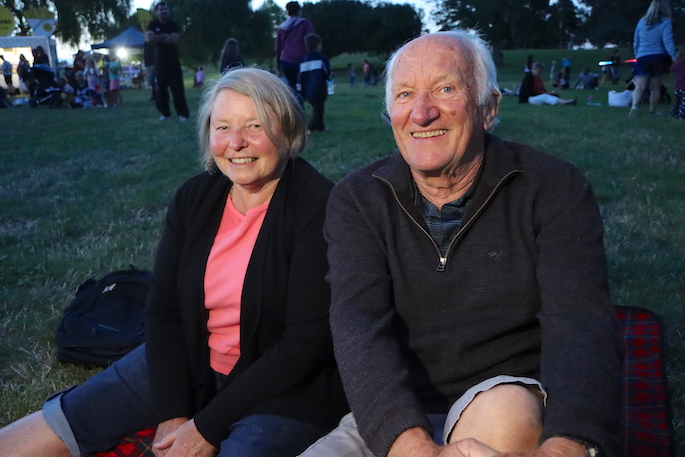 Denise McBrydie and John Billinghurst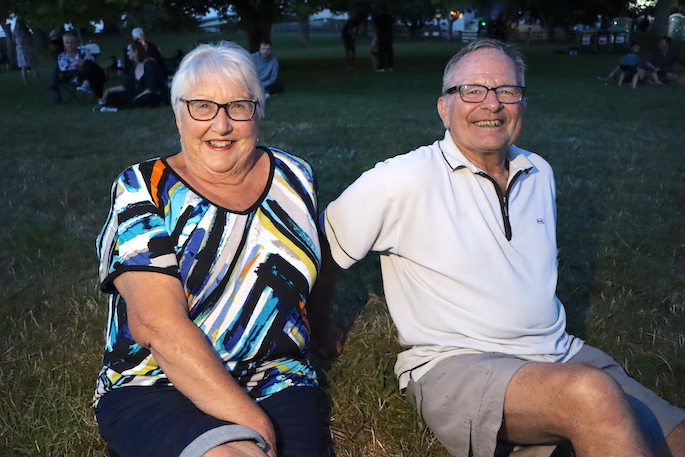 Jenny and Dennis Jobe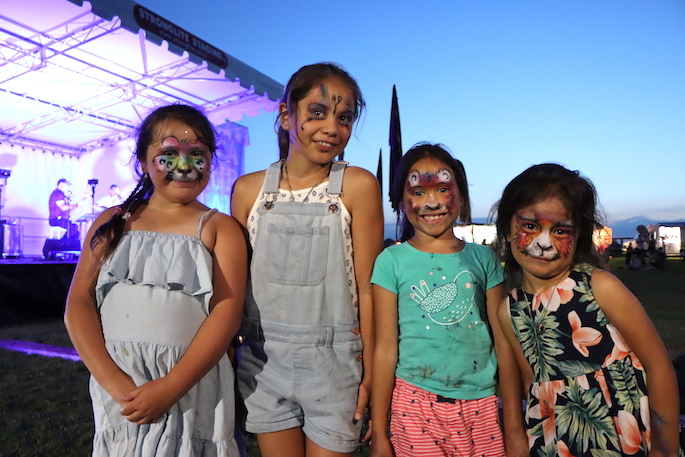 Cartier McCall age 7, Nikitta French age 8, Shane Jack Kino age 7, and Kenzie French - 4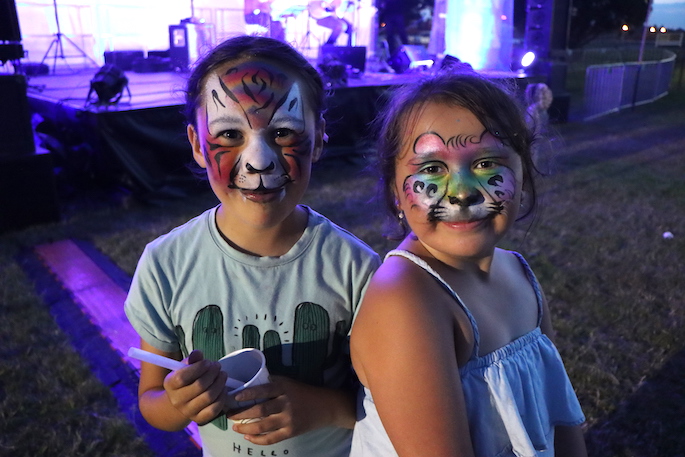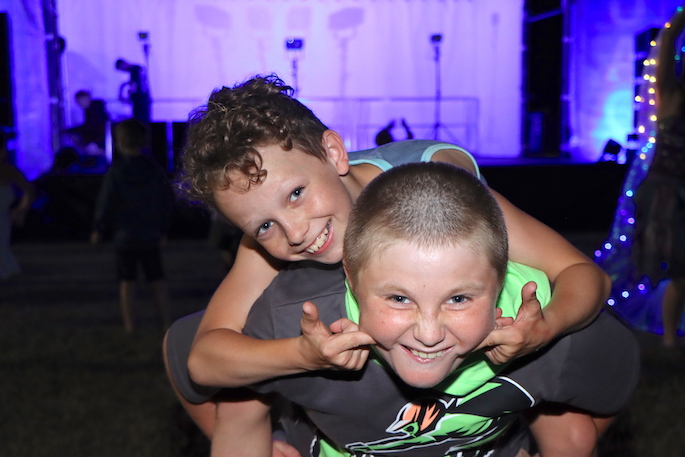 Daetyn Excell aged 10 - Jayson Sanders aged 12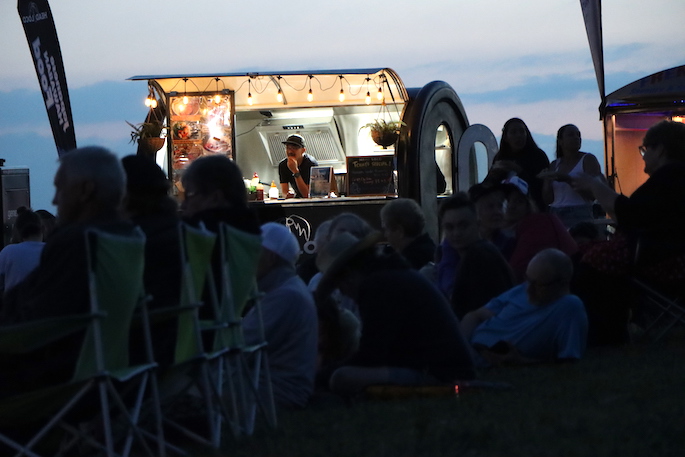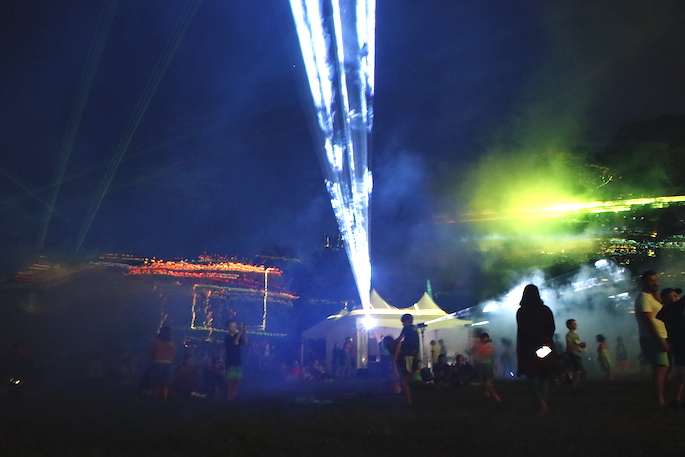 8.25pm It's a perfect end to the year and decade with the sun setting over Papamoa this evening.
Hundreds of people have flocked into the Gordon Spratt Reserve to enjoy the music and entertainment.
Food trucks, rides, a bouncy castle and the playground are busy as children and families eat, play and sit back on picnic blankets to soak in the music vibes.
Automatic 80s took to the stage around 7.30pm to entertain the crowd with people singing and dancing along.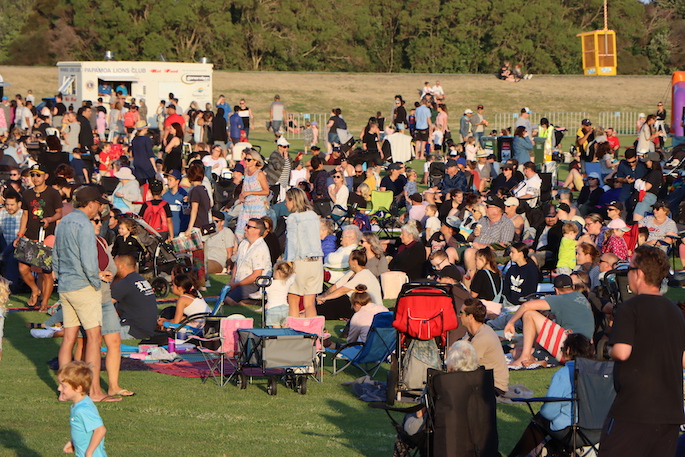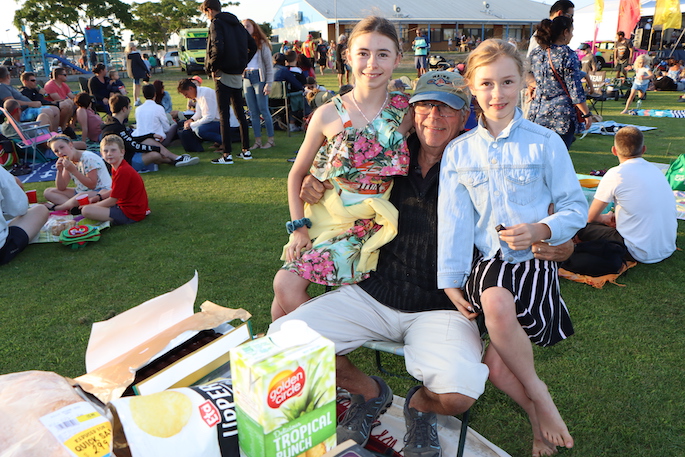 Tabitha Thompson age 12 and April Thompson age 8 with their grandfather Kerry Payne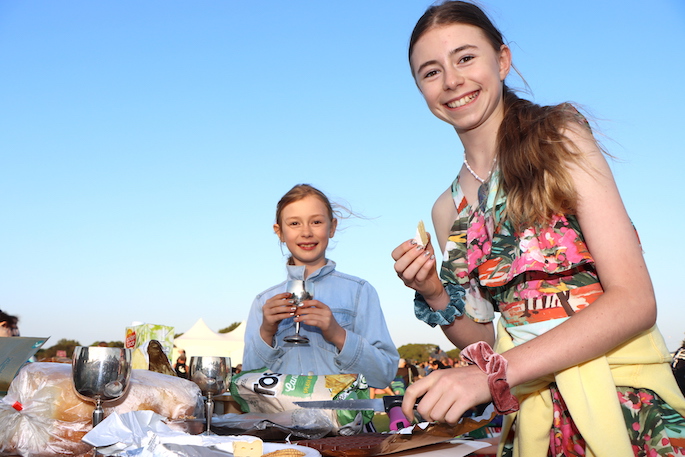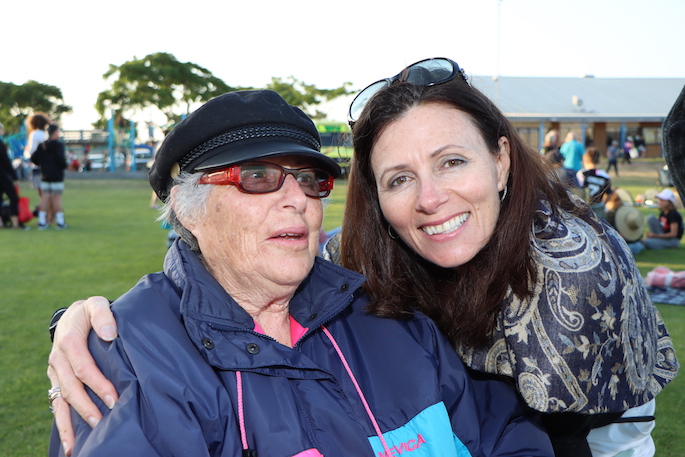 Janet Payne and Rachel Payne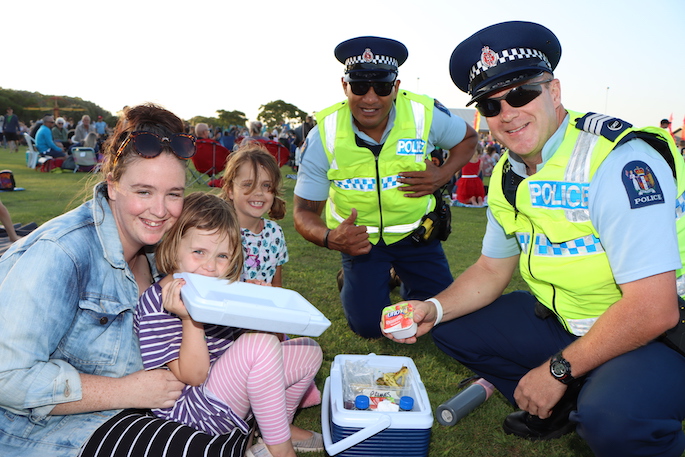 Casey Luckman and Sophie Donaldson age 8 and Annabelle Donaldson age 4 with Mount Community Constable Murphy Taele and Te Puke Sergeant Mike Owen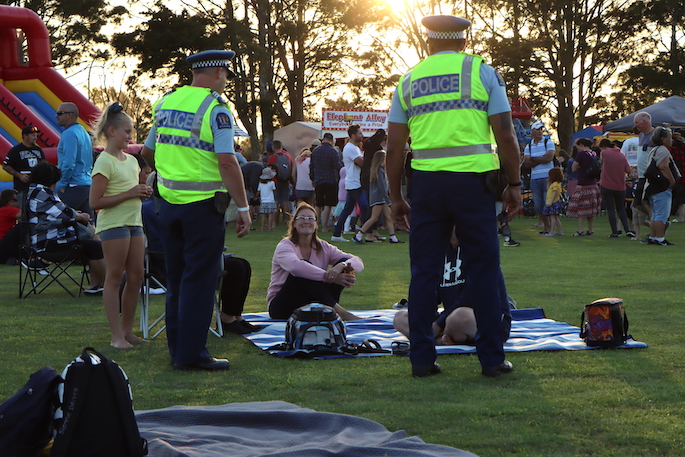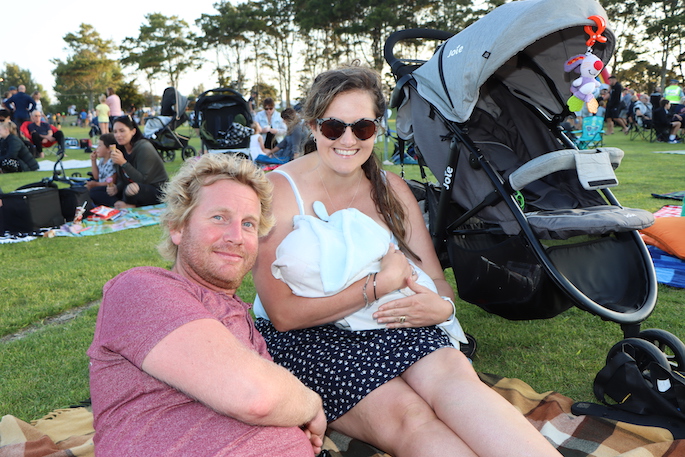 Paul and Amy Dean with baby Hugo age 4 months old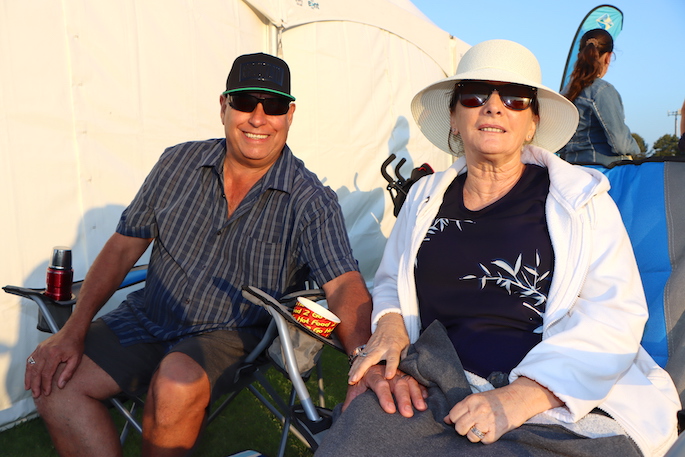 Derek and Sue Wantenaar from Papamoa.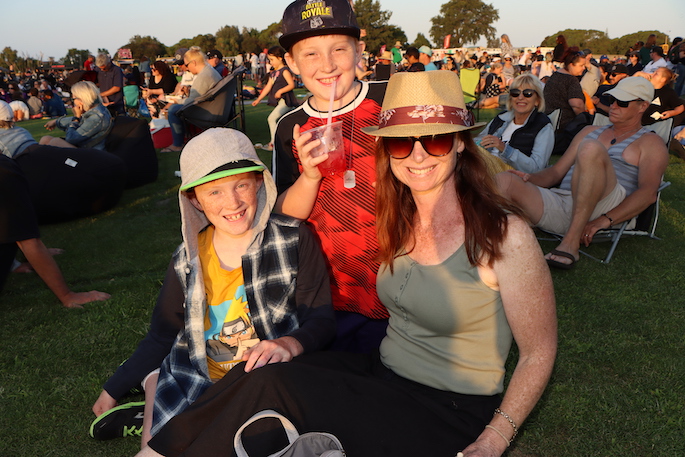 George Sleeman age 9, Harry Sleeman age 9, and Nicky Sleeman visiting from Auckland.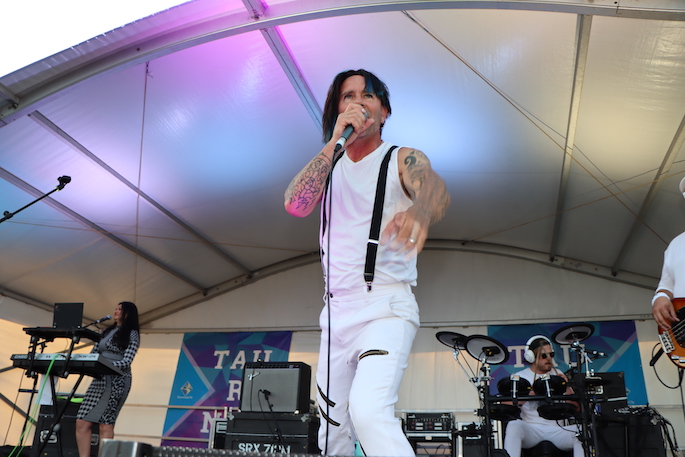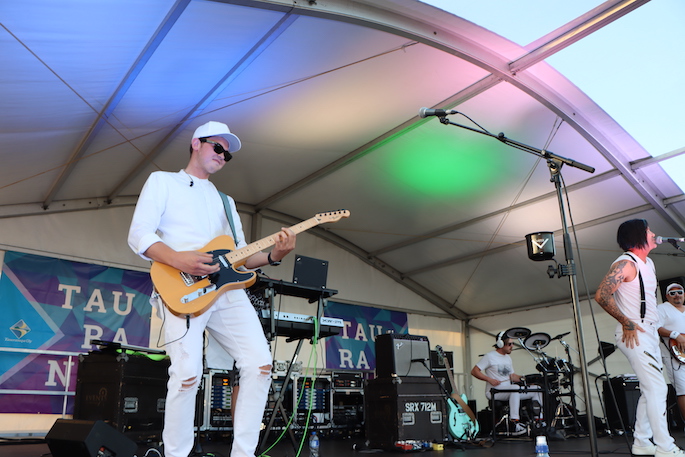 7:20pm The Tauranga waterfront is a summer playground this evening with families picnicking and enjoying giant jenga and other outdoor games and music.
The Tauranga waterfront is a summer playground this evening with families picnicking and enjoying giant jenga and other outdoor games and music.
Tauranga Samba is playing to the crowd at one end and the Mayor Tenby Powell and his wife Sharon Hunter are serving up over 1000 sausages with Deputy Mayor Larry Baldock and city councillor Tina Salisbury.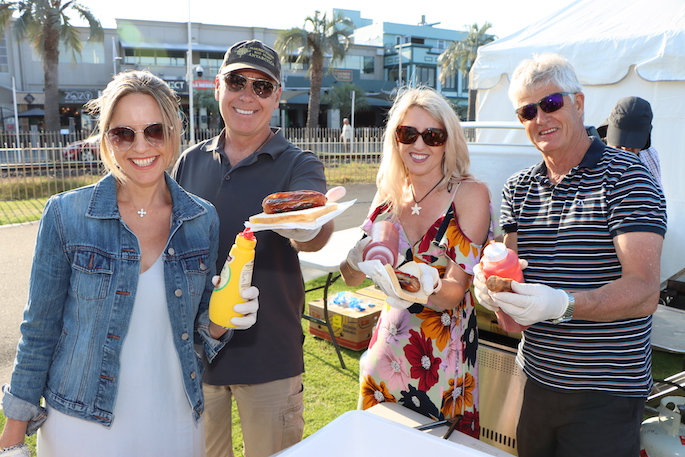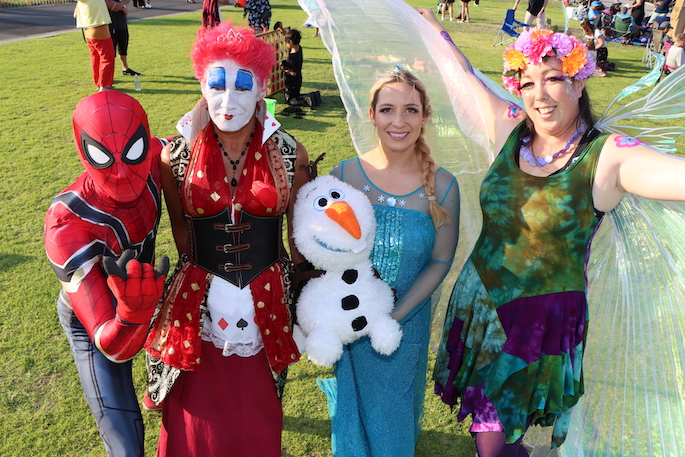 Isaiah Lenihan age 9 and Zavier Walker age 4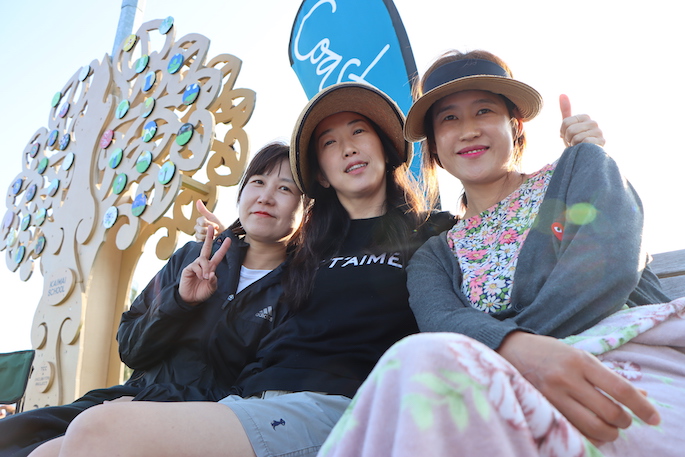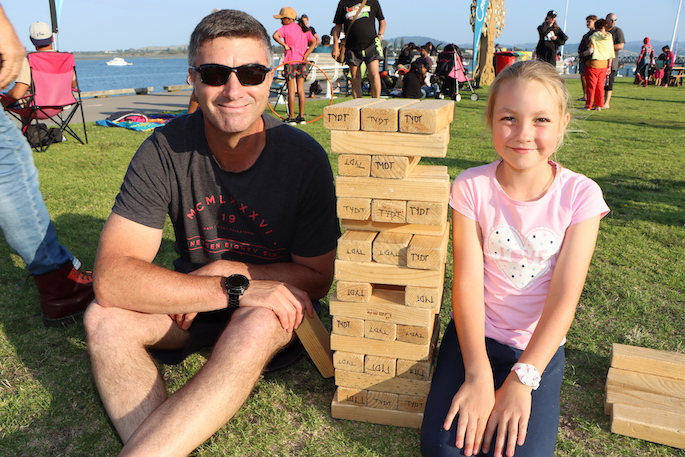 Hendrik Tegmann and Catherine Tegmann age 8 playing jenga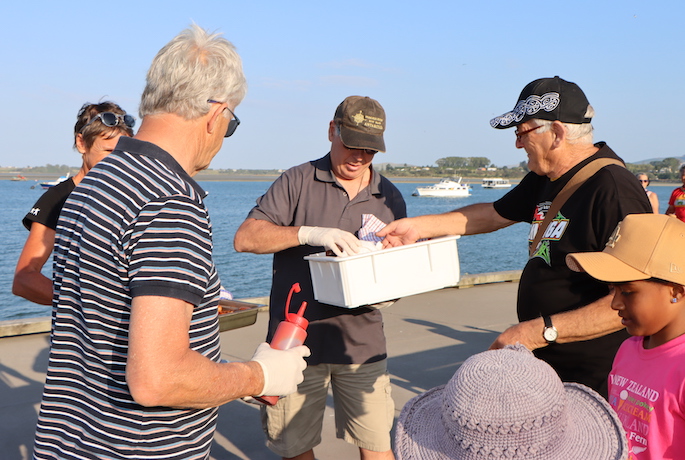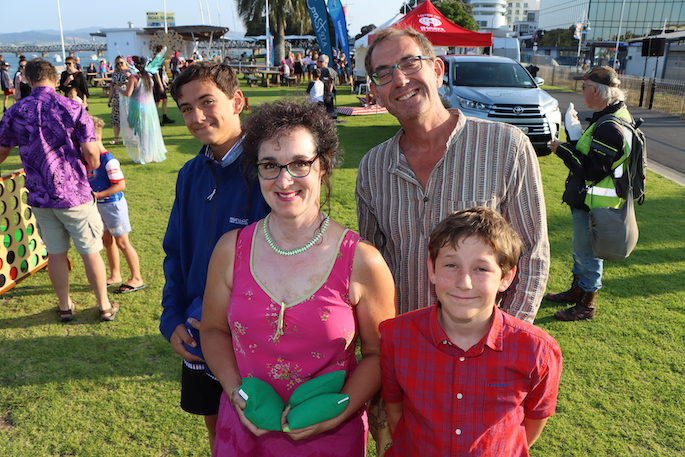 Oscar Sandford age 13, Emma Sandford, Bruce Sandford and Felix Sandford age 10 from Katikati

6pm At Matua the wind is dying down as people arrive with picnic blankets and chairs to enjoy the summer evening ahead.
Fergusson Park has a stage set up at one end with over 15 food trucks providing everything from hot dinners to desserts circling the field.
Ride on jeeps, entertainers and a bouncy castle are also on site and a parking area is provided for people with mobility challenges is close to the stage area.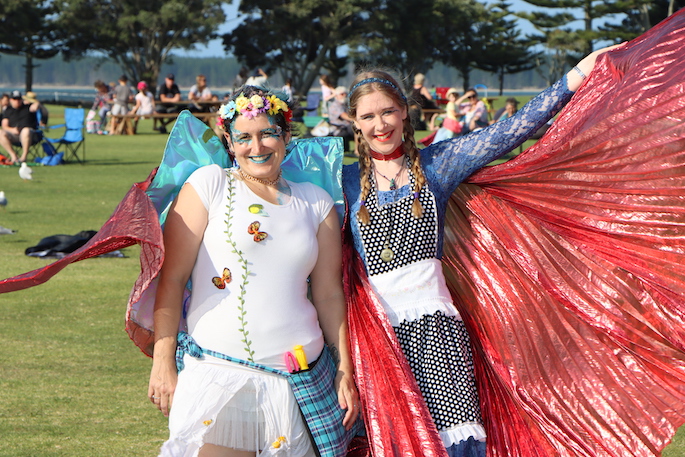 Briar-rose Paton the Bubble Fairy and Fiona McClure as Alice from Flames of Plenty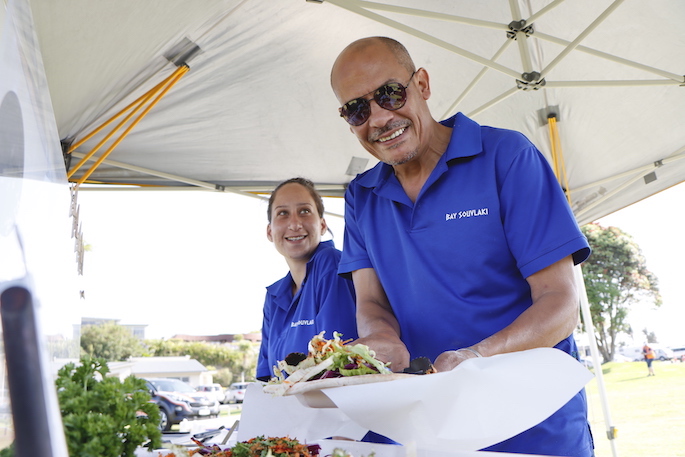 Noelle Jonathan and Eddie Ali at Bay Souvlaki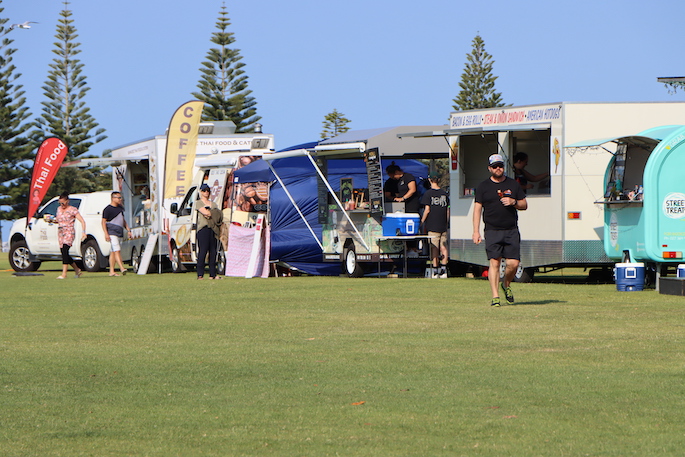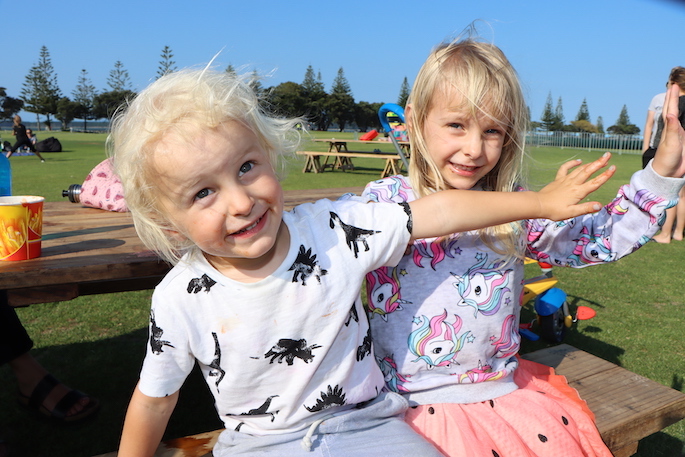 Ace Barton age 3 and Zola Barton age 5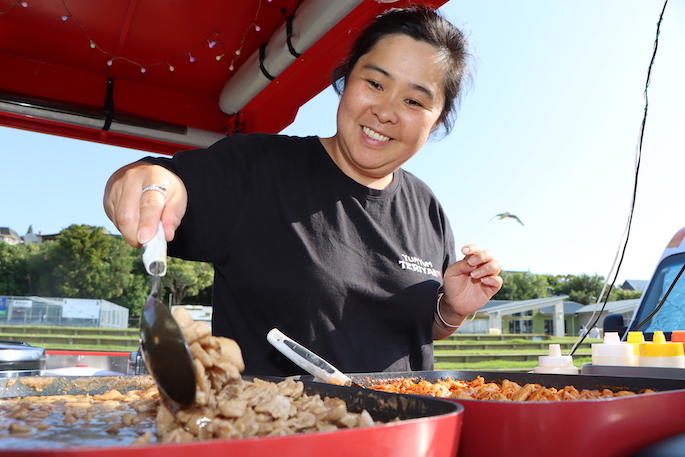 Moon Choi at Yum Yum Teriyaki Donburi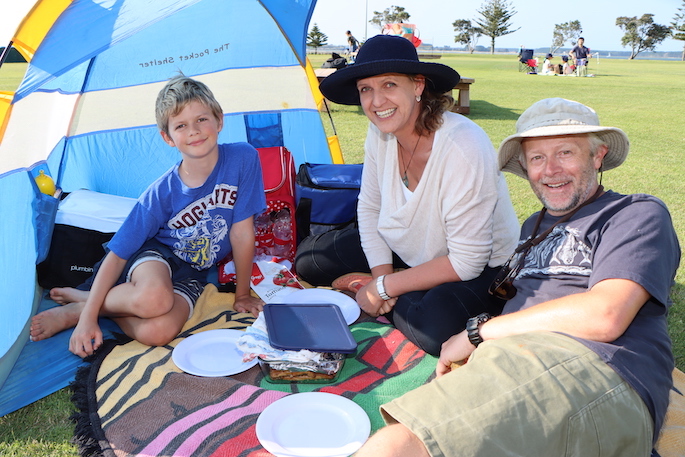 Macklin Whale age 9, Jodie Whale and Peter Whale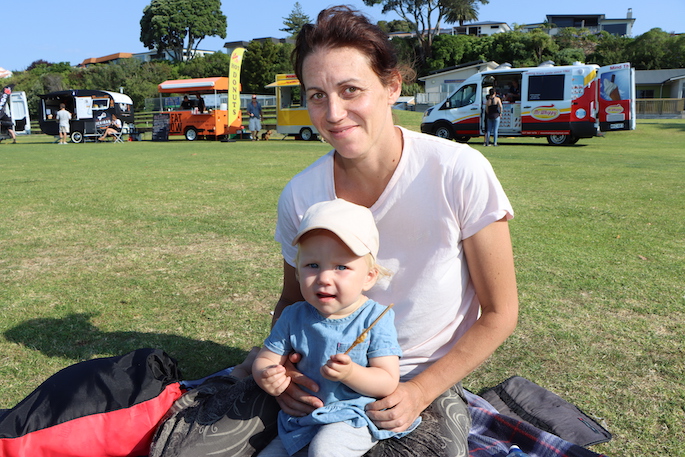 Emma Taylor with daughter Kui age 15 months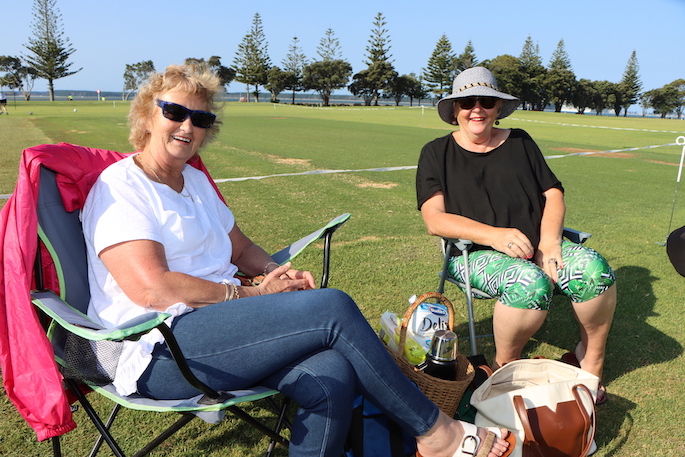 Gael Hunt and Michelle Hawthorne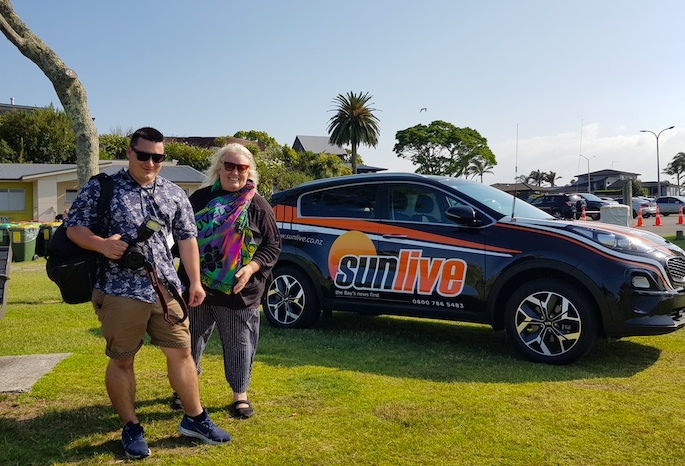 SunLive team covering the action tonight
5pm Kicking off our SunLive coverage tonight, it's time to celebrate New Years' Eve and the start of a new decade.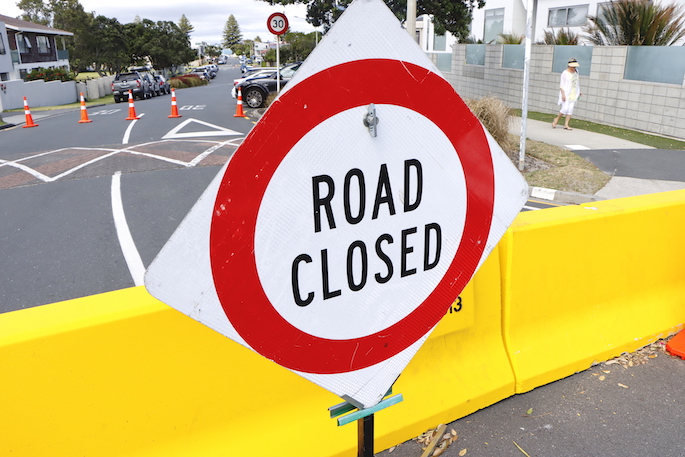 Tauranga has a huge lot of great entertainment lined up for the four free community events across the city tonight, and we hope to see you in front of our cameras as we continue our rolling coverage.
This year, as well as the three events running concurrently at Matua, Papamoa and on the city waterfront, a new event will be held at the Tauranga Racecourse in Greerton.
SunLive plans to capture some of the moments as performers, superheroes and musicians entertain the crowds. There'll be kids' rides, music and street food.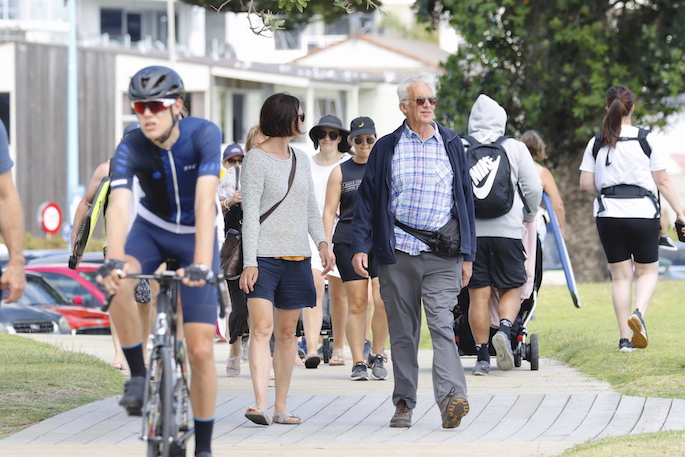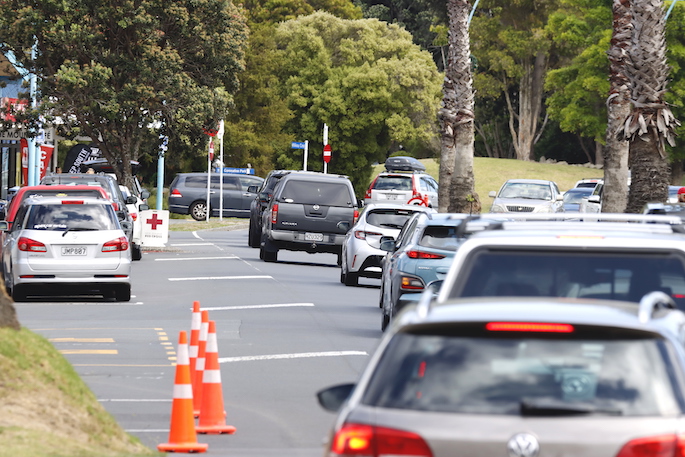 4pm: All four community events run from 6pm to 9.30pm, so bring your family, friends, a water bottle, sunblock and come on down to enjoy the night.
Fergusson Park at Matua, Gordon Spratt Reserve at Papamoa, the Tauranga waterfront and Tauranga Racecourse at Greerton will be hosting the four events.
All four community sites will have roving circus performers and the popular superheroes entertaining the crowds.
New at the Papamoa, Matua and Racecourse community events will be the giant bubble performers, as well as free face painting and some great stage bands. Dinner is covered with many food stalls offering a great variety of dinner options. All vendors will have mobile EFTPOS.
The Tauranga waterfront event will be also hosting the Tauranga Samba band and the Mayor's barbecue.
At the Papamoa event, people can also find a sausage sizzle and pony rides, with a great band onstage from 7.30pm onwards until 9.30pm. Note that an accessible and low sensory event will be open from 5.30pm to 6pm with the general event starting from 6pm.
The Matua, Papamoa and Tauranga waterfront events will end with fireworks at 9.30pm and the Racecourse community event will be presenting a ten minute laser light show from 9.25pm, which will make for some great photos. This is in place of fireworks, due to the many horses and livestock that live nearby.
The 9.30pm fireworks will be viewable from across the city, as will the fireworks at midnight.
All events are alcohol and smoke free. Water refill stations will be available onsite, so attendees can bring along their own bottles to refill them. With the sun still strong in the early evening, people are also encouraged to slip, slop, slap and wrap. Please note some of the amusement rides will not have EFTPOS facilities so cash is best.
Please remember to keep your pets inside.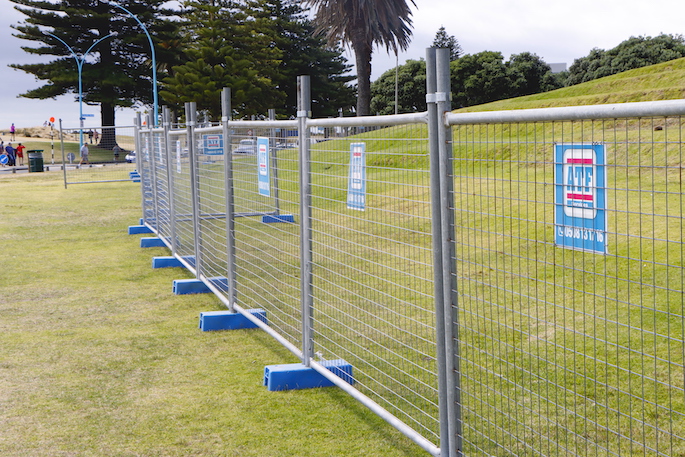 Mount Drury/Hopukiore is fenced off to keep party goers out and the community safe.
Mount Maunganui road closures:
Traffic management over the New Year period will result in road closures on Marine Parade between Adams and Pacific Avenues from 8pm to 6am on December 30, 2019, and January 1-3, 2020.
Although no event will be held this year at Mount Maunganui this New Year's Eve, Tauranga City Council, NZ Police and other key organisations will continue to work together to support a safer environment for Tauranga's residents and visitors.
City Centre road closure:
A full road closure will be in place from 3pm December 31 2019 to 2am January 1 2020 on The Strand, from Devonport Road roundabout down to Harington Street roundabout to support a safe event. Both roundabouts will be open to allow traffic flows. There will be no vehicle access to The Strand via Hamilton and Wharf Streets.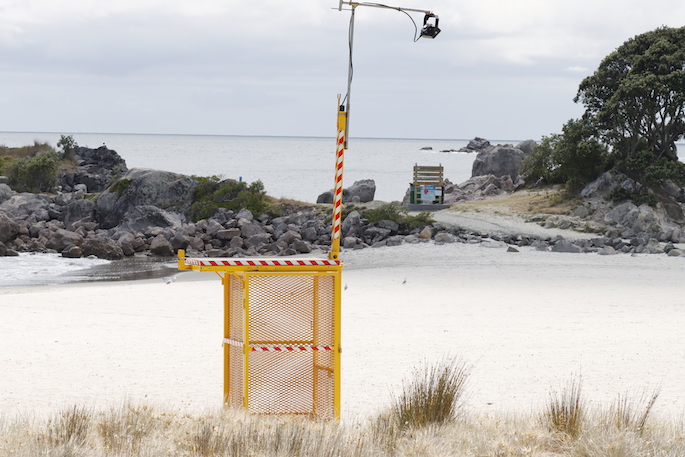 Security lighting is set up along the Mount Maunganui beach
More on SunLive...