BOP well represented in New Year Honours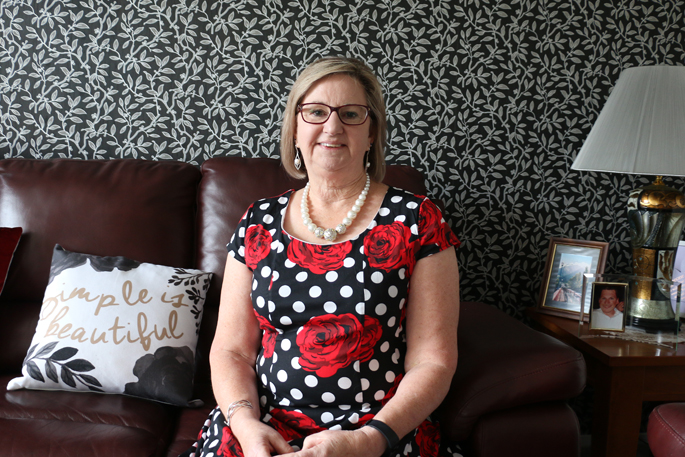 A Tauranga mother's refusal to take no for an answer has led her to be a champion of rare disease research in New Zealand and internationally.
Her lifelong for quest knowledge has earned Jenny Nobel a place as a Member of the New Zealand Order of Merit for services to health, particularly research for rare diseases, in this year's New Year honour list.
Jenny has two children with mucolipidosis, a rare genetic condition that affects the body's ability to recycle various materials within cells.
Her son Hayden was 6 and daughter Sarah was 2, when they were diagnosed 31 years ago and in an age of very little information Jenny made it her mission to find out as much as she could.
"We were flying in the dark. We were told to go home and get on with our lives, there's nothing we can do for your children.
"I particularly lived in a black hole for a couple of years, I didn't know what to do, where to go, or even how to find information because there was no internet everything was snail mail back then."
Then she was contacted by John Forman who has twins with alpha-mannosidosis, another rare genectic disorder, and they formed Lysosomal Diseases New Zealand in 1999.
Lysosomal Disease New Zealand provides support, information and research into the group of disorders that affect approximately 180 New Zealand families.
"That was my first real step into the world of rare diseases and thinking about how we could make it better for families coming behind us. Because our kids were diagnosed in a generation of no information.
"That began my journey of supporting families and looking to the future. Thinking about what can I do for my kids and how can I make sure that other mucolipidosis patients and families don't go through what we went through."
Jenny has also served as a board member on the International Society for Mannosidosis and Related Diseases in the United States since 2004.
As well as being a conference planner and central fundraiser Jenny has been instrumental in setting up a research network for mucolipidosis.
The research network will ensure that researchers and scientists will collaborate to achieve the best outcomes.
"Scientists from all around the world plus some of the ISMRD board are now going to start looking for therapies for mucolipidosis. Thirty years ago we'd never, ever been able to do that."
Jenny is very humbled by the appointment to the New Zealand Order of Merit and says it's all of the people in her life have enabled her to achieve all that she has.
"It's good to be recognised for the work that you're doing.
"Even though I'm being awarded this award it's not just about me, it's about all of those professionals who said 'Yeah, let's give it a go' or all of those people that pushed me that extra mile.
"It's about all of those amazing people that I've worked with, all the families that I've met. It's everyone I've worked with, everyone that's supported me, pushed me, and challenged me."
She says despite her children's difficult diagnosis she wouldn't change anything.
"I don't think I would change a thing, it's made me walk through doors that I would never, in a million years have walked through.
"I have presented on a scientific stage to scientists, I would never have done that.
"So it's pushed me to do things that make me a better person, make me look at life differently."
Another Bay of Plenty resident on the New Year Honour list is George Burt, he has been appointed a Member of the New Zealand Order of Merit for services to Maori and broadcasting.
George has aided in the revitalisation and maintenance of Te Reo Maori through his development of Iwi Radio throughout New Zealand.
The Katikati resident is humbled by the honour and says there are more deserving community workers than himself.
In 1992 George helped iwi from Tauranga Moana establish their own iwi station.
"My wife and I returned from 10 years in the Pacific as Maori radio was just beginning. It was a natural fit for me to share my skills with a community I was living in.
"It has been exciting to witness and be a part of the technical revolution of the last couple of decades, but more importantly to be involved in a national Maori broadcasting community, who are agile, innovitive, and understand that the kuia and koroua at home want to hear whats going on in the world around them.
"Radio is a unique medium in terms of the immediacy of information and the connection it creates with it's local community.
"Nationally, Iwi radio is the champion of te reo, delivering more spoken content in a 24 hour period than any other medium.
"What I have witnessed at the broadcast of regional and national events over the years is the continual improvement of the oral and performing arts, fostered by the hard work of students, teachers, tutors, creators, writers, from kohanga reo level right through the educational spectrum to post doctural exponents."
He says his greatest achievements are to still be married to his wife after 38 years and to continue be relevant in a technological role after 45 years.
This year New Year honours went to 180 recipients - 91 women and 89 men – the list leans heavily on awards for community service, arts and the media, health and sport.
Other Bay of Plenty people honored are, James Muir who receives the Queen's Service Medal for services to the community, Carole Gordon has been appointed a Member of the New Zealand Order of Merit for services to seniors and Dame Noeline Taurua has been appointed a Dame Companion of the New Zealand Order of Merit for services to netball.
James has been involved in, and led, a number of community service organisations in Tauranga since the early 1990s.
Carole established and is national convenor of SUPA-NZ a voluntary organisation dedicated to demonstrating the positive opportunity aspects of increasing longevity and population-ageing.
Noeline Taurua was appointed Head Coach of the Silver Ferns in August 2018 and guided the team to their first Netball World Cup title in 16 years at the 2019 Netball World Cup.
Among the top honours recipients are Justice Joe Williams, the first Maori judge of the Supreme Court, former All Black coach Steve Hansen and disabilities advocate Robert Martin, who is believed to be the first New Zealand knight with learning disabilities. The three become Knight Companions of the New Zealand Order of Merit.
Dames Noeline and Marilyn Waring are joined by Dr Anna Crighton, who is honoured for services to heritage preservation, as Dame Companions of the New Zealand Order of Merit.
Others honoured include globally recognised choreographer Parris Goebel, Radio New Zealand broadcaster and writer Karyn Hay and feminist and former Greens politician Sue Kedgley.
More on SunLive...