New Year's Eve in Tauranga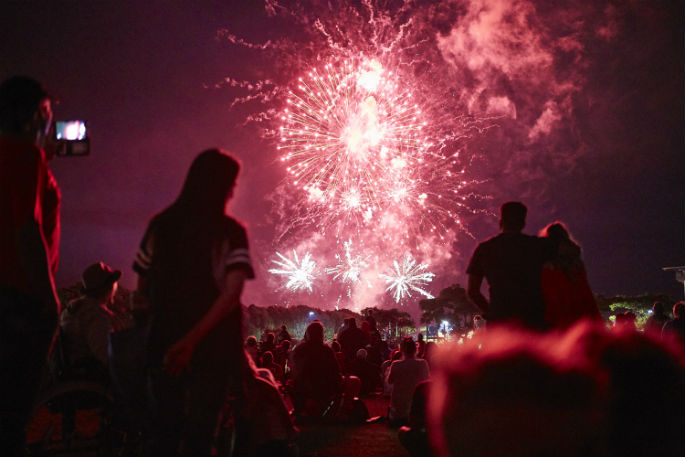 New Year's Eve in Tauranga is set to be a night to remember, with an array of events happening across the city. From family-friendly firework celebrations, mini music festivals and extravagant parties at local bars – there's bound to be something for everyone to enjoy.
Like previous years, there will be no organised public event at Mount Maunganui Main Beach. Hopukiore (Mount Drury) and Moturiki (Leisure Island) will be fenced off and the beach well-lit.
Tauranga police area prevention manager inspector Zane Smith says there will continue to be a strong police presence in Tauranga over the holiday period to ensure the community is safe.
"Police support safe, community-based events that help make Tauranga a vibrant city for people to live in and this year is no different.
"Police have been working with the partner agencies over the past few years to ensure New Year's Eve events are safe and reduce alcohol-related harm," says Zane.
Traffic management over the New Year period will result in nightly road closures on Marine Parade between Adams and Pacific Avenues from 8pm to 6am on December 30, 2019, and January 1-3, 2020.
The Strand between Devonport Road and Harrington Street will be closed on December 31, 2019, from 3pm until January 1, 2020, at 2am. There will be no access to The Strand from Willow Street or Hamilton Street on December 31, 2019, from 3pm until January 1, 2020, at 2am.
Wharf Street will be closed to vehicles from Willow Street to The Strand.
Kaleidoscope Festival
For the first time, Our Place will be hosting a New Year's Eve festival for those keen to boogie into 2020. New Zealand groups Soaked Oats, Marlins Dreaming, Mini Simmons and Half Moon Baby are set to take the stage at Kaleidoscope festival. The event, hosted by Blabla Events and Mount Brewing Co. Brewery, will also see other local support perform. Final release tickets are priced at $60 and that's if there are any left. For more information, visit: www.ticketspace.co.nz
Community Celebrations
Tauranga City Council is hosting its free, annual New Year's Eve celebrations in the City Centre, Greerton, Matua and Papamoa. Fireworks and laser light shows will light up the sky at 9.30pm, and the early-evening events will kick off at 6pm. All events are alcohol and smoke-free, and there will be water-refill stations onsite. Entertainment at the Greerton event includes kids' rides, music and street food. In Papamoa, there will be roving performers, food vendors, pony rides, a petting zoo and live music. For more information, visit: www.tauranga.govt.nz
Rewind to the 90s – NYE Party
The Rising Tide will be filled with flare-wearing party-goers at the 90s do on Tuesday evening. Tauranga-based soul, blues, and roots band Nimbus will be first to take the stage, followed by DJ FM Beats who will be belting out "some of the best 90s bangers". Attendees are encouraged to wear their nineties themed get-up. The event is R18 and doors open at 8.30pm. Tickets are $10 pre-sale and $15 at the door. For more information, contact: 07 575 2739
Salvation Army Watchnight Service
Tauranga Salvation Army Corps will "pray the New Year in" from 11.30pm on Tuesday. They are inviting members of the public to attend the event, which will be held in their Corps Lounge. For more information, visit: www.allevents.in/tauranga
ARDIJAH
Rangataua Sports and Cultural Club is hosting Auckland group ARDIJAH on New Year's Eve. The group, who formed in the late 70s, describe their style as 'Polyfonk'. The show will be sure to display the best of their funk, R&B and Polyfusion tunes. Tickets for the show are $40 and the event is strictly R18. For more information, email: bookrangataua@gmail.com.
The Sun Goes Down NYE
The well-known Astrolabe Brew Bar is hosting a line-up of New Zealand bands to take the stage on New Year's Eve. Indie/psychedelic band Daily J, Whangarei band OTIUM and Dolphin Friendly will be playing throughout the evening. The event starts at 5pm and entry is free before 7pm. After that, there will be a $40 door charge. No pre-sale tickets are available.
New Years Day Sunrise Paddle
For those who aren't keen on partying till morning, a sunrise paddle on the first day of 2020 might be just the thing for you. East Coast Paddler Aotearoa, who are based in Mount Maunganui, will be paddling from Main Beach all the way to Motutau Island. The paddle starts at 5am and breakfast "on the ocean" will be supplied. People partaking must have previous experience paddle boarding and be comfortable paddling on flat water. For more information, contact: supinfo@eastcoastpaddler.co.nz or: 027 451 0579.
Bay Dreams Pre-Party
To warm-up for the sold-out festival Bay Dreams, a pre-party featuring Sticky Fingers, Home Brew and Concord Dawn will take place on the first day of the year. The event is being held at the Trustpower Arena. Tickets for the 18 and over event range in cost from $79-89. Shapeshifter, The Upbeat and MC Tiki are also playing on December 28. Organiser Pato Alvarez says he is excited to once again be bringing a range of international acts to the Bay this summer. For more information, visit: www.BayDreams.co.nz
More on SunLive...