Illegal dumping on the rise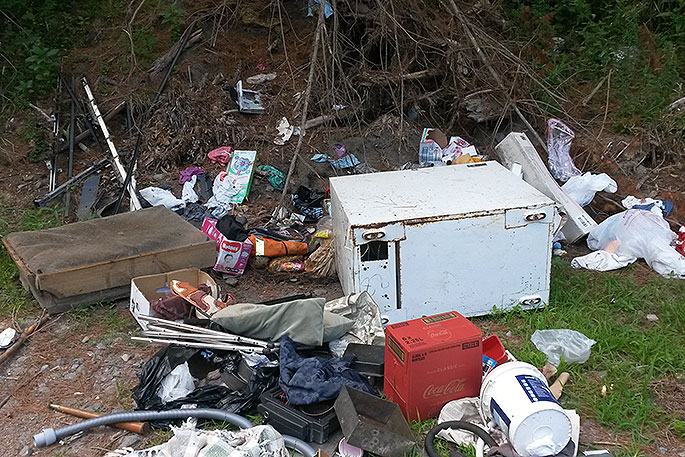 Illegal dumping in Tauranga is a continuing issue and Tauranga City Council is calling on the community to help it mount successful enforcement actions.
Earlier this month, council successfully issued a $200 infringement notice under the Litter Act 1979 to a person caught illegally dumping greenwaste at Papamoa Beach Reserve.
Infringement notices for illegal dumping can reach up to $400.
"We live in a special place and to keep Tauranga beautiful, it's essential the community reports illegal dumping. This inconsiderate behaviour is affecting our precious environment and needlessly soaking up council resources," says Mayor Tenby Powell.
Removal and disposal of illegally dumped material comes at a cost to ratepayers. Council has spent over $47,000 this year to remove 130 tonnes of illegally dumped items. That is nearly $12,000 more than the illegal dumping costs incurred in 2017.
Items that commonly get dumped illegally include furniture, mattresses, tyres, household rubbish and greenwaste.
Council is urging residents and visitors to manage the disposal of household items responsibly. For those who have recently moved to Tauranga from different areas, this can be a change to disposal habits, as the council does not offer an inorganics collection service.
Instead of placing items on the street or in public places, consider selling things online that could still be of use, donating to a local charity or op-shop or finding a recycling company. Otherwise, items can be taken to transfer stations for disposal.
"January is a peak time for illegal dumping, so we're encouraging the community to help by letting us know about any illegal dumping activity," says Murray Kliskey, TCC team leader waste contracts and compliance.
"The more information and evidence we have about the incident, the easier it is to take enforcement action."
Helpful information may include photos, videos, vehicle registration numbers, vehicle make and model, descriptions of the people involved, time, date, location, and type and number of items dumped, he says.
To report suspected illegal dumping activity, please call 07 577 7000, or email info@tauranga.govt.nz
More on SunLive...