Final dog responsible for cat maulings caught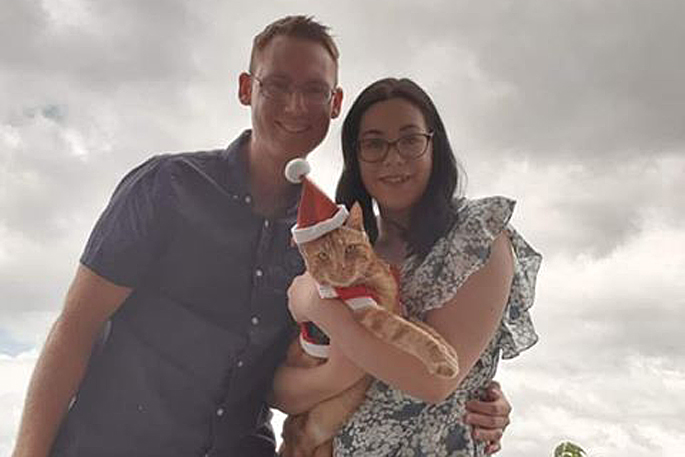 A Matua woman can let her cat without fear after the final dog believed to have been involved in cat attacks has been caught.
The last of the three dogs has been caught earlier today by Tauranga City Council staff, the other two were caught in the early hours of Christmas day.
The trio of dogs are suspected of attacking and killing up to nine cats in Matua last week.
Angela Newby's cat Archie was attacked by one of the dogs, a tan pitbull cross, outside her Sunny Bay Road home in August.
Archie suffered broken ribs, a punctured lung, fluid on his lungs, and a broken hip.
He had two surgeries that cost Angela $7000.
She has kept Archie in at night ever since and is cautious of him going out during the day as well.
"It's definitely a relief, that's amazing. We've been at this since August.
"We lock Archie in at night, every night now, but in the day I'm still so worried. If I'm at home, I'll go out and I'll call him just to make sure that he's close.
"I also have a nephew that comes and visits me and we walk around the saltmarsh so I feel like we'll be able to do that [again] now that I know those dogs aren't walking around."
Angela thinks around eight or nine cats were killed and more injured after seeing posts on the Matua Community Facebook page. The exact number is unconfirmed.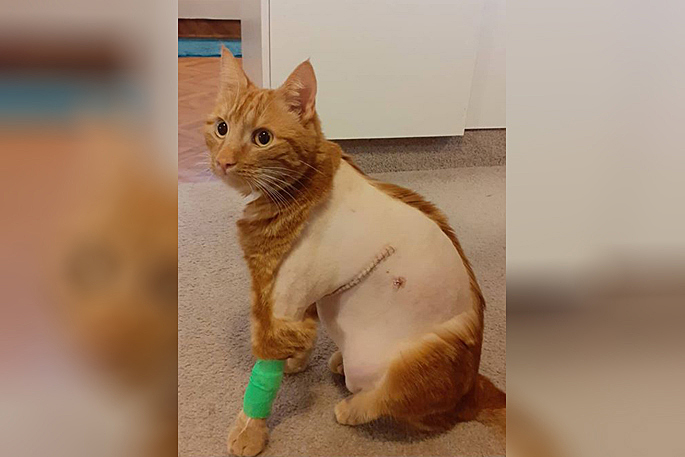 Archie is lucky to be alive after being attacked by a pitbull cross. Supplied image.
She is upset that animals had to die in order for the dogs to be caught.
At the time of Archie's attack Angela contacted the council but because she didn't have an address for the dogs and they were not registered the council was unable to help, she says.
"It's just really sad that it had to come to this point to get it dealt with."
Tauranga Mayor, Tenby Powell says he is going to sit down with his team to find out if these dogs were reported in August and if so find better ways to deal with dogs like this earlier.
"I just want to understand the processes that lead us to this point and to make sure that they're addressed.
"There is some suggestion that there were reports about these dogs in August of this year.
"Now, I don't know if that's true, but if there's any substance to it, we need to understand how we can do better to secure these dogs early and before they do what they've done, which is kill a multiple number of cats."
Tenby is thrilled the dogs are no longer roaming the streets.
"I'm absolutely thrilled. I'm just really pleased it's been it's been caught.
"I'm just sorry it took so long, but it's a difficult one because these dogs were clearly very dangerous.
"I think we need to use this as an exemplar of what needs to change because we just cannot have animals of this sort in the community, roaming around freely."
Tenby says there will be tests carried out to identify if the dogs that have been caught are the ones that killed the cats.
"As tragic as it is, the dead cats have been swabbed and those swabs will be matched with whatever dog is responsible for the deaths."
More on SunLive...