The ways Lotto NZ players won in 2019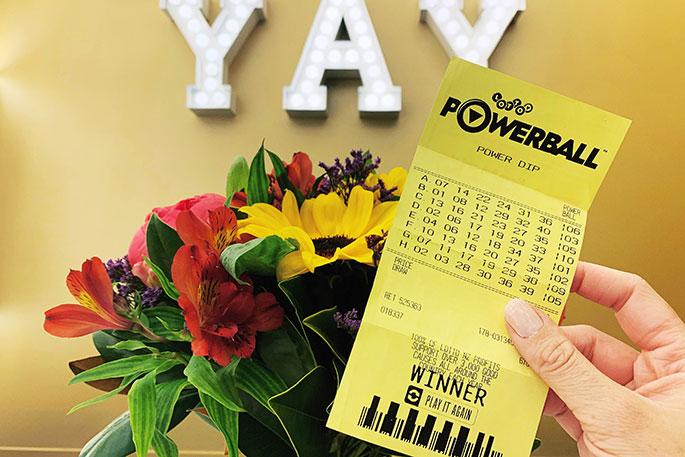 Lotto winners of 2019 can be defined by one word – quirky!
"Our winners come from all walks of life, and we love hearing their interesting and quirky stories about how they won, or where they stored their ticket. 2019 was no exception with some of the most interesting winners ever," says Marie Winfield, Head of Communications at Lotto NZ.
"What also makes 2019 unique is that it was our biggest year of winning – with a historic $571 million won with Lotto Family games.
As 2019 comes to a close, Lotto takes a look back at the unusual ways winners won this year.
In October, an Auckland woman's sweet tooth had her stopping by her local dairy and walking out with $1 million.
The woman stopped in to purchase a bag of her favourite marshmallow lollies and decided to treat herself to a $15 Cash Spectacular Instant Kiwi ticket as well.
Later that evening, sitting at her kitchen table with a cuppa, she scratched her ticket with the back of a teaspoon. Heart thumping, she knew she had won big and jumped straight in the car back to the dairy where a surprised Lotto operator gave her the good news – she had won $1 million.
"It was so unbelievable, I wish I could relive that moment all over again. The people in the shop were so excited for me. There were hugs and tears all round," the woman says.
Many Lotto players have their own rituals when it comes to where they keep their Lotto tickets and it certainly worked for a lucky Taupo winner.
"Every now and then I like to hide my tickets in weird places around the house to give it a bit of extra luck, so when I saw my wedding suit blazer, I thought why not give it a go."
The man got up in the middle of the night and remembered he had a ticket to check.
"I was coming back from the bathroom when I remembered the ticket sitting in the blazer – for whatever reason, I decided to check it right then in the middle of the night," says the man. Now $250,000 better off, we're wondering how lucky his next hiding place will be.
Some Lotto players have the habit of checking their tickets all at once. Like an Auckland man who was unaware of a 'missing millionaire' in his area – missing because that million dollar ticket sat safely in drawer at his home.
"I like to save up my Lotto tickets, and when I have a bit of downtime, check them all at once — it builds the suspense that way. I can't believe we had no idea that we were sitting on a million dollar ticket this whole time."
Other players won when they least expected it. An Invercargill woman who forgot to buy her regular Lotto ticket claimed $500,000 with a bonus ticket.
"I had it in my head that it was Tuesday and I was going to buy my ticket the next day, so when I saw the draw come on TV I was kicking myself that I hadn't bought it – then I remembered I had a bonus ticket," said the woman.
Scribbling down the winning numbers, the woman went on the hunt for the ticket. "I looked at the first line of my bonus ticket and the numbers matched – it was as clear as day. I was absolutely stunned."
Tucking the winning ticket safely under her mattress, the winner checked it several times in the night to make sure it was still a winner.
Buying tickets on a whim is another common theme amongst players, like a Wellington woman who picked up a ticket during a shopping trip and found herself leaving the mall $1 million richer.
"My husband was getting a bit 'hangry' so we decided to head to the food court for some lunch."
While her husband queued for sushi, the woman grabbed a couple of Instant Kiwi Cash Extravaganza tickets for them to scratch over lunch.
"When I saw I had matched number 35 on the third line, I didn't think much of it. I kept scratching the rest of ticket to see if I had matched any others, then I scratched the prize panel and there was a very large number with a lot of zeros starring back at me — I nearly choked on my lunch!" laughed the woman.
The pair raced back to the Lotto shop, unfinished sushi in hand and that's when it was confirmed – the $1 million prize was theirs!
Some winners purchased their ticket just in the nick of time. None more so than one of the Powerball winners who shared the $38 million jackpot in October.
With minutes to spare, a South Auckland couple remembered they hadn't got a ticket for the draw and the race was on.
"My husband turned to me at 7.22pm and said 'we didn't get a Lotto ticket! You better run down to the dairy and pick one up', but I knew there wouldn't be enough time – so I logged onto MyLotto instead," said the winner.
"I hadn't bought a ticket on MyLotto in quite a while, so needed to find my card and top up my account – I was racing all over the house! I ended up clicking 'buy' with two minutes to spare."
It turned out to be a night to remember with the couple claiming a life-changing $19.1 million.
However lotto winners enjoyed that winning feeling in 2019, one thing is for sure, it has been a year to remember for Lotto NZ players all around the country.
More on SunLive...