A sunrise paddle to start the New Year and decade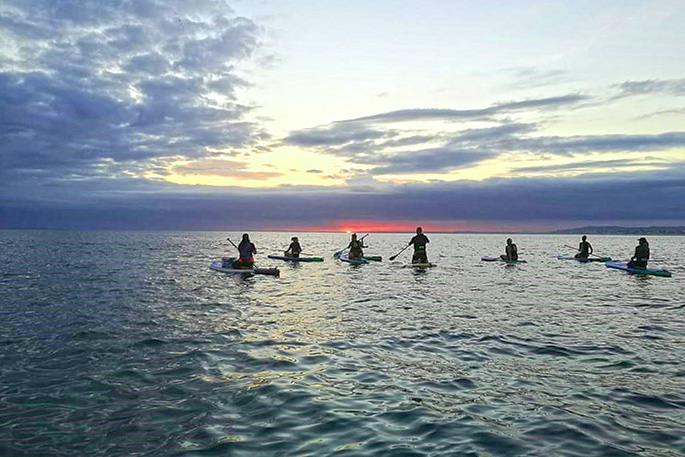 Walking on water on New Years' Day sounds the perfect way to start the new decade.
East Coast paddler Porina McLeod is inviting 15 others to join her for a dawn paddle from Mount Main Beach to Motuotau Island (Rabbit Island) and back, with breakfast served out on the water on New Years' Day.
"As a musician of over 20 years, the only time I would ever see a New Years' Day sunrise was on my way home from gigging and socialising," says Porina. "I was starting my New Year feeling seedy and tired."
After playing at gigs the night before, she found she would spend most of New Years' Day in bed nursing a hangover or recovering from fatigue.
"Since my involvement with paddling, I've discovered a new and wholesome way of doing life," says Porina. "I've begun the last three years seeing the sunrise from the ocean.
"Just starting the year like that puts your year right. It begins with clarity, calm and the confidence that I will be gifted with lessons and joys that will upgrade me into becoming an even better person that I was the year just gone.
"We often look at the year ahead and think about what we hope to achieve, but I also want to think about how I want to feel this coming year."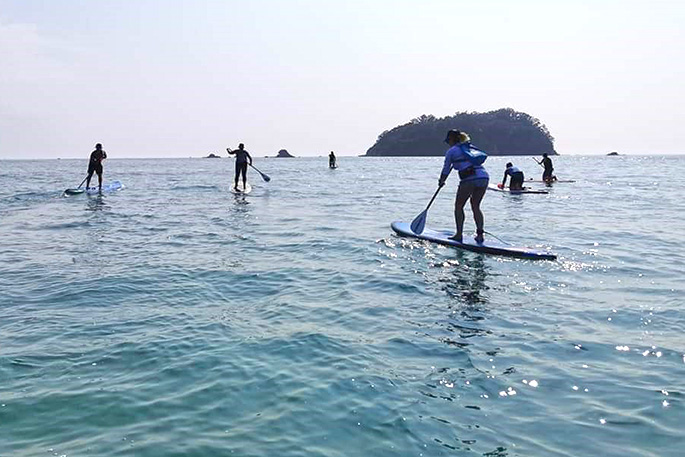 Paddling to Motuotau. Photo: Porina McLeod
When Porina sets off on her stand up paddleboard, she finds herself not just gliding across the water, but also being transported into a space of calm and tranquillity that she finds she wants to share with others.
"To see the utmost contentment on their faces, glowing in the morning light, is extremely rewarding. I could not think of a better way to bring in the New Year, this new decade. I want to share this amazing experience and most magical part of the year with others!"
The sunrise paddle will begin at 5am on January 1, 2020. Those who have booked to go will meet opposite 39 Marine Parade, Mt Maunganui, and will paddle from the main beach to Motuotau Island.
"They can bring their own stand up paddle board and equipment, or hire it from us," says Porina, who along with her family have been operating the East Coast Paddler business for the last ten years.
She is experienced at providing stand up paddling and waka ama experiences to Tauranga residents and visiting guests, as well as providing guided walks around Mauao.
East Coast Paddlers have a licence to operate from both Mount Main Beach and Pilot Bay, and have recently moved into a new cultural hub at the Cruise Deck, Mt Maunganui. They will soon be rebranding the service side of their business to 'Mauao Adventures' and see that this move will broaden their capabilities and help other local cultural ventures to succeed.
"The hub is collaborative, currently hosting the arts and crafts of local cultural artists. We also plan to share the space with other ventures, bringing our talents together and becoming more accessible to visiting guests."
The other branch of the business is providing paddler equipment to a paddler community. This branch will maintain the East Coast Paddler brand.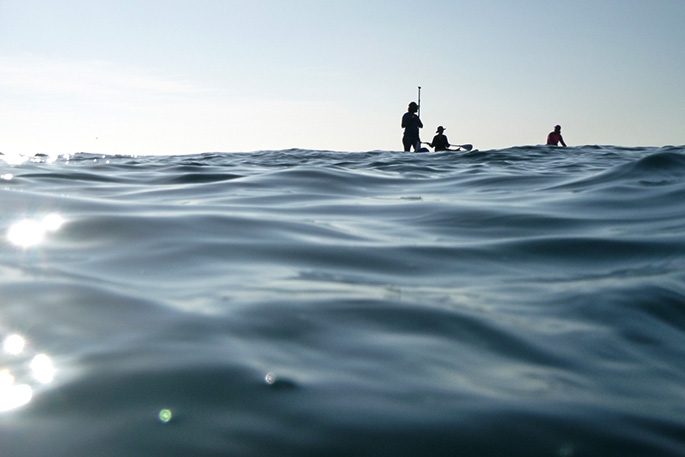 Out on the sea. Photo: Jana Rangooni
For the New Years' Day dawn paddle, Porina stipulates that previous experience and comfortable paddling on flat water is a must before anyone can join in on the group paddle.
"Although it would be amazing to have perfect conditions, it is not guaranteed," says Porina. "There are potential waves and choppy conditions, and we will be paddling over 200 metres off-shore.
"Our instructors will be available to assist, but we cannot provide one-on-one assistance, except in an emergency. Lessons and equipment hire is available prior to the event to improve competency."
The group paddle will start before sunrise, with the paddlers facing the direction of the rising sun. On leaving Main Beach, the group will paddle around to the seaward side of the island.
"Where it's just us and 2020," says Porina.
"Once the sun has peaked beyond Maketu, we enjoy breakfast on the ocean, supplied by us. We leave the past on the ocean and bring the New Year's aspirations into conversation, before we paddle back to the shore together.
"We're all done by 7.30am so you can continue your morning with a spring in your stride, feeling refreshed and renewed, with a whole new decade to look forward to."
It sounds like a magical perfect way to start not only the New Year but a new decade.
There are still 11 places available for the New Years' Day Sunrise Paddle. The cost is $50 with stand up board and equipment provided, or $40 BYO board and equipment. The cost includes a cold breakfast and beverage on the water. To book, email Porina on supinfo@eastcoastpaddler.co.nz or phone 027 451 0579.
More on SunLive...