Fine weather to bring in the new decade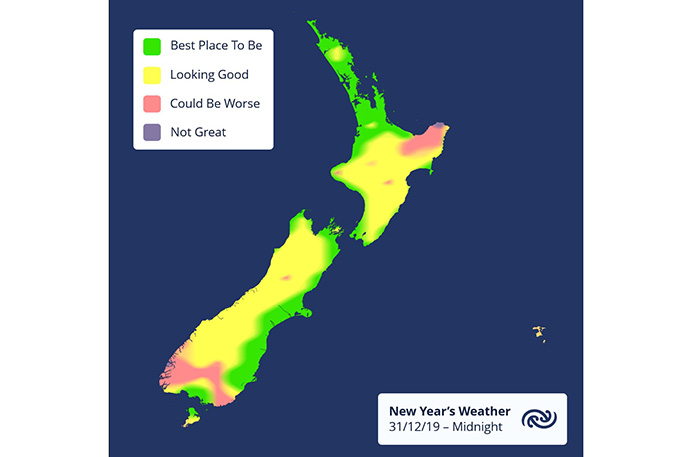 Rounding off the 2010's and diving into the next decade, hopes are high for a cracker of a finish to the year!
A meteorologist with the first name Tui says MetService won't disappoint, forecasting fine weather for most Kiwis this week.

Spring tested the patience of even the most stoic of New Zealanders, day dreaming of what summer could be. Following a rather tardy start to the season, summer did arrive… eventually. And the fine, sunny weather nicely timed with the holiday break!

A ridge of high pressure sitting just shy of Aotearoa, over the Tasman Sea, is helping to weaken our usual barrage of wind, fronts, rain and more wind. Instead, we get mostly sunny, with the occasional windy spell and just a few showers here or there. Perfect for bringing in the New Year!

"This high is helping to effectively squash fronts as they make their way up the country," explains MetService meteorologist Tui McInnes, adding that "while it doesn't mean all spots are entirely in the clear, the effect they have on our weather is far more subdued."

Southern and western areas are those missing out on the greater portion of sun, "as another front glances by, bringing some rain and a stronger northwesterlies as the South moves into the 20s," says Tui.

Further north on the South Island, warm weather awaits, with a few towns looking to crack the thirties. Tui sends the reminder; "keep cool and hydrated, and as always be sun smart and slip, slop, slap."
More on SunLive...