Tauranga charity benefits from pageant entry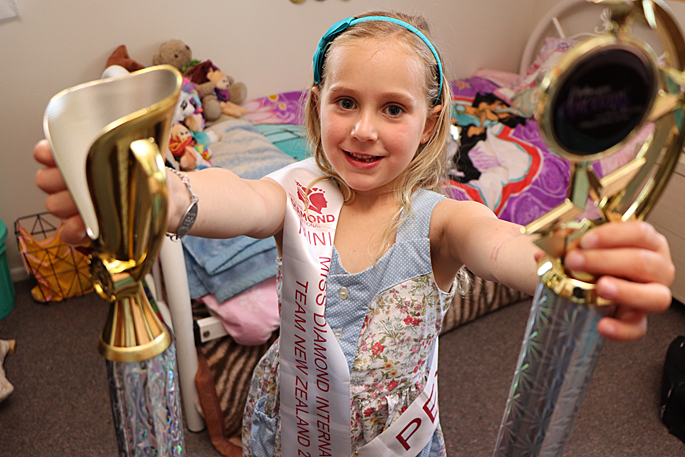 Peyton Carroll's walls and drawers are so heavily adorned with medals it's hard for her to choose a favourite.
The six-year-old has been dancing since she was two years old, but also plays hockey, swims and is in a cheerleading squad.
The majority of her medals are from dance and cheerleading but she's hoping to add a few more to her stash after being selected to represent New Zealand at the Evolution Dance Competition.
Her mum Emily Carroll says they started a mummy and me class when Peyton was two, but she was soon told to step aside.
"I got told on her very first lesson, 'no mummy, you sit'. So everyone else was doing it with their mums and she's off doing her own thing.
"I was not allowed to do it, she's been that way ever since. She loves dancing and she's made some amazing friends through it as well."
Peyton is also representing New Zealand at the Miss and Mr Diamond International pageant.
Emily says the pageant isn't a typical glitz pageant, participants have to raise funds and awareness for a chosen charity as part of the competition.
"It's really different from what most people consider of pageants.
"You've actually got to choose a charity that means something to you."
Peyton is an avid animal lover so her chosen charity is Tauranga's Animal Rescue and Rehabilitation Centre Wildlife Trust.
ARRC provides specialised services, programmes and facilities for the rescue and rehabilitation of wildlife and animals.
Peyton says she chose ARRC because she likes to help pets.
"We talked about what a charity was and then she was like, 'well they help people'. I'm like they don't just help people, they help lots of different aspects, so people was one, animals another and she just latched onto that animal idea," Emily says.
"She loves animals, so the thing she wanted to do was work with animals, and so we chose a local charity that doesn't get that much awareness to try and raise awareness for it.
"I took Peyton in to meet the lady at ARRC and when we went into to meet her, she had a starling fledgling they'd just gotten in.
"She showed it to Peyton and she immediately latched onto it, was holding it in her hands and from there it was set."
Leading up to the pageant contestants also have to do media challenges, at the event in April, Peyton will do a speech, chat to a panel about her charity, as well as doing a fun fashion event and a formal gown walk.
"When she gets there she has to do a charity interview, so in a panel of people she has to talk about her charity, why she chose it and how she's supporting it," says Emily.
Peyton says she is most looking forward to doing her speech.
Emily says the pageant is a lot about the journey, not just the final stage.
"Part of the reason I decided to do it is, because I want to build up her confidence.
"Especially the interviews where they're not very long, they're not very big, but they encourage the confidence within little girls.
"I think confidence is something that a lot of people could use more off."
Fitting in time to prep for the pageant isn't easy with the three dances lessons, swimming, hockey, cheerleading and school each.
"We're busy all week," Peyton says.
Emily says they still find time for play and friends and ensure they timetable everything to fit it in.
Peyton has a givealittle page to raise money for ARRC, her goal is to raise $1000.
The givealittle page can be found here.
More on SunLive...