Anglers Christmases come at once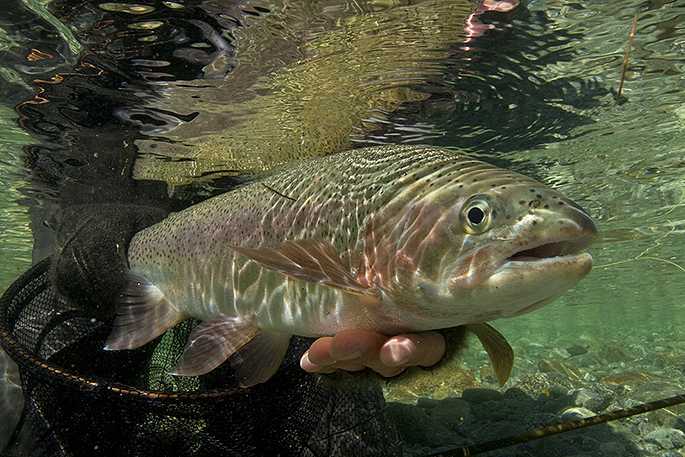 The holiday period is closing in and the Rotorua lakes are turning it on for anglers.
It seems the warmer weather has come earlier this December and lake water temperatures are up on the norm.
This has two benefits for the trout fishers.
Firstly, surface waters warm and become separated from the deeper waters creating what is known as a thermocline in the lake body.
In deeper lakes such as Rotoiti, Tarawera, Rotoma and Okataina, algae, invertebrates, smelt and trout are drawn into that band found 15 to 23m deep as warming surface water becomes too uncomfortable for them. This allows anglers to better locate and target fish.
Secondly, on shallower lakes such as Rotorua and Rerewhakaaitu, trout are unable to find suitable water temperatures by going deep, so instead seek out cooler water such as inflowing streams or springs.
"A large exodus of fish has continued to pour from Lake Rotorua into the Ngongotaha Stream," says Fish & Game officer Matt Osborne.
"Some nights through the first two weeks of December have seen in excess of 100 brown trout per night running through the Ngongotaha fish trap and the largest through this period went 5.1 kilograms.
"Anglers fishing the Ngongotaha stream mouth morning and evening have also keyed into success."
Lake Rotorua's upper stream reaches (Ngongotaha, Waiteti and Utuhina) opened on December 1. Angler turn-out was low but catch rates were very impressive, says Matt.
Other stream mouths that usually start fishing well early to mid-January, are showing signs of life at least a month early this summer.
Hamurana in particular has produced several 10 and 12 pound browns already for some lucky anglers.
Another present placed under the tree this season has been fish condition.
Lakes Rotoiti, Okataina and Tarawera have all produced better fish from the season opening, on October 1, than last year.
Older, mature rainbow trout that have recently spawned are going to be an exception to this, especially in Lake Rotorua which is essentially a wild fishery and has rainbows spawning as late as December.
"If you are stumped for Christmas ideas, give the gift of a trout fishing licence," says Matt.
"Lake Rotorua is open to spin fishing right around its circumference. The gear required is inexpensive, and the trout will be in close. Perfect for the kiddie's stockings this year."
More on SunLive...