Mayor delivers on a promise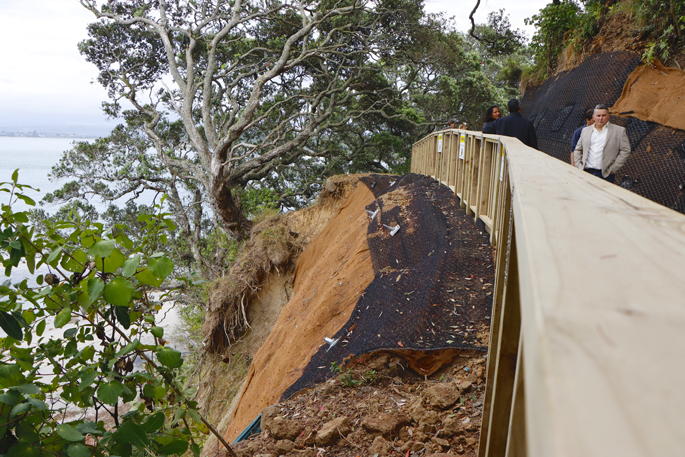 He promised SunLive when he was elected to office that the Mauao base track was a priority, that he would have it open by Christmas.
And last week Mayor Tenby Powell delivered.
"It means the city's greatest taonga is again accessible to all," says Tenby. And it will be at a snip – a fraction of the $4.6 million the previous Tauranga City Council was planning to spend on bypassing the 14 metre slip with a flash new 350 metre section of track and boardwalk along the beach.
"It wasn't a pet project, but it was something that needed to happen," says Tenby. The base track is the country's most popular walking track, with close to two million people making the three and a half kilometre loop every year.
A section of the track was destroyed by Cyclone Debbie in April 2017 and a set of box steps were installed up and around the slip. It irked the new mayor. "These steps have been an encumbrance to the elderly, to young mothers and fathers with pushchairs, to small children and the disabled. Now it's open to all those who otherwise would have been disadvantaged."
And so he drew a line. "There were some things I had to take responsibility for, that were part of the old council's decision making. But we are there now."
And just after dawn a week ago, with a karakia floating on the breeze, the new remediated track was opened. "Mauao's iwi owners opened and blessed the new track. That was important." Iwi look on the Mount as a friend, not so much as a taonga - or prized natural resource – but more as a person. "It has human status. So we all needed to be respectful of that."
Then at 6am Tenby, friends and colleagues gathered in the early gloom at the surf club to run anti-clockwise around the base track, arriving at the slip site right on opening time. The Mayor believed it to be a good idea and a symbolic one.
"After all the track is a critical part of who we are. "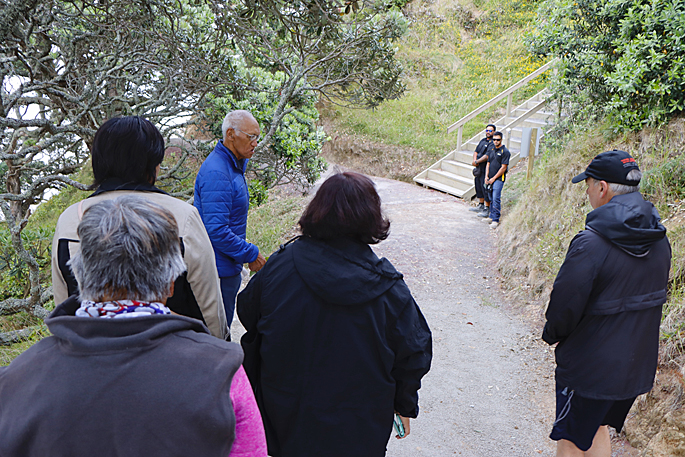 The opening ceremony on Friday.
One person who stands to benefit most from the re-opening is the Mayor himself. "I started my mayoral campaign by being fit enough to run up the Mount, but as the campaign proceeded, that certainly went into abeyance.
"I started running the stairs and walking the mount and running the track, and that all stopped completely because I got too busy."
It seems mayoralties and exercise aren't easy bed fellows. "I enjoy the gym but everyone puts on weight during campaigns and those first weeks in office. It gets really busy and there's just no time for exercise. But I am determined to make time because physical fitness is really important to me."
The repairs included excavations, track realignment, installing a handrail, improving drainage, and stabilising the area with geotech cloth and soil nails. After the holidays, the new section will be closed during February to allow for further work to be done to complete repairs. The stairs will remain for that time.
"It needed fixing smartly, economically, from a tourist point and because it's summer. Having the walk made unnecessarily difficult, didn't help the cause."
The new track section will be formally opened once the work is done in February.
More on SunLive...