State of the art fire-truck for Tauranga Airport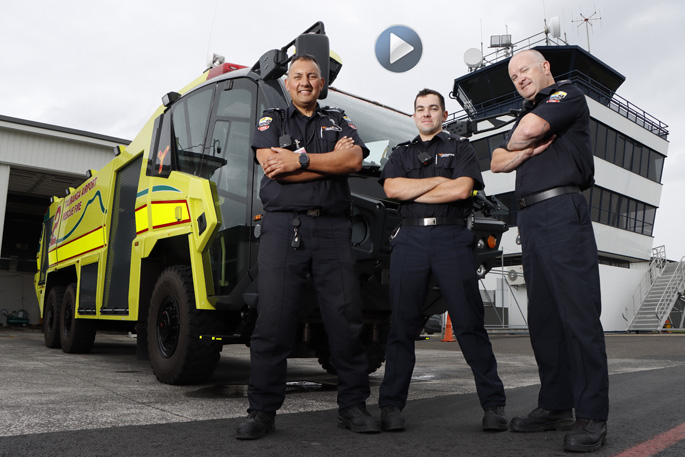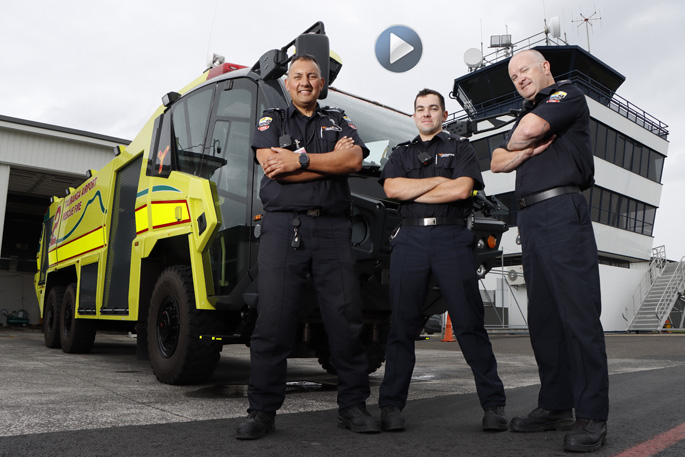 Click the image above to watch the video
To say that getting a new airport rescue fire-truck is rare, would be an understatement.
But that's exactly what the Aviation Rescue Fire Crew at Tauranga Airport have gotten.
All the way from Austria, the Rosenbauer Panther S has a water capacity of 7000 litres and a foam capacity of 1300 litres.
Aviation Rescue Firefighter from the Tauranga Airport crew, Steve Gilmore says getting this new truck allows them to modernise the fleet.
"This replaces an older truck that we had, and that's going to probably end its life at another airport somewhere.
"And this truck more than meets the category required for our airport and future proofs us for many years to come."
He says the old truck didn't have many km's on it but was around 30-years-old.
"It was a purpose-built aviation rescue fire truck and it has seen its day effectively. It's still a really good fit for purpose truck, but it's proven before these trucks start breaking down and before they start costing you money, to upgrade your fleet and keep it modern.
"This really caps off a really good couple of years for Tauranga Airport Rescue Fire in regarding, we've changed a lot of our processes and a lot of our systems, so this is a little bit of capital expenditure to just cap that off and put us in another league really to what we were."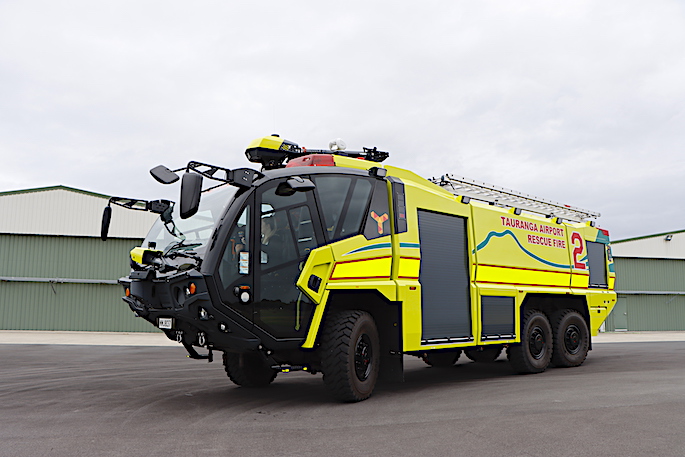 Steve says getting the new truck was a big project for one of their past members who put a huge amount of work into this.
"It was probably about a two and a half year project to actually finally get it delivered."
They looked in Australia and in America and the UK to see if there was anything second hand. He says it was a full feasibility study to see if they could get a recommissioned truck or reconditioned truck.
"The best bang for our buck was to go brand new, so that's what we did."
There are many special features on the new truck, with one of the big differences being it can pump and roll.
"In other words, it can move and pump at the same time," says Steve.
"It's quite unique and different to the urban fire trucks, where they can only do one or the other.
"The other thing is the capacity. So we hold 7000 litres and we hold an enormous amount of foam. It would take around about 45 and a half thousand litres of water to go through the truck before we ran out of foam. That is the biggest pavlova you've ever seen.
"So that is a lot of foam, a lot of water and we can do it all while we're moving. We can run out hoses, we can put water and foam under the truck. We've got two different monitors that we can put water out off. The top monitor is throwing out about 80 litres a second, and the bottom monitor is throwing out around about 50 litres a second.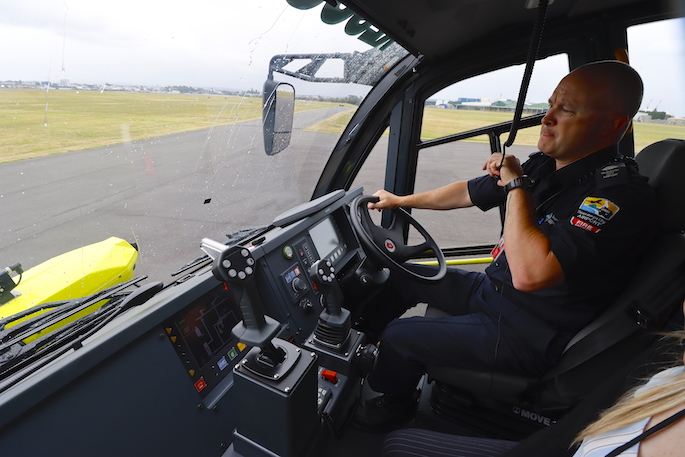 "So that's a lot of water. So 7000 litres of water, and if we wanted to go full roar, it's all gone in 50 seconds. So we use it a little bit differently than what we'd use on urban trucks."
The role of an airport firefighter is varied, says Steve.
"It's not just waiting around for horrible things to happen. We do train for those sorts of things, and we cover medicals in the terminal and right throughout the airport site. We obviously respond to crashes or near misses, local standbys and full emergencies that may be declared from an aircraft. But the role of a rescue firefighter is also to do runway inspections, lighting inspections, wildlife control actually falls under our umbrella – so it's a huge variety of just keeping the place operational and operationally safe really is what our role is."
Steve says he has always been interested in firefighting and has been a volunteer firefighter for 10 years.
"It was just a natural progression to look for that as a paid job as well. Most of our members are volunteer firefighters as well."
When called out to an emergency, he says it depends on the scale of the emergency to what plan and processes they put in place.
"Depending on the scale of the emergency, whether someone's given us a local standby or declared a full emergency – maybe they've got control issues on the aircraft – it could just be a standby and crossing fingers hoping that they come in okay, and we'll put some plans in place so if they don't, we know roughly where they're going to land.
"If it's a crash, obviously, then we're going to respond and we're going to create survivable conditions, that's what our mantra is, we create an environment where those who have survived initial impact have the best chance of walking away. If that's laying down foam so they can escape, or if that's going inside and pulling them out, then that's what has to happen."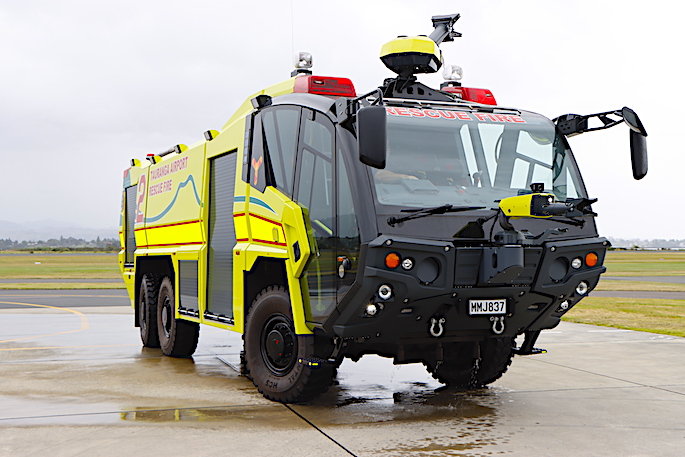 When responding to an emergency, Steve says they have three minutes to be geared up and out the door to the furthest end of the airfield.
"So you are going like the clappers to make that happen."
Over his career, Steve has attended to a couple of crashes and one fatality.
"That just reminds you that your training is not wasted. Serious things do happen and bad things do happen to great people and so there is an incentive to try and get what we do right and we want it to be right the first time.
"We want to be robotic because when you get to a crash scene, it's very distracting. There's a lot of chaos and there's a lot of huge amount of information coming in at the same time. So if you can do what you do robotically, then you can focus on all those other chaotic things and try and get those things right."
One example Steve has is one of the last crashes he attended.
"What struck me was the fact that it was just an average flight. It was just an everyday average flight. No one intends to crash so for me, it was a reminder that it can happen anytime, anywhere.
"The gentleman luckily was able to self-extricate or remove himself from the aircraft and he was fine. The aircraft, I understand was repaired and is flying again so that's even better. But it was at the furthest end of our airfield where he landed, there was a debris trail and there was all the sort of stuff, it was just the speed of how fast things can happen and just a good reminder to us that we need to be alert all the time."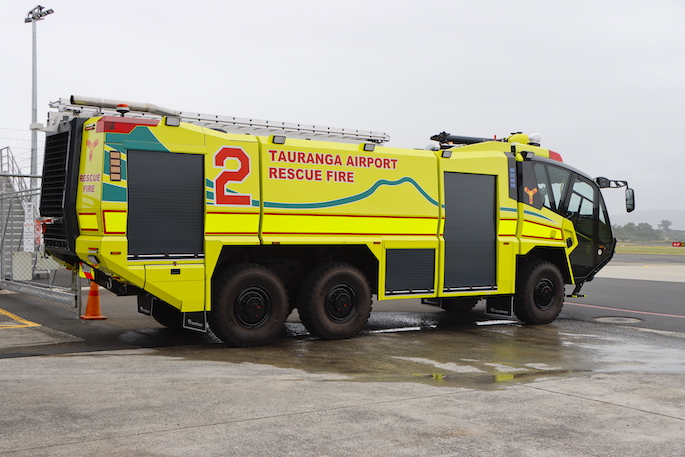 More on SunLive...