Cooking differently to help save the planet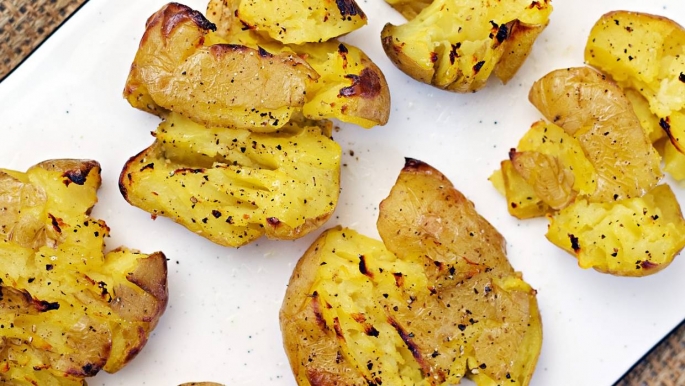 Shopping lists may not seem much like weapons.
But making them is one of the most effective things we can do to fight climate change.
The average Kiwi family throws away three shopping trolleys of edible food each year.​
Food that ends up in the landfill decomposes without oxygen, releasing the harmful greenhouse gas, methane.
About 150,000 cars would have to be taken off the road for a year, to offset carbon emissions from New Zealand's food waste, according to the Love Food Hate Waste New Zealand campaign.
Buying less food in the first place would significantly reduce the problem.
While that requires planning, the campaign has come up with a downloadable cookbook that has done all the work for us.
PLAN OF ATTACK
The Easy Choice Family Kai cookbook suggests what to have for dinner, five days a week.
It provides the weekly shopping list, and recipes for each meal, including Mexican stuffed potatoes, falafel pita pockets and Vietnamese chicken noodle salad.
The meals were designed to be healthy and fun, as well as zero waste, Love Food Hate Waste project manager Jenny Marshall says.
"You buy all the ingredients at the start of the week, and at the end of the week, you've used everything up. This is a yummy way to use up your food."
The ingredients each week cost approximately $65, Jenny says.
As well as money, it spared people time on late dashes to the supermarket, or staring at the fridge wondering what to make.
"Sometimes being virtuous is dull and boring. This is lots of fun [with] exciting ways to eat up your leftovers."
It could be as simple as putting leftover salad in rice paper rolls, or leftover vegetables on top of a pizza, Jenny says.
Christmas in particular was a time when we all bought far too much food, she cautions.
"Don't buy lots and lots of things that are perishable, because the supermarket's actually only closed for one day."
If people wanted to stockpile, they could choose things that were going to last, she suggests.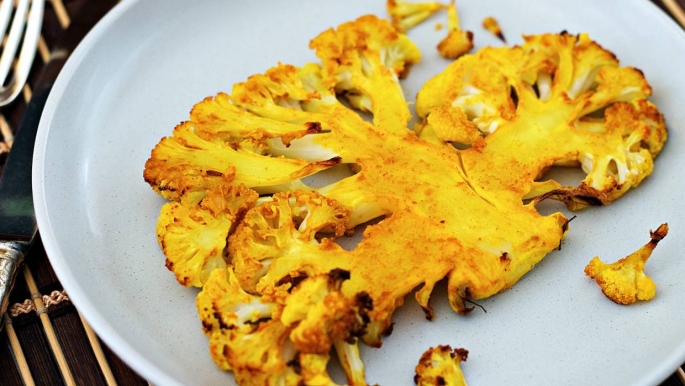 Cooking using all of a vegetable, like a cauliflower's stalks and leaves, can help reduce the food we throw away. Image: Love Food Hate Waste New Zealand.
DO IT YOURSELF
If planning your own meals, a regular fridge stocktake is advised.
"Look at what you've got in the fridge and design what you're going to eat around that," Jenny says.
People who lost shopping lists easily could always take a photo to refer to instead, she suggests.
It is best to eat seasonally, with fruit and veg flown in from overseas not lasting as long.
Aging vegetables like tomatoes could be pureed and put in the freezer to cook with another time.
EAT STALKS AND SKINS
One third of the food wasted in New Zealand is vegetables.
That includes 7039 tonnes of potato peelings each year.
Recipes on Love Food Hate Waste NZ suggest smashing potatoes for a "skin-on spud dish", frying up hash browns from unpeeled grated potatoes, roasting cauliflowers whole, or using broccoli stalks in salads or fritters.
Cauliflowers, leaves and all, could be put in a food processor, and some stored for different dishes later on, like cauliflower rice.
Things like citrus peels and zest could be used to make brownies and bliss balls.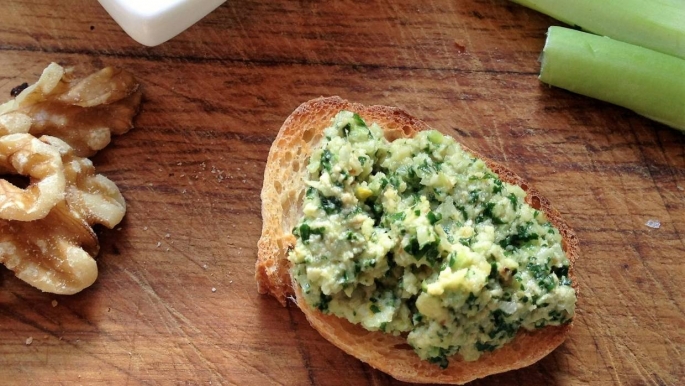 Broccoli stalk pesto. We can use vegetable stalks and skins in meals and snacks, to reduce our food waste. Image: Lucy Corry/Stuff.
STORAGE TIPS
Simple steps to reduce food waste over summer included changing where we store our food, Jenny says.
Keeping bread in the fridge or freezer is a New Year's resolution that will make a big difference.
Bread is the number one food that Kiwis waste (20 million loaves a year).
"In large parts of the country the climate gets really humid at this time of year, so your bread if you just leave it in the pantry, it's going to go mouldy," Jenny says.
Eating crusts will also help, using them to make sandwiches or dishes like "meal in a mug".
The way we store fruit and vegetables over summer, could also vastly extend their shelf life.
Apples could last up to eight times longer in the fridge, and stone fruit at least a week longer.
If pushed for fridge space, some fruit and veg do better at room temperature, like tomatoes, red peppers and aubergines.
Putting berries in airtight containers makes them last "noticeably longer".
More on SunLive...