Hosting 250 for Christmas dinner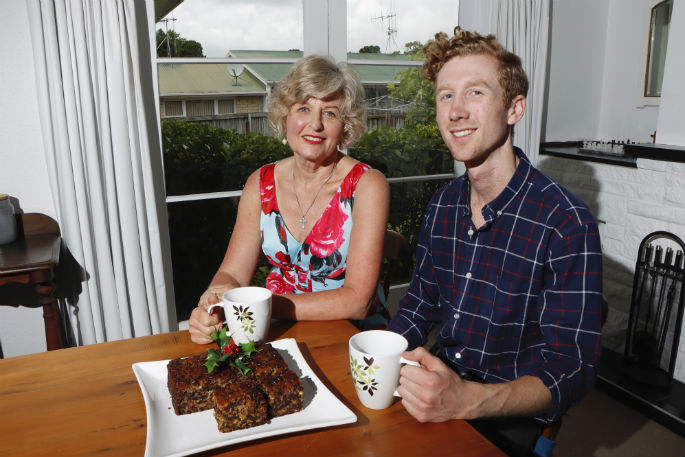 When the fine feast was laid out, any reservations or barriers were swept away by a tide of gravy, custard and goodwill and people sat down and celebrated Christmas together.
"Afterwards we all agreed it was one of the most satisfying and enjoyable Christmas encounters we, as a family, had experienced," says Patricia, a table host at the St Peters in the City Free Community Christmas Dinner.
Her son James also hosted a table of complete strangers at the charity dinner. "I discovered food is a great catalyst to bring people together, to talk, share and be happy." It seems food overcomes all.
So while some volunteers from the St Peters in the City congregation were peeling, scraping, chopping, slicing and stirring, others were 'table hosts' - they're the people who bridge the gap, meeting, greeting and engaging with many of the city's guests who join in.
"I like meeting and talking to people and although I wasn't sure what to expect, which I'm sure was also shared by the guests," says Patricia.
"It all worked well."
On reflection, the reason the Free Community Dinner works so well, bringing people together from all walks of life, is that all those involved as volunteers want to share with others the real reason for the season.
"God's great love for us celebrating the birth of Jesus, who came to earth for everyone," says Patricia.
The dinner caters for up to 250 guests, anyone and everyone who doesn't have something to do or someone to see on Christmas day are attended by an army of St Peters volunteers.
After the 2017 community Christmas dinner Patricia and her family went home with "a sense of joy in their hearts from sharing in the lives of others".
Each one of the tables at the St Peters in the City Free Community Christmas Dinner had a table host warmly welcoming their guests.
The Chancellor family put aside their usual family and friends Christmas celebrations to enjoy the company of new friends. Husband Andrew was seconded as a driver to ferry people to the dinner.
"He went to pick up an older man – his wife had died only months earlier and he had just been discharged from hospital. He was uncertain about his medication and didn't want to go to the dinner."
But as it happened, Andrew was on hand to sort the meds and get him to the dinner which he enjoyed.
"It's obviously nice to receive things at Christmas but the enjoyment is usually temporary if it's a materialistic thing, but giving of your time and yourself seems to hold a deeper satisfaction and lasts much longer," Patricia's son James says.
James sat down with homeless 'gentleman' – James' word. There was respect at James' table.
"The homeless man struggled to feed himself on any day let alone Christmas Day. Everyone was just so grateful." A special occasion, on a special day in a special place. A feast of food and conversation.
There were eight guests at Patricia's table. A man who lived alone and talked of the respect he had for his late father, says Patricia.
And while he had been reluctant to attend the Christmas dinner, he suggested they make a pact to return the next year and sit together. So she will be looking out for him this year.
There was a feeling of goodwill to all. People genuinely wanting to reach out to others and share in the real reason for the season.
For more information on the St Peters in the City Church Free Community Christmas Dinner call the church on: (07) 578 9609 or message: christmasdinner@stpeters.org.nz
More on SunLive...