A Kiwi Christmas raises funds for Foodbank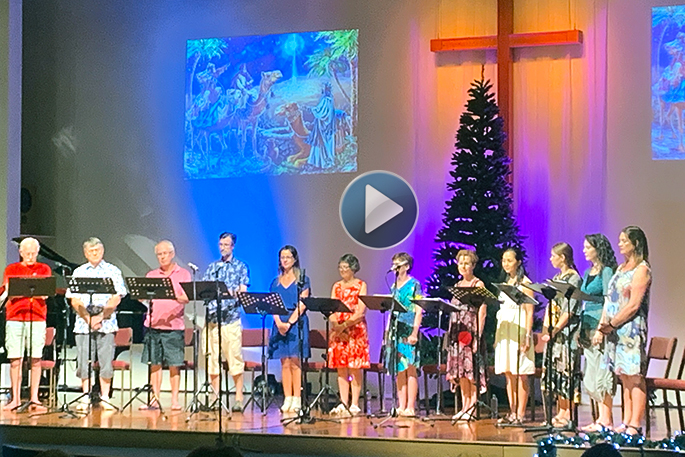 Veteran broadcaster Tom Bradley's 'A Kiwi Christmas' was certainly worth waiting for.
I slipped into a seat at the back of the auditorium at the Holy Trinity Church in Tauranga on December 7, and found myself taken through a fascinating history of Christmas - Kiwi style.
A choir, pianist, guitarist, and a bloke called Steve-O joined Tom and radio host Jolene James on stage in front of a crowd of hundreds to explore NZ's Christmas past.
All the proceeds from the event went to the Tauranga Food Bank.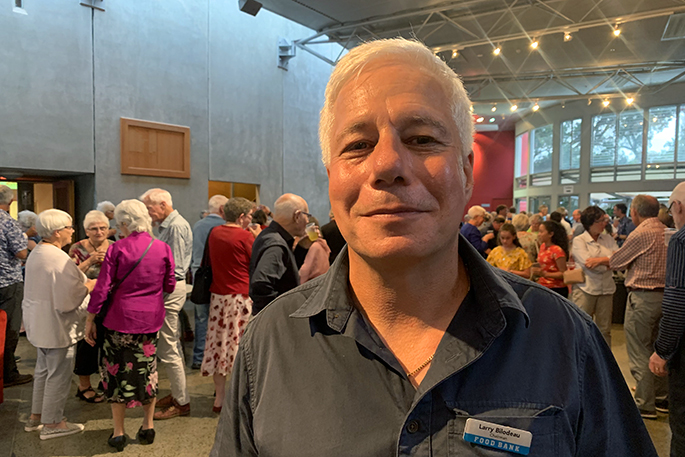 Larry Bilodeau, chairman of Tauranga Foodbank
"It's a fantastic night," says Foodbank chairman Larry Bilodeau. "I didn't know what to expect at first. Carols are so nice to hear and bring back so many good memories – Canadian Christmases, turkey, cold weather, all that sort of thing."
Larry Bilodeau took up the role of Chairman at Tauranga Foodbank in 2018 after retiring from his previous role as CEO at Ballance Agri-Nutrients, and originally came from Ontario, Canada, moving to NZ in 1997.
"It is a fantastic evening with a great choir. Of course the proceeds do go towards the Food Bank, and as I said to the audience, the Food Bank really does need support," says Larry.
"This time of year it's especially important. So many mothers and fathers are wondering how they will feed their kids this Christmas. Not what, but how. And if we can help solve that for a few families I think that's just great. And we do.
"Generally through the year we'll feed 15 – 16,000 people and this time of year it just does my heart glad to be able to help a few people."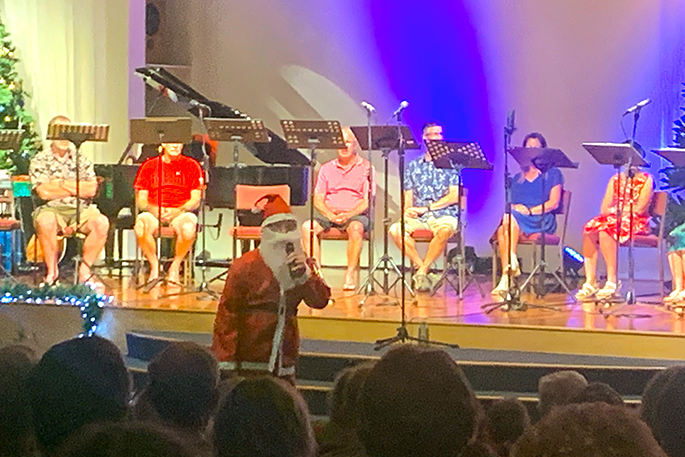 The show, which included a funny wandering Santa Claus, featured a digital display of about 400 visuals highlighting NZ's first explorers and pioneers, right through to the present day, covering events that impacted and sometimes shocked the nation during the Christmas period.
Before the event Tom said they were all so excited by the feedback that he was thinking it could become an annual event.
"People have really latched on to 'Kiwi Christmas'," says Tom.
And indeed it was an affectionate and charming retelling. I found myself remembering childhood Christmas Days that I had forgotten. Now, as I write this days after the tragic eruption at Whakaari/White Island, I realise that sadly, if 'A Kiwi Christmas' becomes an annual event, then there may be an additional Christmas-time incident to add.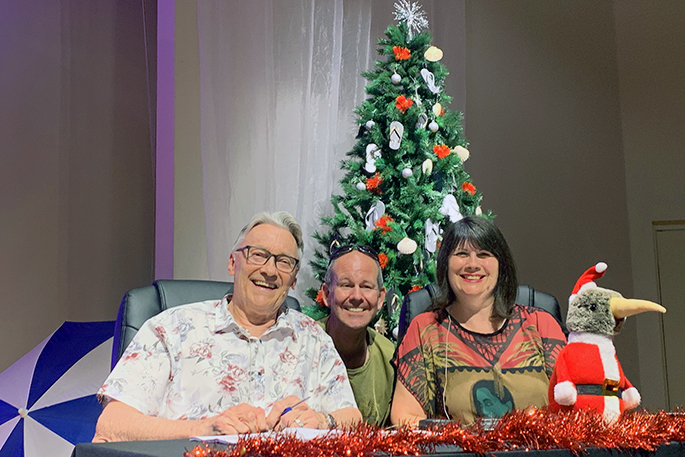 Tom Bradley with Mark Eagle and Jolene James both from Tauranga's 95.8 The Breeze.
Mark Eagle from Tauranga's 95.8 The Breeze, made a wonderful 'Steve-O', reading out a fictional letter, supposedly written and sent between a couple of Kiwi blokes about Steve-O's mate having an encounter with Mary and Joseph.
The contemporary retelling of the Christmas story also featured the Kiwi Christmas singers and Elizabeth Price, along with a mix of Christmas songs and carols.
"We're looking at the way we do Christmas, how we do Christmas, and why it's become the way it is in New Zealand, how it's evolved, and how different it is from the way they do it in the Northern hemisphere. We're all sun and sand and they're all winter and snow," says Tom.
'A Kiwi Christmas' was good fun too, as Tom deliberately went for a lot of humour and warm-hearted nostalgia.
"Hopefully people will come away having had a good laugh and a good sing and feel reinvigorated with the joy of Christmas."
Tom had been working on the idea for the show for most of this year.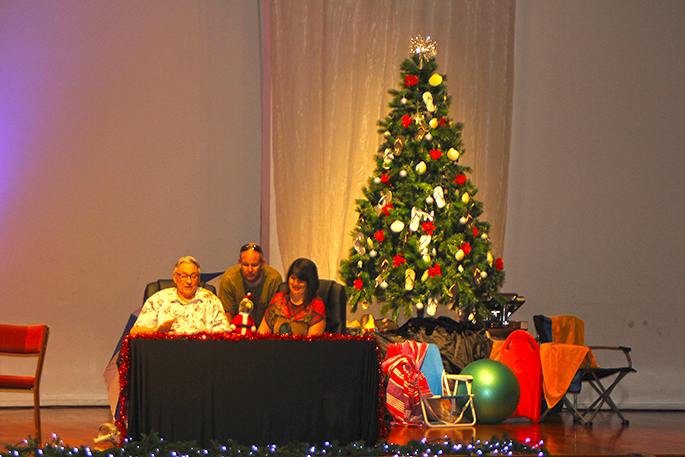 Around the stories, traditional Christmas carols and songs with the lyrics were up on screen, so that the audience could sing along.
As well as the celebratory times, the show covered some of the tougher times and events that happened concurrently with Christmas.
"We've lived Christmas through some really tough times. World Wars, the depression. And we've lived Christmas through some quite happy times. Sometimes, it's touched by tragedy. There was the Tangiwai disaster in 1953.
"And then a lot of local people don't know about the wreck of the Ranui, which went aground in 1950 and smashed up on rocks off Mount Maunganui. Twenty-two people died that day. That cast a terrible pall over the whole area that Christmas because of the enormity of what it was in a town at the time of 7000 people."
Two days after 'A Kiwi Christmas' the eruption happened at Whakaari/White Island on Monday December 9, with many lives lost and people taken to hospital in critical condition. Two people have still not been found. It was sobering to look back at Christmas in the past, and now reflect on Christmas this year, and think about those who go through great loss and grief at Christmas time.
Tom really did capture the heart of New Zealand in 'A Kiwi Christmas', and I do hope it is shown annually because it's an opportunity to remember, reflect, and also to laugh at some of our funny times.
It was definitely a night to remember, particularly a week later when our community was rediscovering again the heart and aroha amongst us.
Thank you Tom for this gift of 'A Kiwi Christmas'.
More on SunLive...