Katikati's Christmas wonderland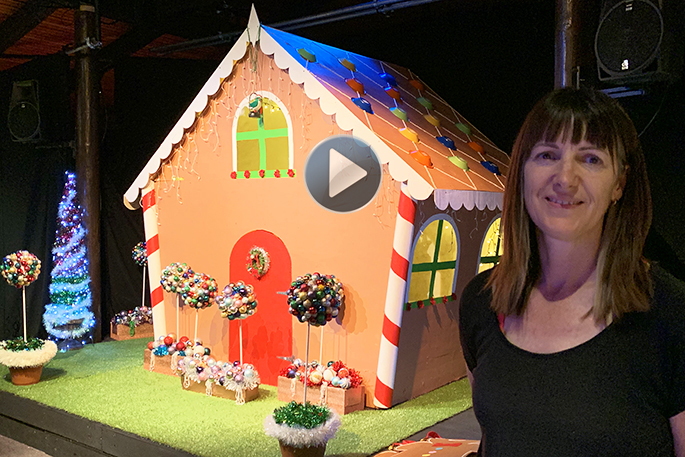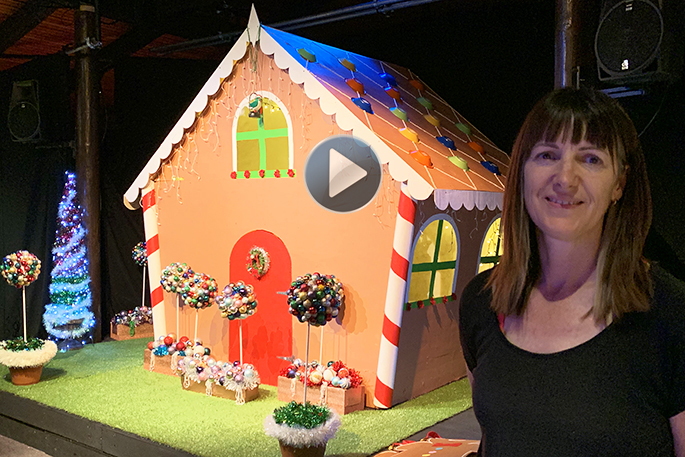 Click the image above to watch the video
Santa's Grotto in Katikati is just the beginning of a marvellous wonderland of Christmas magic to explore. Hidden off to one side near Santa Claus's huge chair, a secret entrance leads people through to an enchanting fantasy land.
There's Santa's workshop, a gingerbread house, Rudolph and his sleigh, a nativity scene, a fireside sitting room, and a forest wonderland, all utterly delightful.
The scenes at the Arts Junction Theatre have been created by some very busy 'elves' from groups and churches in Katikati, along with staff from Katch Katikati.
"A couple of us were sitting around talking about some of the experiences we'd had as children that we really remembered, like going to Santa's grottos," says Katch Katikati event coordinator Nicky Austin.
"I'd recently moved from Christchurch. Down there one of the churches and one of the schools have extremely popular, amazing versions of this. We wanted to recreate it here."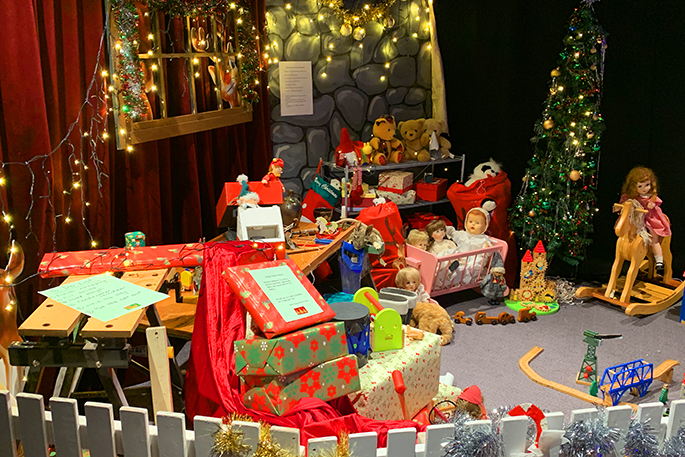 Santa's workshop
"Julia from the Western Bay Library will be reading books in the sitting room scene, and you can put on a gingerbread costume and take selfies outside the gingerbread house," says Nicky.
There are plenty of photo opportunities in Santa's grotto scenes, with costumes also available to dress up in for the ultimate family selfie.
The Katikati Theatre Group have done a lot of work to create the magic of Santa's workshop. Nearby is a traditional lounge scene with couches, coffee table and fireplace.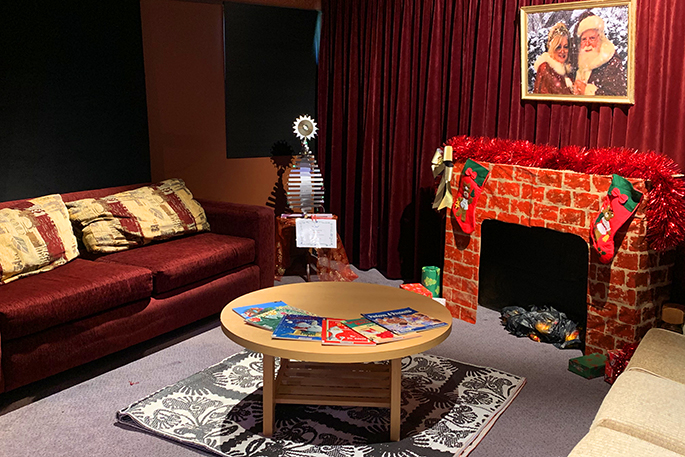 "It was created by Julia from the Katikati Library," says Nicky, "and she's got some Christmas books on the table there."
The gingerbread house is a truly a delight with little windows to peek in and see what's happening on the inside.
"It was created by the ladies from the Katikati Floral Art group. They are incredibly talented."
Gingerbread costumes are waiting for visitors to pop on over their clothes for taking photos in front of the gingerbread house.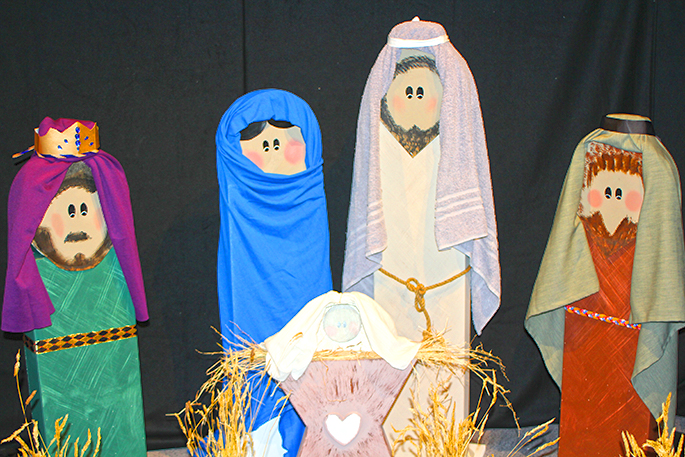 The nativity scene has angels, shepherds, Mary, Joseph and baby Jesus and was produced by the Katikati combined churches.
Tucked around the corner near baby Jesus's manger, reindeer and a sleigh awaits for people to pop through into a snowland scene, also created by the floral art group. Sitting up on the sleigh behind the elves, it's clearly another photo opportunity.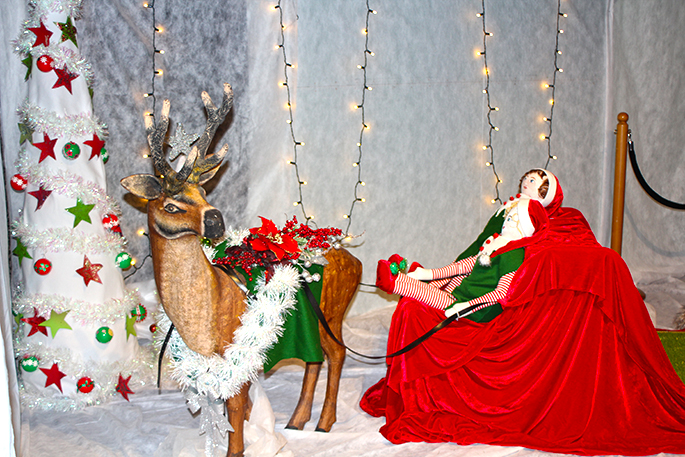 The fairy forest wonderland has toadstools, trees and fairy houses. Once again there is a photo opportunity, this time with fairy costumes for children to dress up in.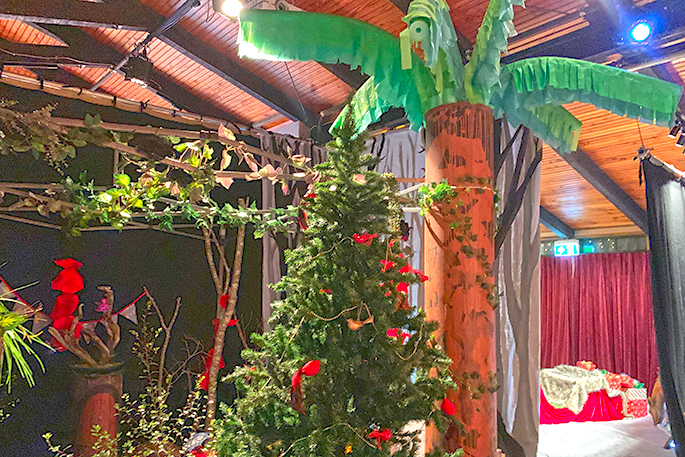 Santa is busy meeting children in his grotto every day until Christmas Day, because of course he will be leaving with his reindeer on Christmas Eve to go deliver presents around the world. But his wonderland will remain, open daily after Christmas for people to come and visit, thanks to all the helpers who made it happen from Rotary, Katikati Floral Art Group, Western Bay Library, Katikati Theatre Group, and Katikati Combined Churches.
Katikati Santa's Christmas Grotto is open 9am – 4pm week days, except for Fridays when it will run until 7pm. On weekends it's open from 10am – 2pm. It will be open on Boxing Day from 10am – 2pm, and only closed on Christmas Day. The grotto runs until Sunday December 29, so if you missed getting some Christmas photos or visiting a Santa grotto then Katikati Arts Junction Theatre is the place to go visit after Christmas Day.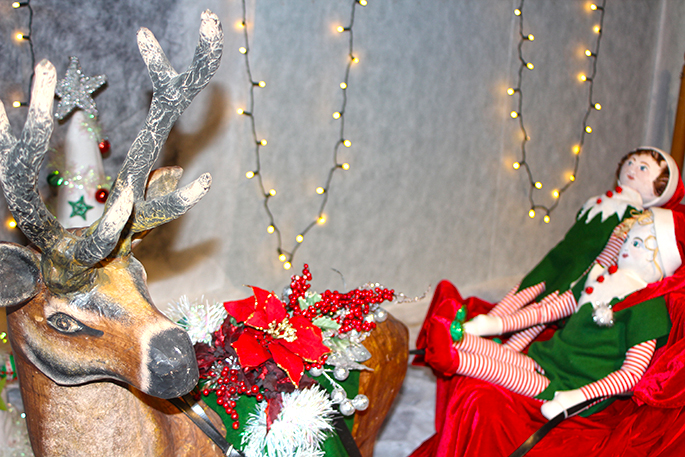 More on SunLive...