Upcycling Christmas in Katikati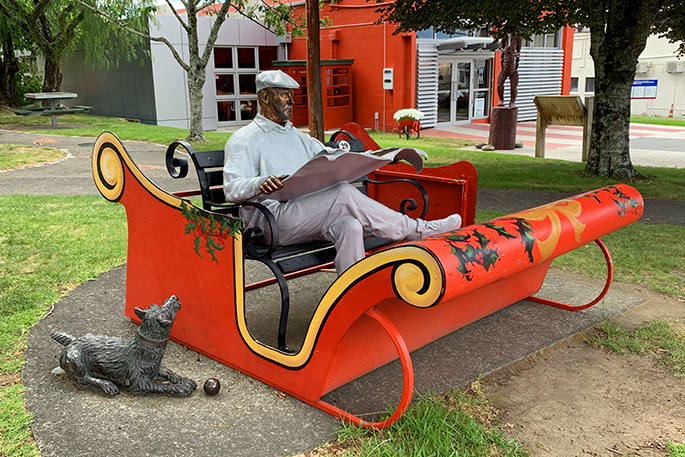 The avocado capital of New Zealand is one of Saint Nick's main stopovers this year. The word is out that Santa is into upcycling and a green avocado Christmas. I had to go see.
I found Barry, the bloke who sits outside Katikati's Art Junction, reading his newspaper with his attentive dog close at hand, his park bench upcycled into a sleigh. He looks relaxed.
Over the road, the War Memorial Hall has received the 'deck the halls with boughs of holly' treatment, looking festive with a towering Christmas tree covered in red and silver baubles.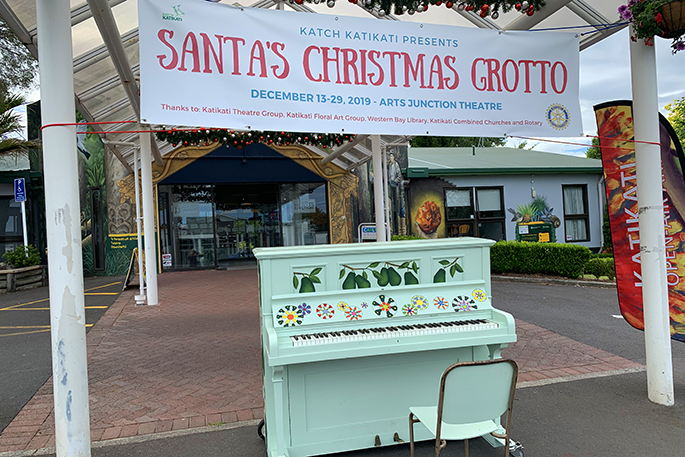 Stepping past the avocado piano recently painted by Birgitt Shannon, I continued inside. Santa was here at the street parade last week, and is going to be chilling out in a unique wonderland created by local organisations and churches.
Before reaching the magical grotto, I find myself surrounded by trees. Nineteen upcycled Christmas trees, made by locals. Not one of them is a traditional tree, each one has been created from found or recycled objects and adorned with decorations that reflect their individual theme.
"One was made by the Katikati Sea Scouts," says Katch Katikati event coordinator Nicky Austin. "It's fabulous, made from bits of rubbish they found outside their scout den. It's so effective."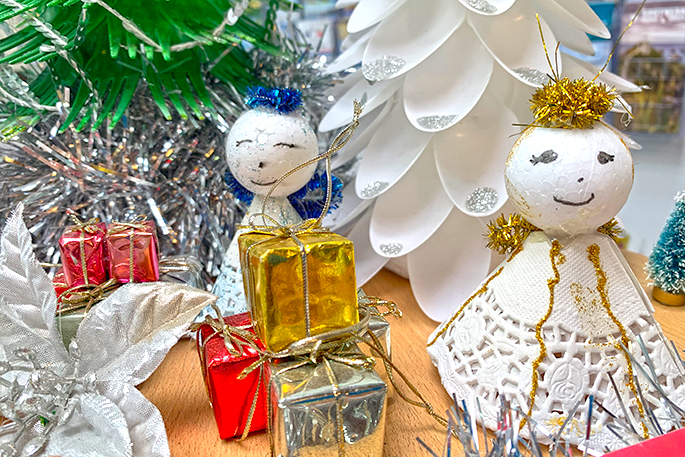 The spoon and fork tree created by Pahoia School pupil Yvette Huxtable
Pahoia School pupil Yvette Huxtable won first prize for the under-one-metre category with her innovative spoon and fork trees.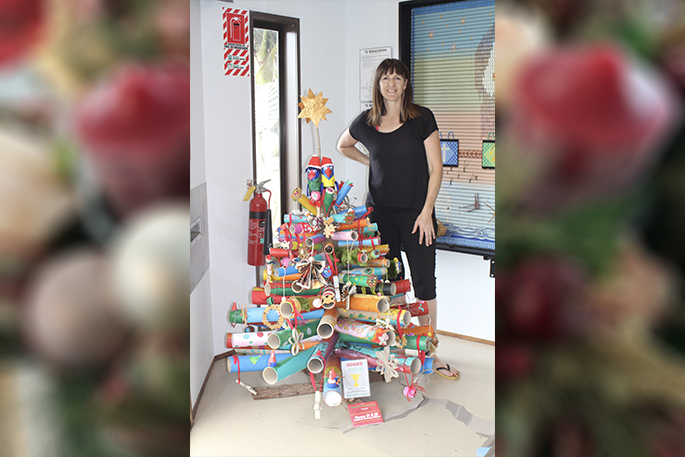 Nicky Austin, event coordinator at Katch Katikati with Katikati Primary School's winning 'over-one-metre' tree created by pupils from Rooms 21 and 22.
Two classrooms of enthusiast pupils from Katikati Primary School Rooms 21 and 22 won the over-one-metre prize. Their colourful, creative tree is made from cardboard rolls and includes little pukekos. On top are Erica and Eric Pukeko reflecting the well-established school values of 'E.R.I.C the Pukeko' - excellence, respect, integrity and citizenship.
The idea for the upcycled Christmas tree competition started in 2018.
"Last year we had five entries," says Nicky. "We just wanted to create a Christmassey feel around the town.
"The theme was upcycling which we've continued on with this year."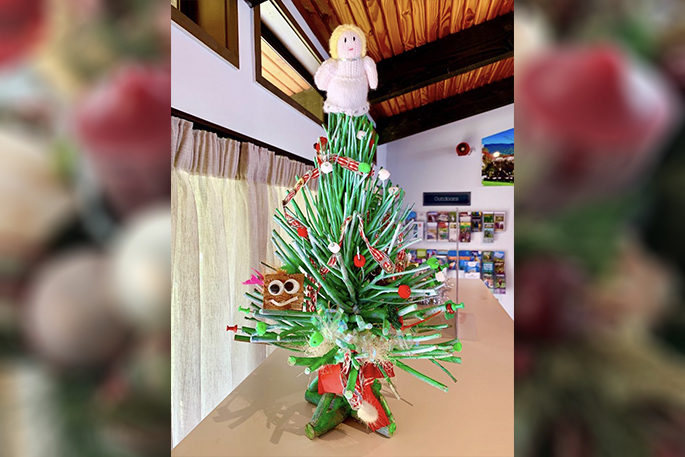 The judges looked for creativity amongst the entries, which came mostly from individuals but also local organisations. Adults and children alike each seized the opportunity to be original while delivering a message about upcycling. The wonder of it is that the trees are so festive despite the seriousness of their theme.
"I thought this year we'd see if we could double last year's entries, and instead we got 19. We had so many trees that it became difficult to judge them as the huge ones were so impactive," says Nicky.
Jaime-Lee Screen created two trees, both stunners. One is entirely upcycled from green and white plastic bottles, held together with bits of wire on top of a tyre base. The other was constructed from twigs and bits and bobs like bottle cap tinsel.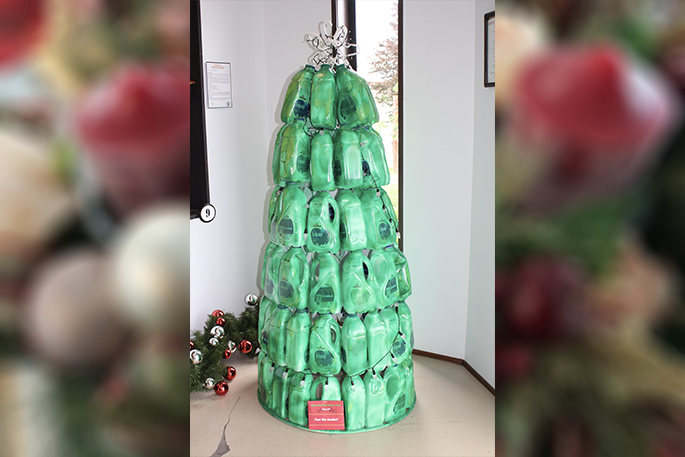 Toni-Rae Lambert's impressive tree was created from old milk bottles topped with a coat hanger star.
Pauline McFadyen created a genius optical illusion with old boxes, recycled textiles and an old mirror. The Smith family's tree is a tall cone of pine cones covering an old plastic rubbish bin and plastic trellis off-cuts that would have otherwise gone to the recycle centre.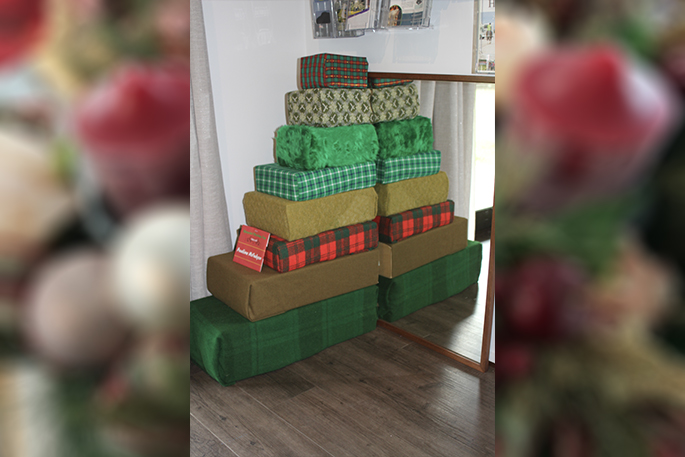 Pauline McFadyen's tree
Mr Besley's Katikati College class made a tree from an old wooden pallet painted pink, and my favourite is Katikati Pony Club's clever tree made entirely from silver horseshoes decorated with rosettes which were themselves made from feedbags and old bits of ribbon.
The decorations have been made in creative ways as well, with Katikati Sea Scout member Tayla Frith exemplifying this best, decorating her delicate tree with bowline, figure-of-eight, half hitch and other sailing knots, certainly a creative way to learn your knots.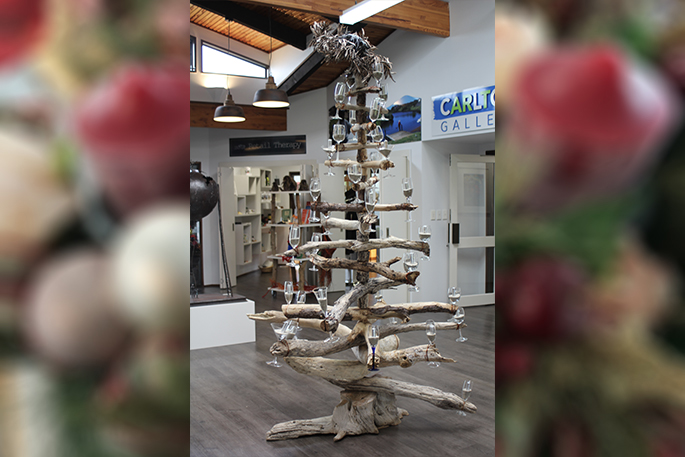 A tall tree made of driftwood decorated with wine glasses holding candles embedded in sand sits in the main Art Junction reception area. It's a beauty and well-worth seeing.
I nearly forgot. This year there is also a Santa Grotto to explore.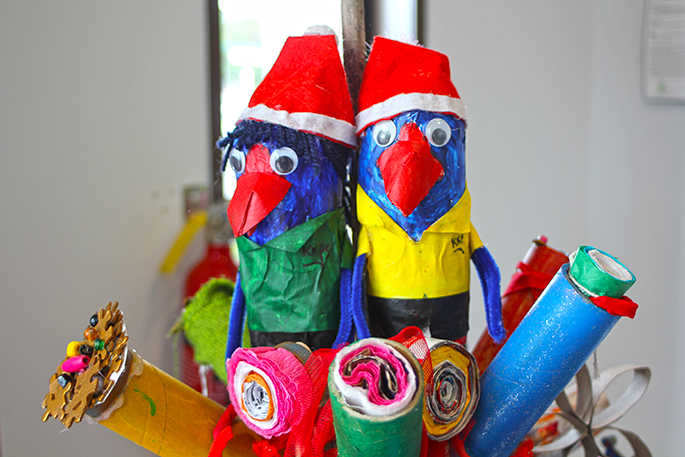 Erica and Eric Pukeko on top of the Katikati Primary School winning tree
"A couple of us were sitting around talking about some of the experiences we'd had as children that we really remembered, like going to Santa's grottos," says Nicky.
"I'd recently moved from Christchurch. Down there one of the churches and one of the schools have extremely popular, amazing versions of this. We wanted to recreate it here."
I don't want to give too much away, but it's a 'must-see'. There's Santa's workshop, a gingerbread house, Rudolph and his sleigh, a nativity scene, a fireside sitting room, and a forest wonderland, all utterly delightful.
"Julia from the Katikati Library will be reading books in the sitting room scene, and you can put on a gingerbread costume and take selfies outside the gingerbread house," says Nicky.
Other scenes also have opportunities to take group photos.
Katikati Santa's Christmas Grotto is open 9am – 4pm week days, except for Fridays when it will run until 7pm. On weekends it's open from 10am – 2pm. It will be open on Boxing Day from 10am – 2pm, and only closed on Christmas Day. The grotto runs until Sunday December 29.
More on SunLive...