How to get the hang of surfing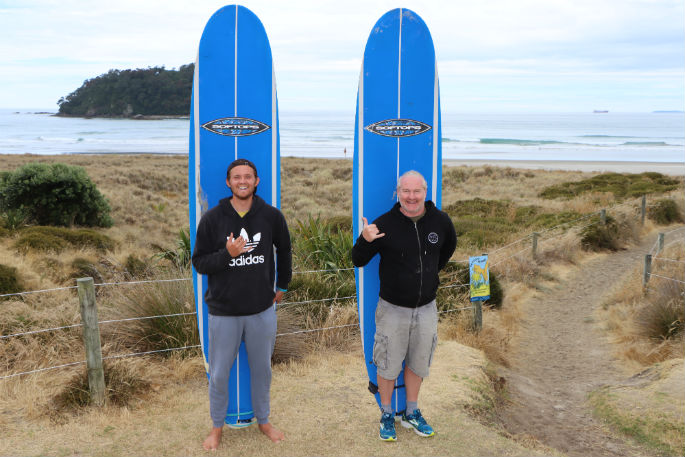 Zip at the back, knees at the front and don't put your legs through the arms.
That's the first rule taught at Mount Surf Academy, according to owner Andy Collins.
"It sounds bizarre, but some people that come for a lesson here have never seen the ocean, let alone a wetsuit," says Andy.
The longstanding surf school has been running for about ten years, helping people from all walks of life navigate Mount Maunganui waves.
It was born out of a need for another surf school in the Bay of Plenty.
Andy says his job is one of the best in the world, as it involves seeing beginner-surfers stoked after standing up for the first time.
"I started doing it and I just fell in love with it all. It's amazing, you get to put big smiles on people's faces."
Each summer hundreds of beginner-surfers take to Tauranga beaches, doing their absolute best to learn the ropes of the water sport.
But many struggle when starting, and despite the passion, find it hard to progress. Brand-new surfboards and wetsuits eventually end up hidden away collecting dust at the back of the garage.
Andy spoke to The Weekend Sun last week, passing on wisdom about what people need to know if they are eager to launch into surfing this summer.
Consistency
Surf every day, no matter what the conditions.
"If you want to get good, you have to go out every day. There's absolutely no question about that."
He speaks of a time when he was starting out surfing in England.
"I only went out once a month, and never got anywhere."
Andy, who has been surfing more 26 years, says you will always learn at least one new skill each session even if the conditions are rubbish.
Pick your spot wisely
Main Beach, the blowhole and Tay St tend to be the most crowded spots this time of year. For a quieter surf, it is recommended learners head further up the coast near Omanu.
Surf the right board
Choose a surfboard that suits your level. Adults need to start on a large board that should be at least nine feet long, Andy says.
"Too often I see learners riding short boards, and they can't even catch waves. Boards like our big buoyant ones will have you cruising."
"People try to buy the cool looking board, the three-fin thruster that John John Florence uses. Those kinds of boards are okay for Pipeline, but not for beginners in Mount Maunganui."
He says the waves here tend to be weak and small, and beginners should opt for a Mini Mal, with a "big round nose".
Staying fit and keeping safe
Fitness is a biggie for those trying to get the hang of surfing. "It just makes it a lot easier to improve," says Andy.
When learning how to surf, muscles are being used that your body has never used before. He says the only way to get over this is to surf more. Boxing, Crossfit and yoga can also assist in boosting fitness levels.
It also pays to be a confident swimmer for grounds of safety.
"You should be able to swim at least 15-20 metres, in case your leash snaps and you have to swim out to get your board," says Andy.
Learn the rules.
"Don't drop in, don't snake and show some respect – that's it really," says Andy.
Dropping in involves interfering with a fellow surfer's wave. If someone has the right of way and is already riding a wave, the other surfer mustn't cut them off.
"I have been dropped in on quite a bit lately, and I am getting pretty fed up with it. It's the most important rule beginners need to know when they start."
Common mistakes
During peak-season coaches see an array of "common mistakes" made by novice surfers. These include incorrect stance, complicated pop-ups and paddling ability.
"Often people will stand with their legs straight like they are skiing, but you need to bend your knees," says Mount Surf Academy coach Jack Burns.
"You also see all sorts of pop-ups, but if you want to progress you need to not use your knees to stand-up. And the most common thing is that people won't paddle enough, so never even catch the wave."
Andy says another issue is when people paddle too much, and nose-dive off the front of the board.
You are never too old
Earlier this year The Weekend Sun spoke to Australian surfer Joel Parkinson about his advice to aspiring surfers. His message was simple. "My mum started surfing at 52, if she can do it then anyone can do it.
"She's now 63 and still considers herself a surfer.
"Enjoy surfing, enjoy the ocean and get out there. It's pretty addictive, in the best way possible," says Joel.
Get a lesson
Andy says starting with a lesson is a good way to solidify necessary surfing skills, as it helps beginners "get better at a faster pace.
"You have to teach beginners absolutely everything. From how to carry a surfboard safely in the water to mastering the pop-up," says Andy.
More on SunLive...