Sunflower success for Bay of Plenty's tiny tots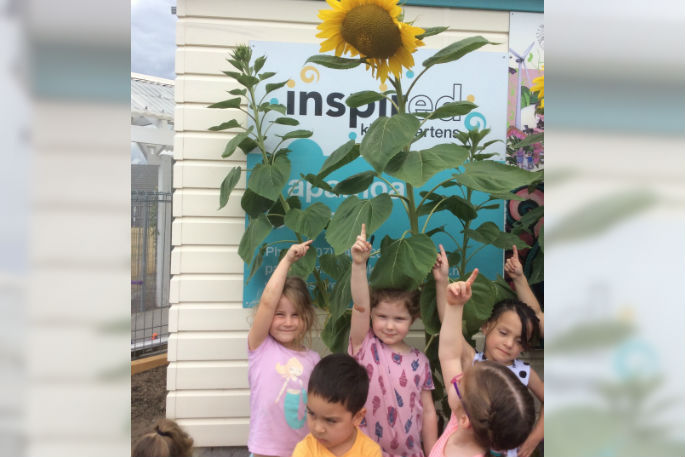 A passion for gardening has taken root in almost 250 kindergartens nationwide thanks to seeds sown by the Daltons Sunflowers in Kindergartens Project.
Over the past four months, a staggering 13,024 kindergarten tots across 11 regions have been aiming to grow the tallest sunflower and widest sunflower head in their region.
In the Tauranga region, 765 children from Inspired Kindergartens and Home-Based Education were involved in the project.
The winner of the Tallest Sunflower in the region was Brookfield Kindergarten, with a sunflower plant measuring in at 251cm.
"The children thought it was fun being part of a competition to grow the tallest sunflower," says teacher Mary Kirk.
"They enjoyed caring for the plants and measuring them along the way. The compost and worm wee we make might just have been the magic ingredients."
The winner of the Widest Sunflower head was won by Papamoa Coast Kindergarten with a diameter of 18cm.
"At Papamoa Coast Kindergarten, our philosophy is nurturing nature and the next generation," says teacher Aimee Crisp.
"Our tamariki have loved getting involved in all aspects of this gardening project - from planting the seeds to watering and caring for them, measuring, and eagerly awaiting the arrival of those stunning yellow flowers."
Winners were named from each of the 11 regions, reflecting the diversity in growing conditions throughout the country.
The key goals of the biennial project are to create a fun and exciting environment for pre-school children to learn valuable gardening knowhow and to develop a love of gardening by growing their own Kings Seeds 'Skyscraper' sunflower.
"A big congratulations to all of our project winners," says Daltons general manager Colin Parker.
"A special thanks to the teachers who got behind the project - we understand it's no easy feat keeping on top of a garden full of passionate little gardeners and their sunflower plants."
More on SunLive...