One man and his T-Bucket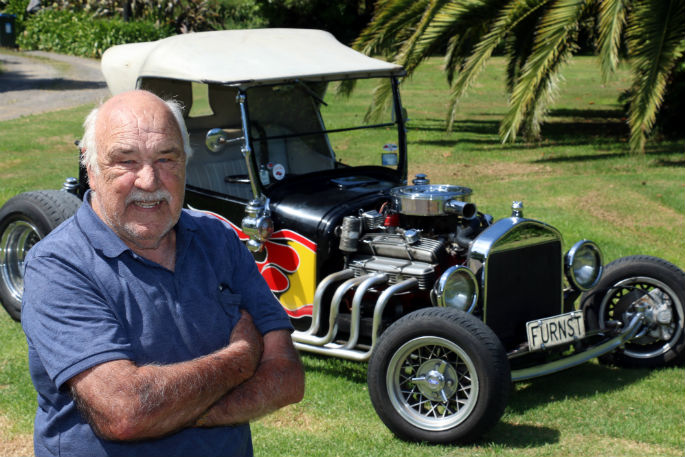 A 50-year anniversary is a pretty big moment in a man's life – especially when it involves your hot rod.
That's right Terry Furness and his T-Bucket have been driving down Lover's Lane since he converted the beautiful beast in 1969.
Not long after man first stepped on the moon – in December to be exact – 27-year-old Terry turned the ignition and felt the savage roar of the big 350 Chev engine for the first time.
Now, 311,000km later, the feeling is still the same as it was then but, like any relationship, it hasn't always been plain sailing.
He parted ways with his pride and joy back in 1981 – sold it – and then spent the better part of 18 years trying to find her again. As fortune would have it, in 1999, a mate happened across the barely recognisable machine when he went to buy a motor off someone.
"When he got there, what was left of it was in the shed." It was missing a motor, gearbox and wheels.
After "struggling and struggling" to get his friend to sell it back to him, he was finally reunited with the old wheels and set about restoring it once again.
These kinds of projects don't bother Terry – he's been a panel beater his whole working life.
This time he put a Jaguar differential in it – "the only good thing the Poms made" – and a new Chev V8 engine – a 283 cubic inch one with an automatic transmission this time. It has modern shocks and disc brakes, a roll cage and a few other things that they recommend you have these days – like seatbelts and indicators.
Previously, the old Model T had headlights and a single big light on the back – just to warn other motorists, cyclists and horse riders of its presence.
At this point it's worth pointing out what a T-Bucket actually is. Basically it is any kind of Model T Ford body, cut back and placed on a shorter, hot rod chassis.
In this case, the old park lights on the Model T Fords were just oil lamps encased in glass. Not the best fit for a fast-paced world and not that practical for indicators. So the oil lamps have been replaced with electric indicator lights.
He has two distinct horn noises – one is for saying 'hello' and the other says 'hey' for more serious encounters. The steering wheel is flat – like a truck or a bus – and just as easy to steer with, Terry says.
The T-bucket is not the only Model T that he has in the garage – he has another one parked right next to it – fully restored and it's a rod too, only not that obvious from the outside.
Out in the other garage is a Model T pickup truck in its original form. He has restored it, cut out the rust and recreated the damaged panels. But left it aged and the new panels match the old surface rust patina. The canvas canopy is still the original, complete with wear and tear.
"Look at it, it's gorgeous."
This old classic may be an antique but she runs like clockwork and is a crowd favourite.
"I took it to the All Ford Day and there was 250 Fords. It got best vintage car and people's choice by a country mile."
So what does Terry like about his favourite T-Bucket in particular? He takes it out pretty much every day.
"I enjoy watching the wheels bounce at the front. Parking in traffic, you can see exactly how close you are."
He's taken the T-bucket from Cape Reinga to Bluff – from the sub-tropics to minus five degrees Celsius and snow. Terry says it's easy to drive but he sometimes wonders how much petrol he's burned over the past 50 years.
And as the engine bursts into life and then roars into full noise on the highway, it becomes obvious what the big deal is all about. The noise, the smell, the closeness of the seats to the road, the open engine and those big wheels bouncing up and down.
Who wouldn't fall in love with a car like this?
More on SunLive...